Doctor Dolittle
Book, music and lyrics by Leslie Bricusse
A Bill Kenwright production
Theatre Royal, Newcastle, & Touring
(2008)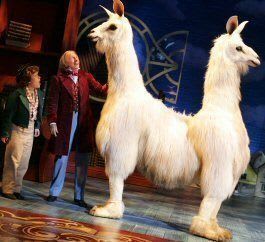 The Theatre Royal, Newcastle, is the latest venue to house the musical extravaganza, Doctor Doolittle, produced by Bill Kenwright and currently on tour in the UK.
Composer and lyricist Leslie Bricusse has created a wonderful score including favourites such as 'Talk to the animals' and 'I've never seen anything like it!' With the fine orchestra, this soundtrack was ultimately one of the highlights of the show. Audiences were in full swing as they clapped along from beginning to end and tried to sing along to the tongue-twisting lyrics.
This production is fundamentally aimed at children and has a variety of elements that keep youngsters engrossed. These include extravagant, plush sets, a large ensemble of colourful characters and of course, the array of intricate puppets. These range from a small owl (with insomnia) to the mythical Great Pink Sea Snail which was too large to fit on the stage! With over forty animals (all with their various ailments) appearing throughout this show, squeals of delight from children and gurgles of laughter echoed around the theatre. These responses were at their loudest when one unique animal by the name of a 'Pushmi-Pullyu' took centre stage and performed a hilarious dance routine.
Despite what seemed to be technical difficulties on the first night, musical veteran Tommy Steele performed confidently playing Doctor Doolittle with great warmth amidst his eccentricity. Steele's generosity as an actor culminated in a lovely relationship with the excellent Abigail Jaye playing the bolshie Emma Faifax. Jaye's singing and acting abilities are truly remarkable and this is apparent in her rather emotional solo 'Something in your smile'.
Doctor Doolittle will undoubtedly keep children engaged due to the interesting puppets and other delightful visuals, though these novelties do wear off a little for the older audience members. This is a wonderful show and a great theatrical experience, though it does seem to lack that added zing that other Kenwright productions have had in the past but then this could have been due to the technical problems the production faced on Monday night.
"Doctor Doolittle" runs at the Theatre Royal until Saturday 21st June.
This production was also reviewed in Manchester by David Chadderton, in Woking by Sheila Connor and in Sheffield by Philip Seager
Reviewer: V Mitchell