Don Juan in Soho
Patrick Marber
Wyndham's Theatre
–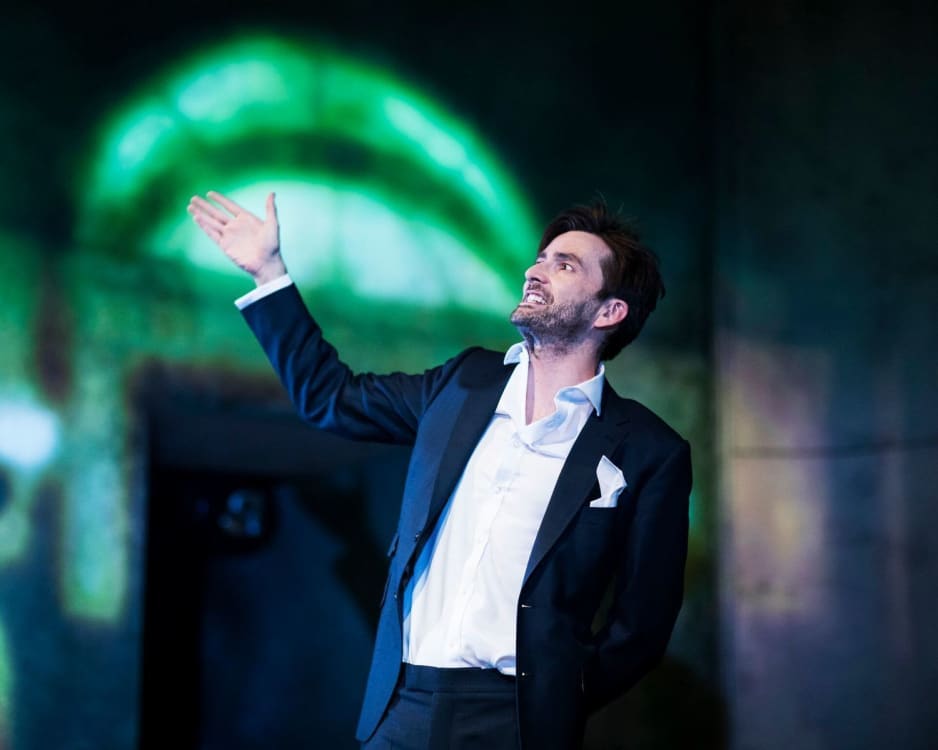 For some unknown reason that is probably entirely down to coincidence, London's Charing Cross Road has become the heartland of modernised Molière, although some diehard traditionalists might be more inclined to consider whether a more accurate description is mauled Molière.
Both this production and Sean Foley's free adaptation of The Miser have an additional common factor in that they are built around popular TV stars.
David Tennant is a long way from his days as Doctor Who in the role of DJ, a contemporary hedonist whose devotion to duty is so great that he has maintained a regimen of thrice-daily sex with different women for the last 25 years.
Moved forward 350 years and several hundred miles from Paris to Soho, this new incarnation of the famous ladies' man has become "Satan in a suit from Savile Row", doted on by streams of under-dressed women and manfully supported by his chauffeur-butler Stan, played with long-suffering dignity by Adrian Scarborough.
As the play opens, DJ has been reduced to marriage as a means of squiring Danielle Vitalis's Elvira, deserting her the day after their honeymoon, and later explaining to the distress of the young lady that his brief absences during their post-wedding sojourn had not been as innocent as he had originally suggested, thereby inflaming her two brothers.
It pains one to propose it in these prurient days but the sex can become tedious and repetitive, so it requires other elements to justify this revival, directed by playwright Patrick Marber.
This comes in the form of contemporary references that sometimes run deep. When a Muslim down and out is offered a £6,000 watch if only he will blaspheme against Allah, this will inevitably deeply shocking only a few days after London was rocked by a murder spree in the name of his religion.
The two-hour-long performance builds to an inevitable climax, Demons haunting our anti-hero from before he makes his first appearance on stage.
However, before meeting a mobile statue/prophet and, presumably soon thereafter, his maker, DJ is given a final opportunity to deliver a glorious speech offering trenchant comments about the loss of values in today's media-driven society, even enjoying the chance to take a couple of pot shots at the President of the United States along the way.
David Tennant is well cast as the louche Lord, always convincing in a deliberately careless disregard of anything but a single part of his anatomy. He clearly enjoys the chance to taunt and joust with both Adrian Scarborough in the role of hapless Stan but also, playing a cameo, Gawn Grainger as DJ's dear old dad, an Earl who never quite gives up hope that the boy will reform.
While the social commentary can be incisive and David Tennant does a good job in the central role, well supported by Adrian Scarborough, much of the evening may seem to the average visitor little more than a bit of light fun and the chance to see Doctor Who outside his Tardis.
Reviewer: Philip Fisher