Don Juan (The Stone Host)
Adapted by Lesya Ukrainka from Tirso de Molina
Kiev's National Academic Theatre of Russian Drama Lesya Ukrainka
St James Theatre
–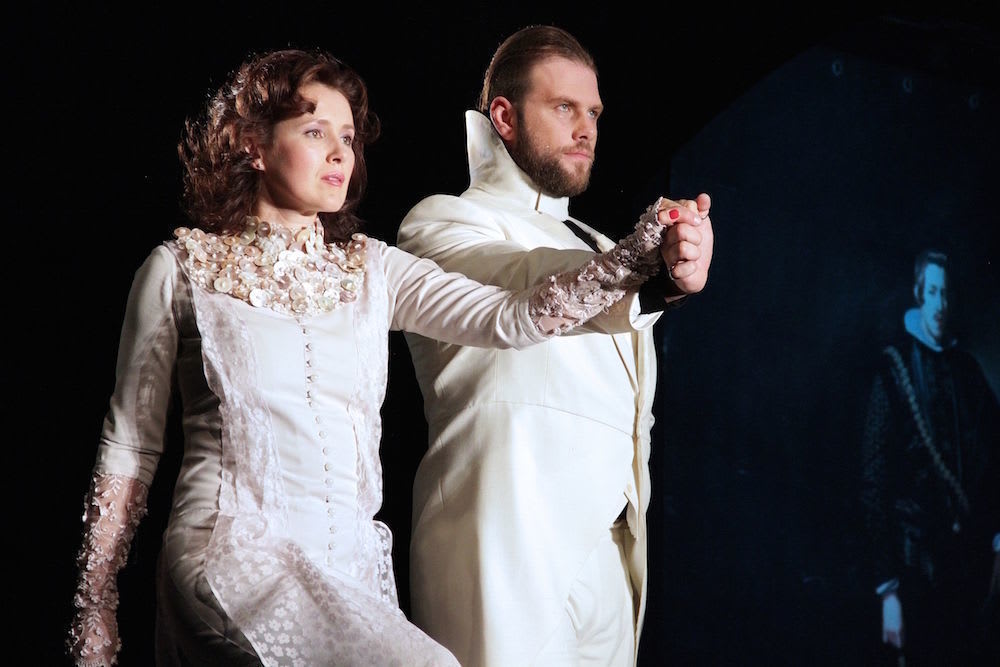 What to make of Mikhail Reznikovich's Don Juan hundred-minute no interval production which premièred in Kiev in 2002: Tirso de Molina's version of the Don Juan the seducer legend, set in the 14th century, written in the 17th, was adapted by Ukrainian poet Lesya Ukrainka (1871-1913) in 1912 as a cry for individual and national freedom and power.
And it apparently has a personal agenda: "In a departure from the original story by Tirso de Molina, the Ukrainian Don Juan introduces us to Dolores, Lesya Ukrainka's semi-autobiographical depiction of a young woman selflessly devoted to the Don." But is he worth it?
The golden age of Spanish literature is comingled with 17th century Molière (Don Juan's valet is Sganarelle), Mozart's 18th century opera (though the Commander is Dona Anna's suitor not father here) and Pushkin's early 19th century Stone Guest, and presented in Russian in a translation by Soviet poet Margarita Aliger (1915-92). Confused? I am.
Some indebtedness to Grigori Kozintsev's 1964 Hamlet and 1971 King Lear, and even Ingmar Bergman's 1957 The Seventh Seal—dance of death and chess game—which ask existential questions, gives you the tenor of the piece. Meyerhold's influence is evident in the choreographed (by Alla Rubina) tableaux vivants. Alexander Sokurov also comes to mind, as does Yuri Lyubimov. Don Juan quotes Hamlet.
Maria Levitskaya's set is remarkable, not least for fitting into St James Theatre's small space: dark castle walls with statuary and creepers, a narrow moat, arches through which a rich interior is glimpsed, Philip IV portraits, suit of armour, and battlements along which parade the decorative courtiers in their best bejewelled high collar 17th century period courtly dress, occasionally becoming the chorus, the blindfolded leading the blind.
The main protagonists are in costumes that nod back to that period and 1930s dress, Dolores (Olga Kulchitskaya) in black, Dona Anna in white, visibly underlining their arguments. Front centre stage on the floor stands a 1930s telephone for the use of a troubled and conflicted Dona Anna. Marikvita (Natalya Shevchenko), Sganerelle's love interest, has surely stepped out of The House of Bernarda Alba in her severe black outfit. Her almost silent performance is a gem.
A young girl (Irina Buchko) in short shift accompanies the action on an imaginary violin, playing Alfred Schnittke's dissonant music, I think—Vita Shpakovskaya and Mikhail Kalmanovich are credited for music design—and Piazzolla-esque tangos.
There is no hell for Don Juan, only the hell that is life. For all of them... Overarching symbolism, and overwrought dramatic acting almost does for the play. Something is rotten in the state... A sphinx, hinting at the enigma that is woman, is part of the stage scenery.
Dona Anna (Natalya Dolya, whom I enjoyed as Lika Mizinova in My Mocking Happiness) tussles with just about everyone, rolls around on the floor, emotes like mad, her operatic anguish more suitable for a larger theatre than St James intimate 312 seating capacity.
The past and present press heavily on her; the play reverberates with echoes, echoes within echoes. There is no truth, justice or sense in this world. No freedom without pain. Is Don Juan the only free man in the world? A soul can only be bought with a soul. We chose our lives. Life is a vale of blood and tears. Our sins lead us to the precipice. Love suffers all, even when tongues fall silent it remains, more mighty than faith and hope.
Vladimir Rashchuk is a striking overbearing Commander, Evgenii Avdeyenko a handsome passionate dashing Don Juan, Viacheslav Nikolenko keeps it down as Sganarelle, the fight scenes are well done, and the ending a mystery.
Who kills Don Juan and Dona Anna? Must be the ghost of the Commander who stalks the battlements. One minute they are in church—she a black Madonna—the next he is on the floor and her limp body is slung over the Commander's shoulder.
Lesya Ukrainka (born Larysa Kosach) offers an original take on this timeless conflict between freedom and authority. Her belief in Ukrainian freedom and independence—of all the four productions (two Chekhov, one Turgenev) staged in this season of plays Don Juan is the one obliquely tub-thumping for Ukrainian independence.
Maybe this is the raison d'être for the season's sponsorship by the Ukrainian Ministry of Culture. Ironically it is presented in Russian.
Reviewer: Vera Liber