Don Quixote
Choreography Carlos Acosta after Marius Petipa, music Ludwig Minkus, arrangement (2022) Hans Vercauteren
Birmingham Royal Ballet
Sadler's Wells
–

Listing details and ticket info...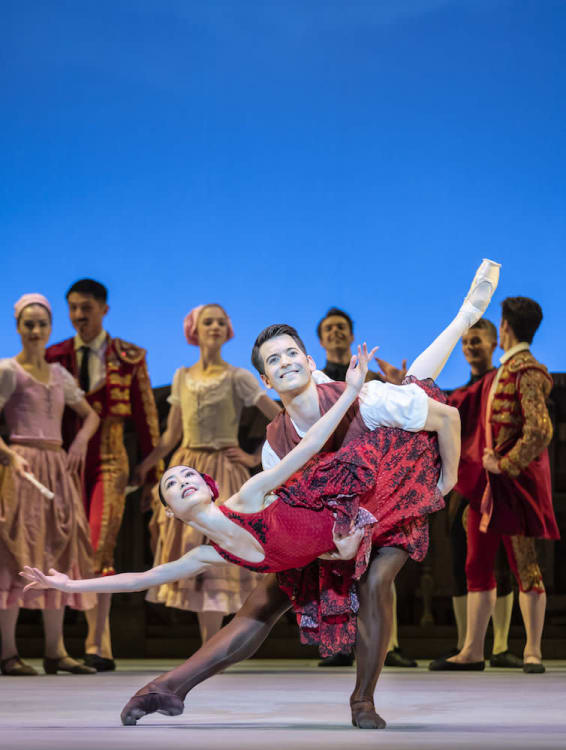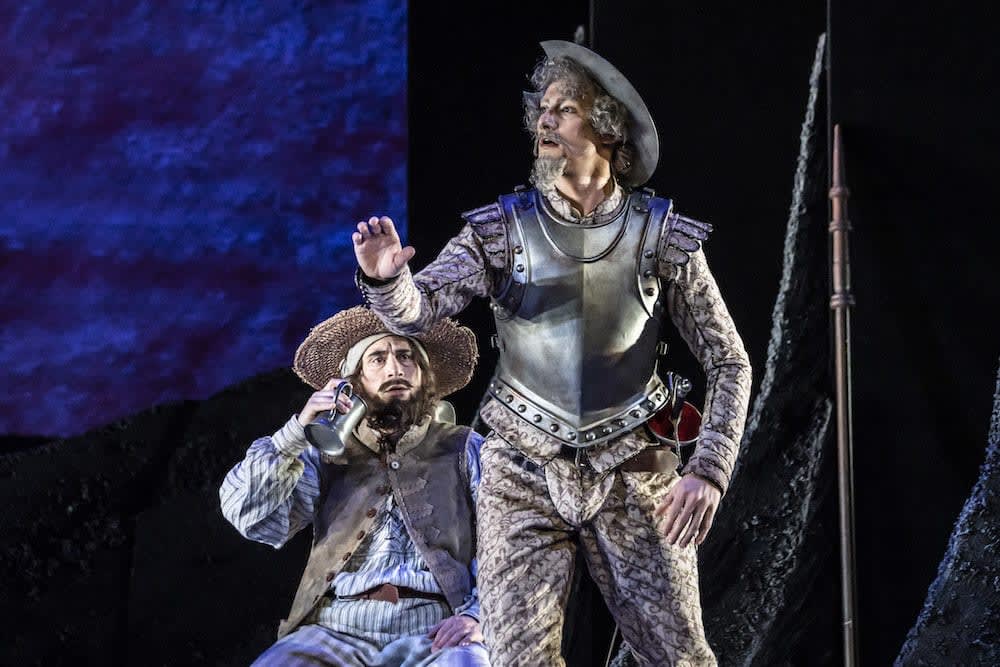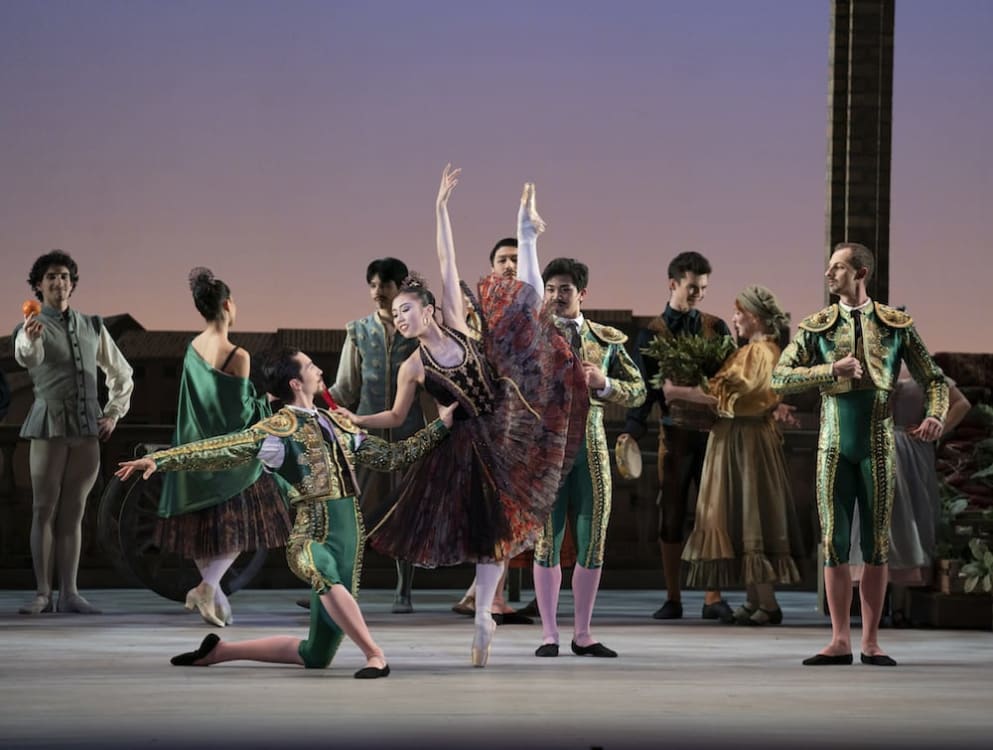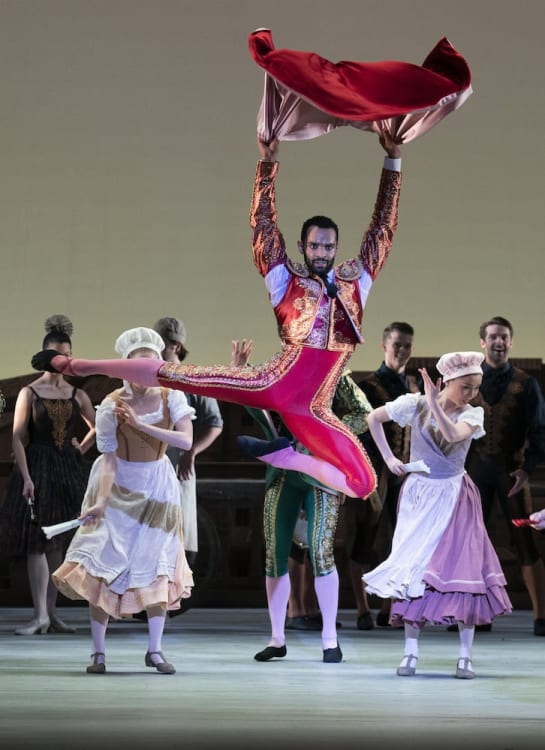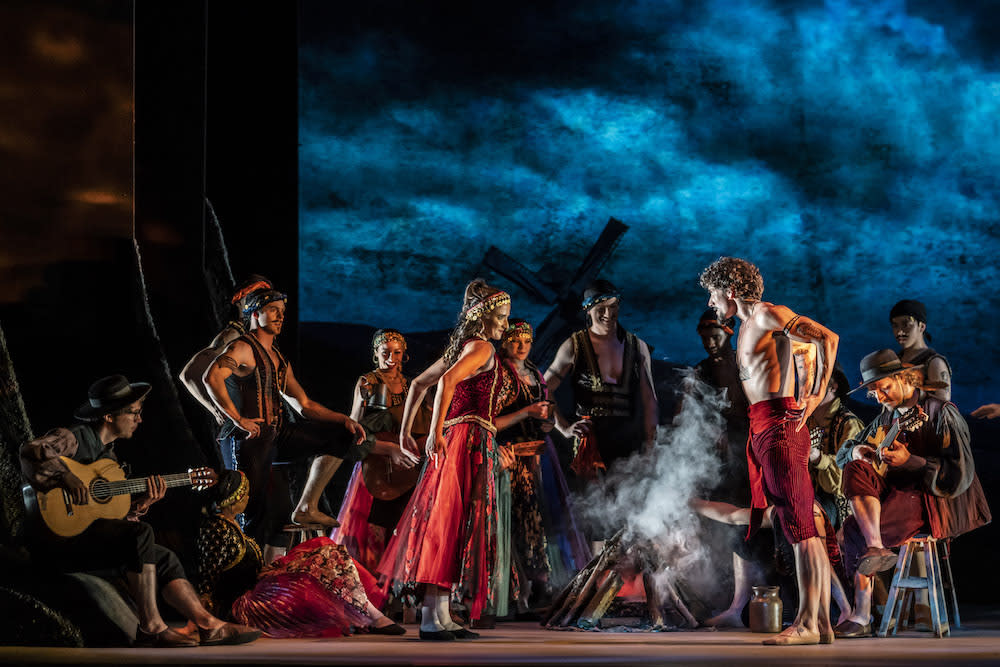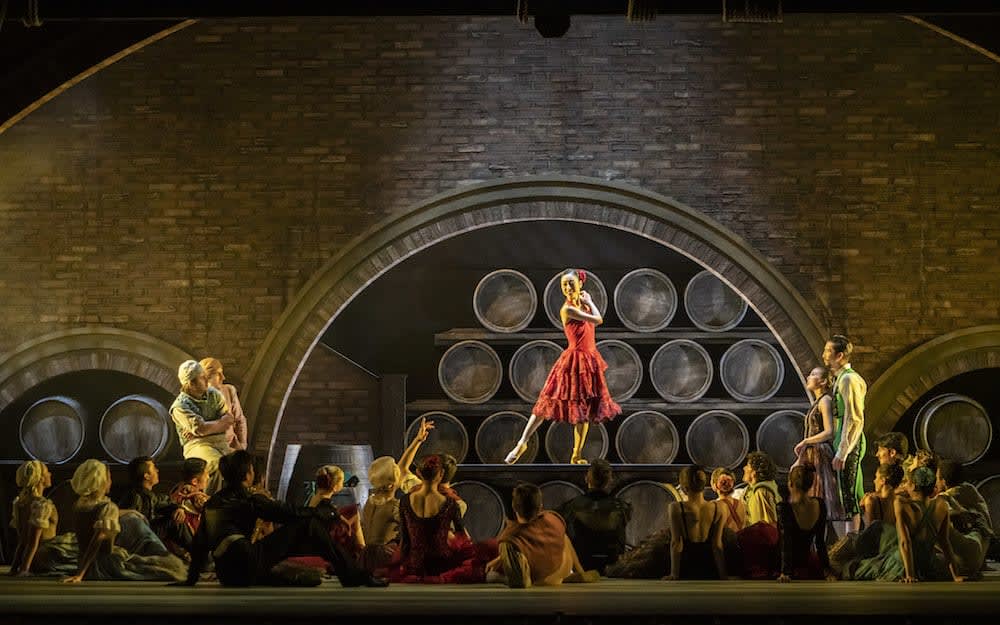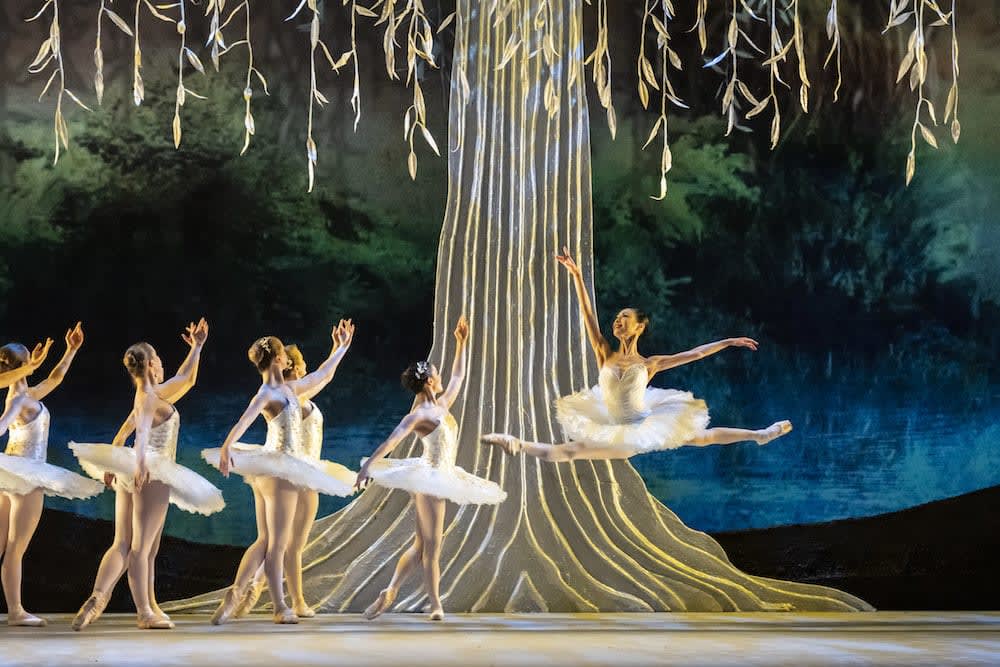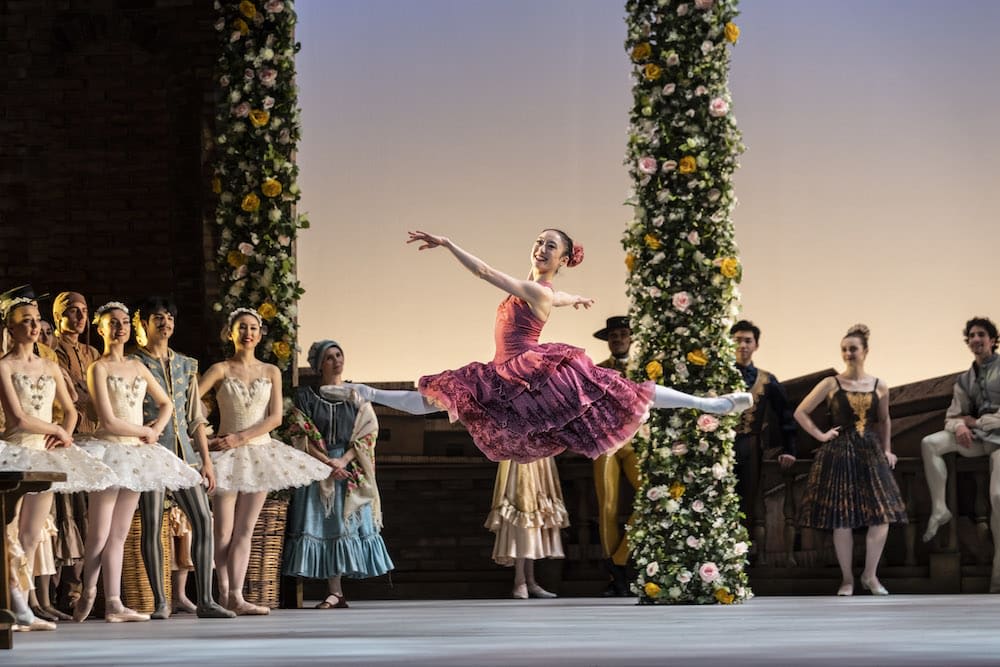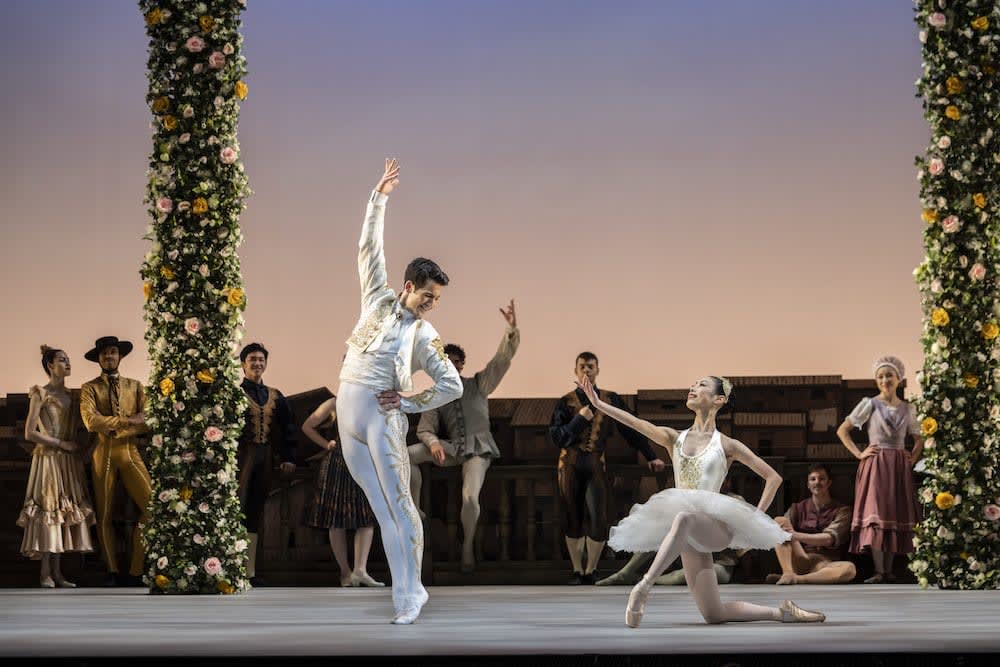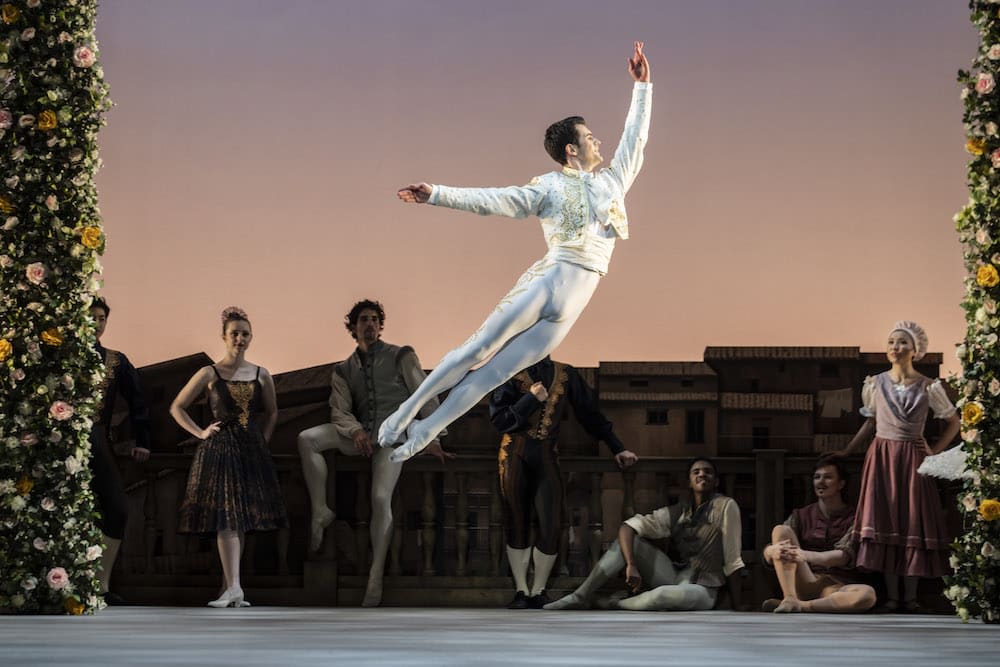 Carlos Acosta has a long history with Don Quixote: first dancing its famous Basilio variation from the wedding pas de deux at Lausanne as a rising young dancer to choreographing, and dancing in his own 2013 version for the Royal Ballet (revived 2019). Now he has modified that version for Birmingham Royal Ballet's pleasant travelling production.
Gone are the wandering houses and windmill, replaced by a more modest set of brick arches and distant houses and Nina Dunn's brilliant video projection—the windmill against a darkening sky grows skeletal monster arms. Now you see them, now you don't, just like fantasist dreamer Quixote.
The ballet is not really about Don Quixote—it never was—but he is the guardian angel of lovers it seems, a romantic on a mission across Spain. Barber Basilio is in love with innkeeper's daughter Kitri, but father (Jonathan Payn) has better ideas for her—give her to the highest bidder, rich, overdressed nobleman Gamache, who seems to have stepped out of a Molière play. Poor Basilio has either to run away with her—to the gypsy camp—or feign a very hammy suicide.
It's their ups and downs that the ballet celebrates in warm colours, vibrant noisy village life, gypsy camps (with three guitarists on stage), matadors, wine taverns, pantomime horse and comic pranks. What's not to like… and finally that fabulous gala regular, the wedding pas de deux, to wrap up a happy ending.
Oh, and there's a central dream sequence, as in many Petipa Imperial ballets. Quixote, a knight in his imagination, fighting off demons, sees his vision of loveliness Dulcinea (Kitri) in a vine-draped garden surrounded by dancing flowers (at least twenty girls in classical glittery white tutus) and aided by love itself, Amour, danced by a buoyant smiling puckish Tzu-Chao Chou, a highlight for me.
It's a mix of character acting, some slapstick, lots of mime, lots of divertissements, lovely choreography, familiar music and a happy-go-lucky, easy charm. The company delivers on every count. The stage is filled with business and busy people. Watch the women swoon when matador Espada (Brandon Lawrence) delivers his goods in spades. Watch the girls give as good as they get.
Tom Rogers is a rangy Quixote, Kit Holder's Sancho Panza padded and squat. The horse is fashioned from a wine barrel on wheels, two brooms and a model horse's head, Tim Hatley's designs appealing and imaginative. All is good-humoured, even the fiery gypsy's (tattooed Javier Rojas makes me see Polunin—I'm turning into Quixote…) initial suspicion is swiftly swept away.
Rory Mackay is a silly Gamache in his yellow flounced costume, blue wig and flouncing flourishes—fastidiously kneeling on a handkerchief. Yu Kurihara doubles as the Queen of the Dryads and Mercedes, there's a bit of fandango for flavour from Emma Price (also a gypsy girl) and Max Maslen... but I'm saving the best for last.
Mathias Dingman pulls all his stops out with good humour and skill (one-hand lifts) as Basilio, and Momoko Hirata is a sweet Kitri, petite, light, maybe not quite as feisty (it has to be in your nature) as I remember some, but it's a fine interpretation. And that final pas de deux with its difficult variations is cleanly polished off.
Christopher Saunders of the Royal Ballet is credited with the staging—a safe pair of hands. Live music, thank goodness, is provided by the Royal Ballet Sinfonia, conductor Paul Murphy. It's a long evening, three acts with two intervals, drawn out to nearly three hours in total, but the audience goes home happy and in good spirits.
I wonder how many know the original Cervantes novel these days. I know of one man who learnt Spanish just to read it in the original, so fixated was he on it. The Basilio and Kitri story is just a tiny section of the whole. And, as the programme notes tell us, the novel has attracted many artists, and in the ballet world has drawn Anna Pavlova, Nureyev, Baryshnikov and more. Petipa's opportunistic ballet has plenty of mileage in it yet.
Reviewer: Vera Liber