Don't Dress for Dinner
Marc Camoletti adapted by Robin Hawdon
Tabs Productions and Rumpus Theatre Company
Pomegranate Theatre, Chesterfield
–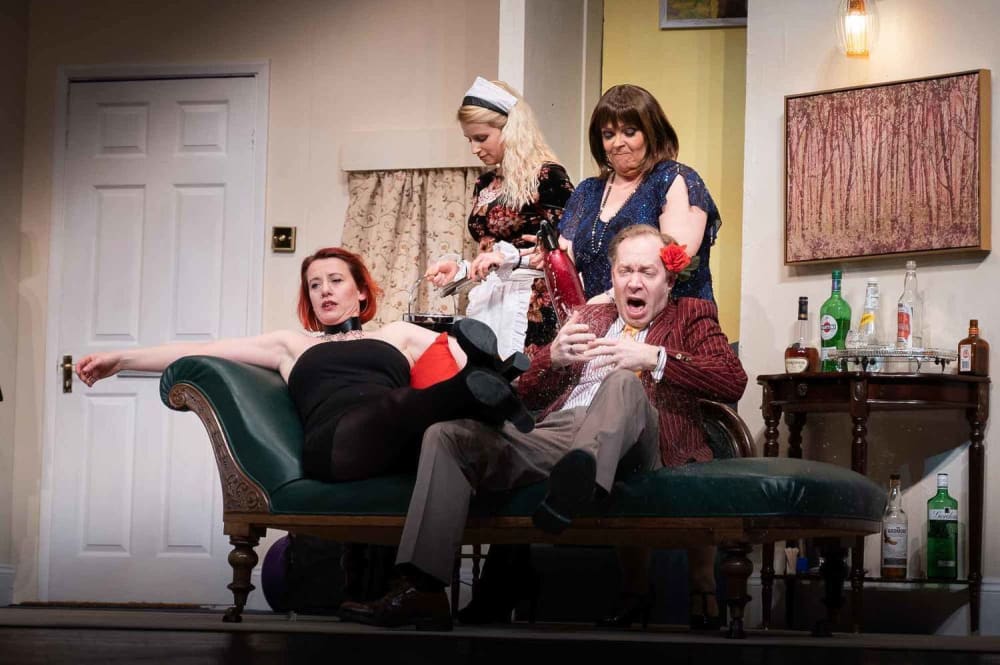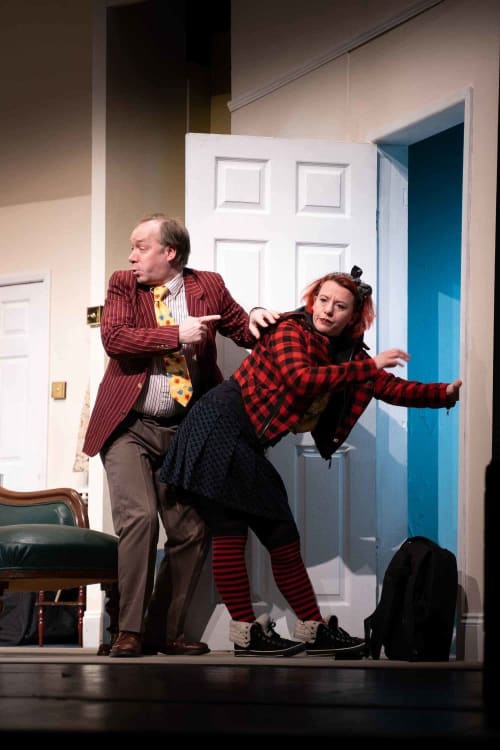 Why would anyone want to get involved in a repertory season in which actors are playing different parts each week, rehearsing one role in the afternoon and performing another one at night, with little opportunity to perfect their craft?
Do they do it to prove they can? To take them out of their comfort zone? To show their commitment?
All those questions were going through my head as I watched the final offering in a seven-play, eight-week rep season which has been presented as part of the 70th anniversary of the Pomegranate Theatre.
And then towards the end of the show, on walked David Gilbrook. Over the past couple of months, he has played a vicar and two other small parts in Joseph Kesselring's Arsenic and Old Lace and a henpecked husband in Anybody for Murder by Brian Clemens and Dennis Spooner. He also designed the sound for all seven plays.
In Don't Dress for Dinner, the slightly built Gilbrook plays George, a multi-tattooed, motorbike-riding husband who is drawn into the shenanigans when he goes to pick up his wife, a chef who has been hired to cook for a dinner party.
George becomes violent and assaults two men who he thinks are having an affair with his wife.
Would Gilbrook have even been considered for the role if Don't Dress for Dinner were being produced as a standalone production? Highly unlikely. The casting director would probably have chosen a beefier, menacing-looking actor who would put the fear into the heart of anyone who offended him.
But Gilbrook takes to the role like a motorbike fan to a Harley Davison. He clearly enjoys the part and is convincing enough for you to ignore his stature.
Sarah Wynne Kordas designed the sets for three plays in the season as well as taking a couple of parts in Keith Waterhouse and Willis Hall's Billy Liar.
In 2016, she impressively played nurse Paisley in Anthony Horowitz's psychological thriller Mindgame. In Don't Dress for Dinner, she is totally different as Suzette the cook, reluctantly going along with absurd schemes as two men try to cover up their affairs and jovially extracting money out of the pair of them to maintain her silence.
Don't Dress for Dinner is Marc Camoletti's 1987 play which was first presented at the Pomegranate in 2010. It's set in the living room of a house some distance from Paris.
The plot is almost as complicated as Brexit. Bernard has arranged for his mistress Suzanne to spend the weekend with him while his wife Jacqueline is away at her mother's. Bernard's best friend Robert is also coming over and Bernard is relying on him to be discreet. But Jacqueline calls off her trip, saying her mother is ill, because she wants to spend time with her lover who just happens to be Robert.
Bernard has contacted an agency to provide a cook to cater for the couple's culinary needs but Suzette's arrival leads to confusion as she is mixed up with Suzanne.
Some of the characters' reactions can be exasperating but this is farce—and the company does a really good job with it.
As in other productions during the season, John Goodrum plays a philanderer aiming to cover up his antics from his wife. He again shows excellent timing as Bernard, extracting as much humour as possible from the script.
Susan Earnshaw hasn't disappointed throughout the season and is delightful as Jacqueline. She and Goodrum revel in one scene involving a soda siphon which refuses to stop working; the ad libbing is commendable.
With customary strong performances from stalwarts of the season David Martin as Robert and Anna Mitcham as Suzanne coupled with a deft touch from director Karen Henson, Don't Dress for Dinner is a super way to end this rep season.
I don't think anyone would begrudge the entire team a stiff drink or two and a long lie-down in a darkened room after two months' extremely hard work which has brought a lot of pleasure to Pomegranate audiences.
Reviewer: Steve Orme