Donkey Heart
Moses Raine
Old Red Lion
–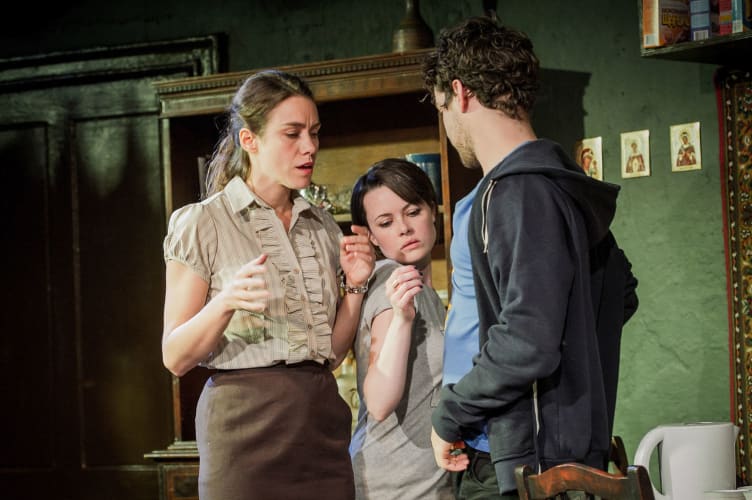 Promising young playwright Moses Raine does a lot right in Donkey Heart, directed by his sister Nina in the appropriately compact space of the Old Red Lion.
The set represents the cramped Moscow living room of a generous, post-Soviet family that is a magnet for dramas.
Like the overheated auditorium, the apartment is a pressure cooker—of passions—with hormones overflowing in all directions.
The play starts as a social satire/travelogue and takes time to find its identity, arguably never quite managing to do so.
One strand follows Alex Large's Tom, a young English innocent holidaying at the home of a pretty Russian girl whom he met in the UK. The intentions of this presumably semi-autobiographical character are not hard to divine. He does though provide a useful perspective on day-to-day life in Eastern Europe now, even as he pines.
If the path of true love doesn't always run smoothly for Tom and the excellent Lisa Diveney playing Sasha, it is a joyride compared to the car crash of a relationship between her lazy, draft-dodging younger brother Petya and rather tarty Clara (James Musgrave and Georgia Henshaw).
Something is also going wrong a generation up, as grim apparatchik Dad (Paul Wyett) ineffectively hides a secret from household while timid Mum (Wendy Nottingham) ploughs on regardless.
That just leaves a varied trio of Chekhovian supernumeraries. Emily Bruni plays Dad's homeless PA Natalia, on opening night, Pierre Atri charmed the audience as the baby of the family 10-year-old Kolya, while veteran Patrick Godfrey came close to stealing the show in the role of kind but forgetful Grandpa.
The lovely old man symbolised the past in a rather literary fashion, helping us all to understand what life was like only a few decades back when the Iron Curtain really did divide Europe.
Donkey Heart portrays a family suspiciously like a Russian version of that depicted by sister-director Nina in Tribes with great wit. He also has a well-developed writing style that brings out a number of important messages.
Where things do not gel so smoothly is in some pedestrian plotting that does not sit well with what is otherwise an intriguing 2¼ hours of observational drama.
Reviewer: Philip Fisher