Draw from Within
Choreography and director Wim Vandekeybus
Rambert
Sadler's Wells
–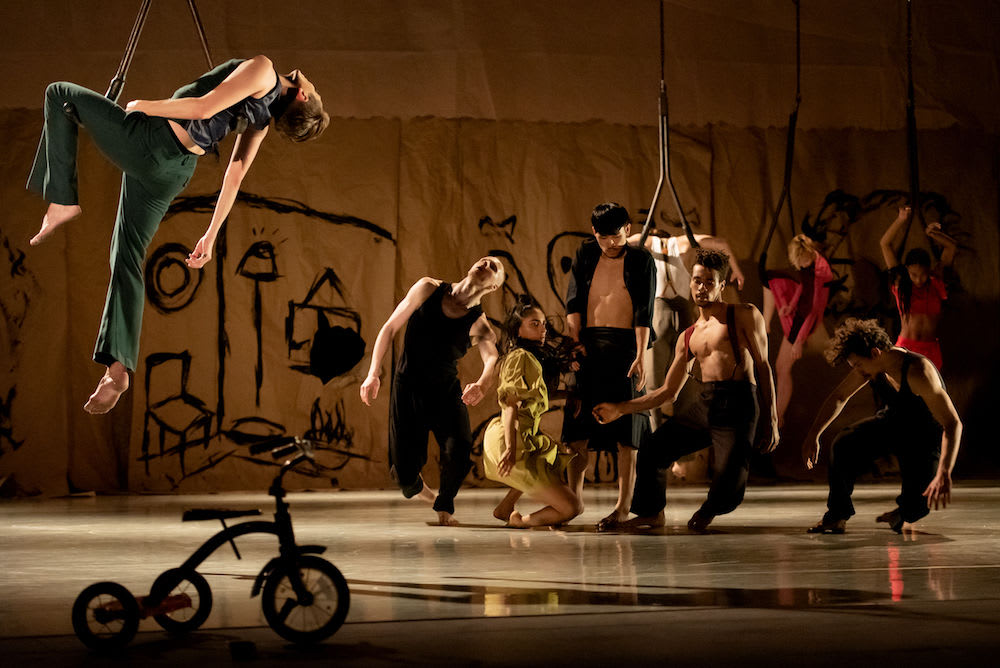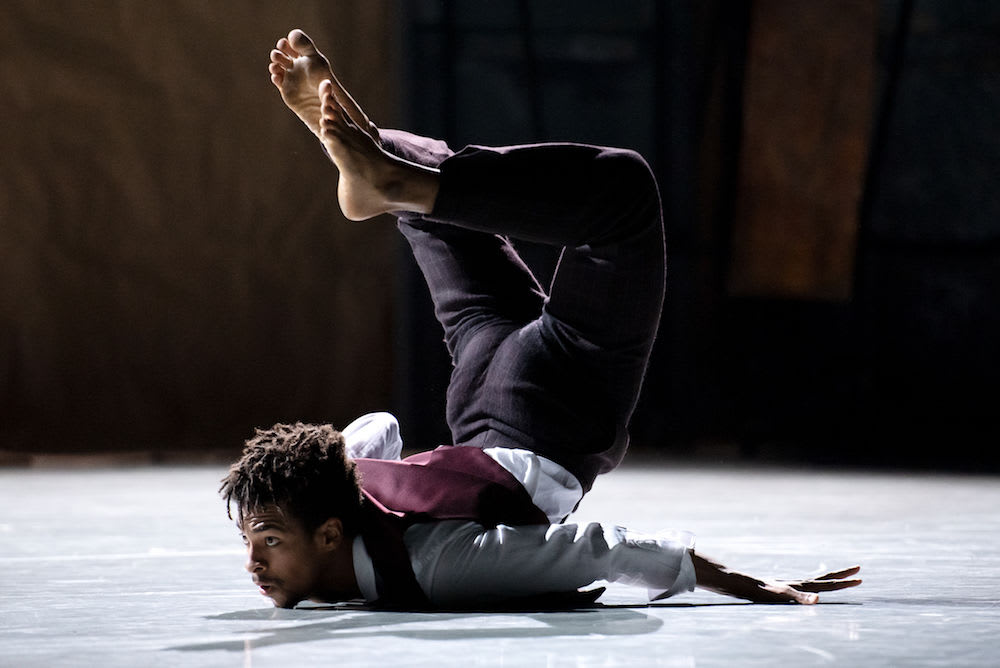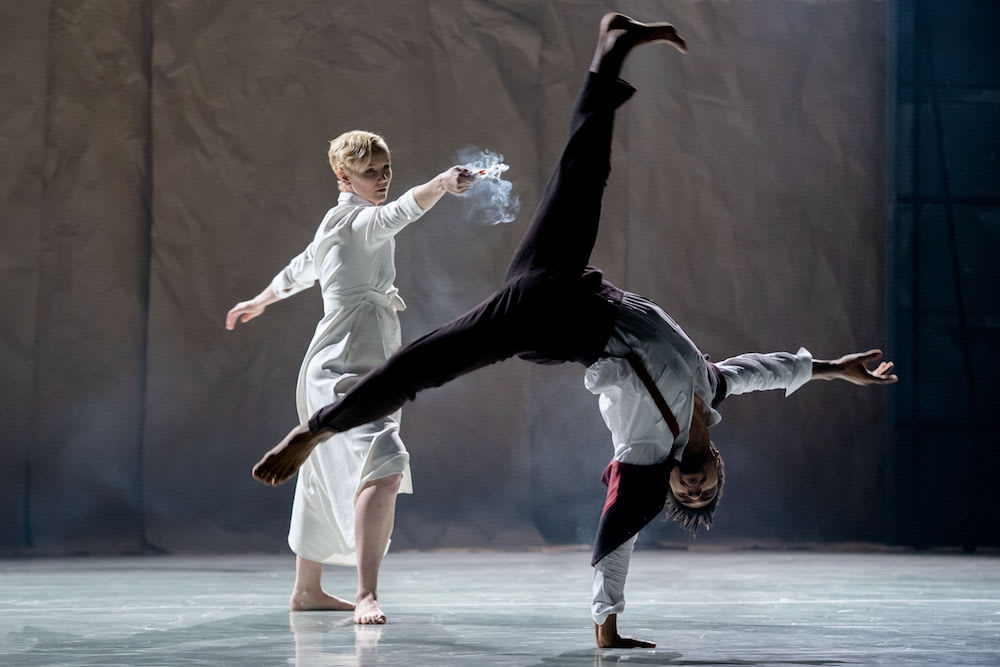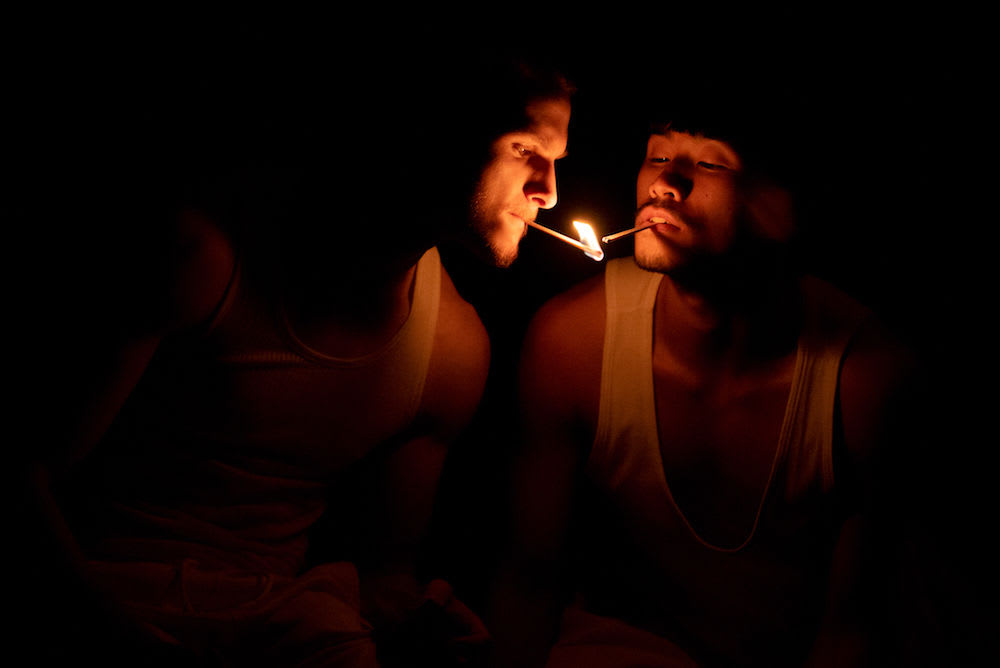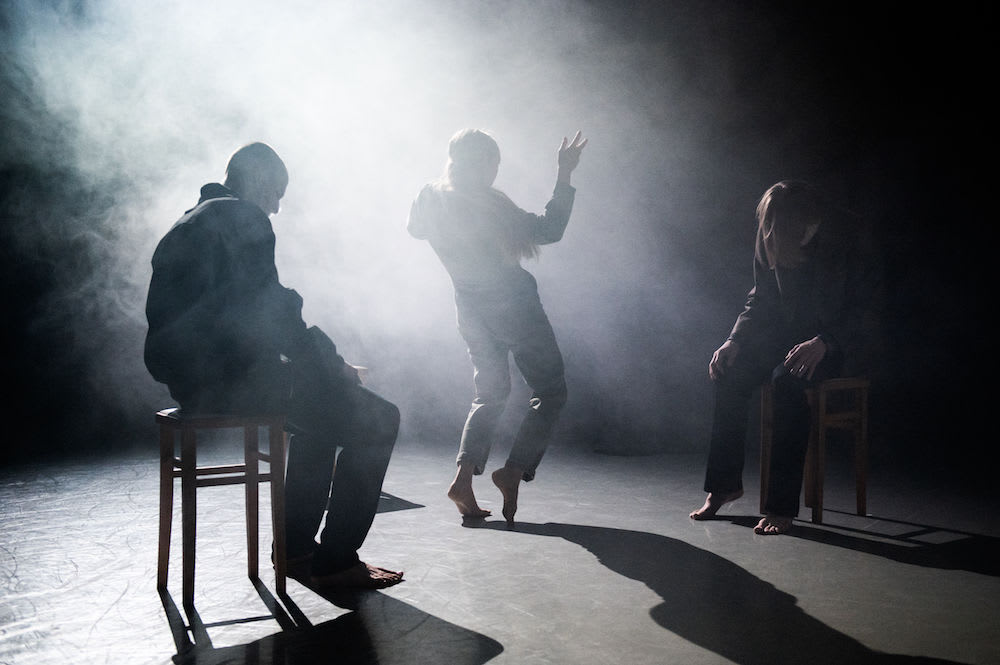 Draw from Within—what can be drawn from within, blood, energy, anxiety, life? All of these and more... Rambert commissioned, with great foresight, both a live, filmed transmission for lockdown and a stage production. I didn't manage to see last year's streamed version, so can't compare, but I gather it utilised the various spaces in the Rambert building on the Southbank. Here is just the wide-open stage and an audience to address. We are the camera. I enjoy it more than I anticipated.
Address us they do (yes they speak, there is poetry and pertinent music), fourteen dancers give it all they've got, invested in it as they are. This feels a collective venture with much improvised input from the dancers in the Pina Bausch manner. Another of Wim Vandekeybus's titles comes to mind: What the Body Does Not Remember (his debut piece in1986), though here it's more what the body and mind can withstand during house arrest. If there is such a thing as lockdown syndrome, this is it. But as with the best of dramas, the audience will invest their own into the reading of it.
Seventy minutes of full-on commitment, full-blown formidable gymnastic moves, and episodic surreal sketches, anarchy and rebellion. A woman wields a knife, there is blood, smoke and fears. It might be useful to know that Vandekeybus is also a cinematographer and dropped out of a psychology degree.
Much to decipher if you wish, and it's not that difficult: birth, death, family, anxiety, tension, desire, love, celebration, survival, community support (village circle dances—post plague?), the maze of life and its hurdles, hopes and fantasies, humour and Goya-esque horror with its crippled men and women, crippled by an unseen enemy, only miasmic smoke. But it ends in gospel song and a love fest.
Or you can sit back and enjoy Wim Vandekeybus's choice of music, which regenerates and revives. I do, and though it obscures some of the talking I don't care, the music speaks of seventies festivals, Marc Ribot's free jazz guitar brings Jimi Hendrix to mind and the Cream gig in Fillmore West, psychedelic raves, trance, Balkan village jazz, music as one of life's essentials. A guitar does it for me every time.
Get this for the eclectic score: Marc Ribot's "Air" and "Blood", "Doina Olt" by Anca Parghel, "Doina De Pe Valea Cernei' by Constantin Gherghina, Ivo Papasov's "Dance of the Falcon", "You And Me" and "I Cried a Tear" performed by Penny & The Quarters, and "In the Woods" and excerpts from the "Menske" soundtrack by Belgian group Daan, originally produced by Vandekeybus's company Ultima Vez in 2007. And there's also Ted Hughes's "Conjuring in Heaven" from his famous "The Life and Songs of the Crow".
There's darkness lit by matches that leave smoking trails, primitive tribes, the ritual of cutting out a heart (Aztecs?), history and evolution—take heart, it's never been easy. Is Draw from Within attempting a history of humanity? Men smash into six hanging metal panels. Why? Who knows, but it's a passing drama. Some hang in a state of drugged stupor off huge butchers' hooks, some invade the paper backcloth drawing they have made (in therapy?)—octopus, dog, sitting room, tree, and a pregnant woman…
The pregnant woman gives birth to a male child, who grows up very quickly and progresses rapidly from baby trike to toy car to gunning down his father (a borrowed leg is the rifle)—a schizophrenic child who speaks in high baby voice and threatening adult tones.
Costumes (Isabelle Lhoas) are as random as the dance, and props, including an old-fashioned telephone exchange consul on wheels, are abstract art installation clever. Wires, held taut by the dancers, obstruct and divide, separate and isolate. Some can dodge them, some high jump over them. A metaphor for now, perhaps…
The dancers are incredibly bendy and lithe, Liam Francis astonishingly so. Acting skills are demanded, especially in the video projection nightmare scenario: a screen shows two long corridors, a sinister underground car park or an asylum. A woman comes on and is divested of her white dress by pairs of white clad nurses / guards in bloodied Marigold gloves and made to lie on a camp bed. She is scared. But all is well in the end. Just a freaky bad dream.
The timing and team work requires precision and memory: tonight's Rambert performers (Adél Bálint, Aishwarya Raut, Alex Akapohi, Antonello Sangiradi, Conor Kerrigan, Daniel Davidson, Edit Domoszlai, Guillaume Queau, Juan Gil, Kym Sojourna, Liam Francis, Max Day, Naya Lovell, Simone Damberg Würtz) are individuals with unique styles (some lovely duets, too), but also a collective, a tribe, with great intuition and rapport. Isn't that just what we need to get us through these trying times: verve, vigour, wit to see the absurdity of life… ah, the therapeutic arts… and the support and solidarity of our fellow inmates in today's madhouse?
"The performances mark the company's first on-stage performance following an unprecedented fourteen-month hiatus."
Reviewer: Vera Liber