Duncan Macmillan Plays: One
Duncan Macmillan
Oberon Books
Released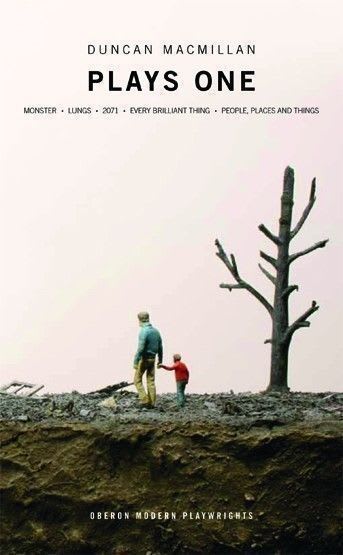 Monster
The opening play in a collection that confirms Duncan Macmillan as one of the best and most intelligent British writers around is a powerful indictment of modern society. It pits 14-year-old Darryl against a trainee supply teacher Tom in a battle of wits that threatens to get physical.
Darryl is not so much a teacher's pet as a voracious lion waiting to pounce. Having been excluded from normal classes, he is put into the willing but barely trained care of Tom, who has recently rejected life as an affluent city middle manager due to stress.
It doesn't take long for the orphaned youngster to get around Tom's genuine concern but limited skills.
The stresses are increased by the reluctance of Tom's girlfriend Jodie to embrace his career change, although her pregnancy, which arises during the course of the play, changes their outlook considerably.
Macmillan has written a gritty, hard-hitting drama that really gets under the skin of the kind of a teenager who seems destined for criminality and institutional incarceration as soon as he comes of age.
He also presents a sensitive portrayal of a kind man trying to drop out of the rat race into something less stressful and more rewarding who, thanks to bad luck, discovers that the fire is even worse than the frying pan.
Lungs
Lungs is very nearly as good on the page as it was viewed with a live audience in the Paines Plough Roundabout and it has proved popular, also having been performed in the United States and Germany.
The playwright has created a two-hander that attacks head-on what it means to be young and in love in these complex times.
A couple identified only as W and M for their genders are viewed over a period of a year or more, going through some of the most traumatic experiences that any of us could hope to avoid.
The starting point is a tricky debate about whether the time is right to have a child and, more controversially, if bringing a baby into an overpopulated world is anything more than merely selfish.
The baby controversy could have continued but, once W becomes pregnant, different considerations come to the fore as the drama is ramped up further.
Before the end of a deeply moving and possibly heart-breaking work, this unfortunate pair go through many more ups and downs, some self-inflicted but others nothing more than the result of fate.
Macmillan perfectly judges and times his revelations, which play with the emotions not only of his characters but also the reader.
2071
2071, which is a collaboration between Duncan Macmillan and Prof Chris Rapley, an esteemed climatologist and former director of the Science Museum, reads considerably better than it plays.
To all intents and purposes, this is a powerful treatise on the fearful consequences of climate change, unless the powers that be across the globe make drastic changes to their behaviour with almost immediate effect.
As such, despite Katie Mitchell's efforts, it never became much more than a lecture on stage but, when read, it will make anyone think twice before flying across the world unnecessarily or supporting a Government that cares little about this critical subject.
Given the time for reflection that reading allows, 2071 is a sad but necessary and extremely well researched reminder that, by the middle of this century, flood and drought could become the norms across much of the globe unless someone takes drastic action now.
Every Brilliant Thing
Seeing Every Brilliant Thing performed both in the Paines Plough Roundabout and at Barrow Street in New York, it was easy to believe that, while Duncan Macmillan had written a good script, the overall effect owed far more to outstandingly warm and empathetic performances from Johnny Donahoe, aided by the audience.
Reading the script makes one realise that Macmillan has created a compelling and deeply moving comedy with heart and soul.
A solo show that involves its audience to this degree would normally be deeply embarrassing, though possibly very funny.
However, this piece explores mental health issues in considerable depth but with enough subtlety that most viewers will not even notice the serious matters underlying a great deal of the humour.
On one level, a little boy becomes a man and as he does so shares the best things of life with a few hundred people in a theatre.
On another, he looks into the issues that eventually led to his mother's suicide and his own depression.
In doing all of this, he is helped by a series of characters portrayed by members of the audience including the youngster's father, a school psychologist (complete with sock puppet) and the woman who would eventually become his wife.
Every Brilliant Thing easily lives up to its name and deserves a long touring life and possibly longer London run to enable more people to see and enjoy what is a very special work.
People, Places and Things
A writer who could put Lungs and Every Brilliant Thing on to his CV could go to the grave happy.
However, Duncan Macmillan is the real thing and to top those two plays with People, Places and Things is a major achievement for anybody, let alone a writer who is still in the early stages of his career.
It may not come through as much on the page but Macmillan has a knack of creating roles that any actor would love to play. In this case, Emma provided a heaven-sent opportunity for Denise Gough, who used the role as a springboard to win both the Olivier and Critics' Circle awards for best actress.
On the other hand, reading the script proves that there is far more to People, Places and Things than Jeremy Herrin's marvellous production and the outstanding performance from its leading lady.
This is a sophisticated but witty play about the horrors of addiction and the difficulty that those afflicted have in accepting its existence and the impact on themselves, family and friends.
While one would normally turn to a learned treatise to get a deep understanding about a malign medical condition, when it comes to the consequences of drug and alcohol addiction, one could do worse than start off with this play.
While sympathetic, its main strength is in demonstrating the depths to which addicts will plunge in order to help themselves, regardless of the cost to loved ones.
In passing, one speech also gives one of the best overviews of acting "addiction" that this reviewer has ever come across.
Reviewer: Philip Fisher