Eat Pray Laugh!-Barry Humphries' Farewell Tour
Barry Humphries
London Palladium
–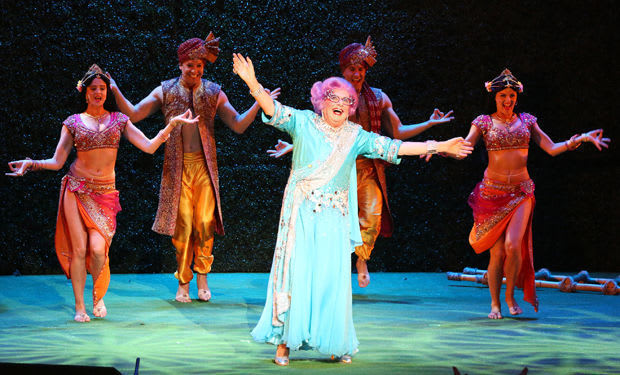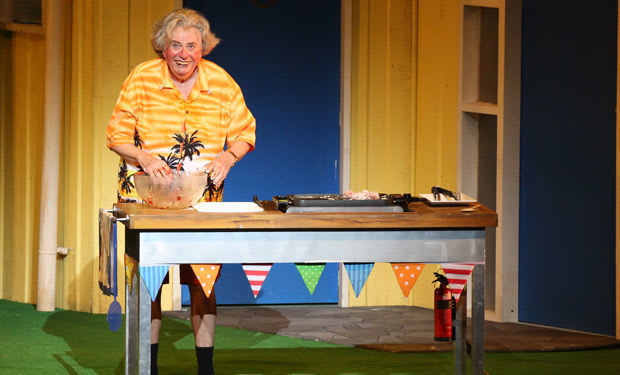 Even 40 plus years on from his first solo London stage performance, Barry Humphries remains a remarkable phenomenon. The far from modest Australian superstar can still fill the London Palladium, even with top ticket prices only the rounding less than £100.
The opening night audience was as starry as any in the capital since the Spice Girls attended Viva Forever, including the star's old sparring partner Michael Parkinson taking a brave trip down memory lane.
Even at these steep prices, devotees will think that the investment was worth every penny, in part because they get two and a bit shows in one and enough laughter to compare with almost any comedy set currently on offer.
Most impressive is the energy that a man who will be celebrating his 80th birthday in three months' time can conjure up during a performance that runs to almost three hours with merely a little help from a pianist/stooge and quartet of cabaret performers.
First up (all double entendres almost certainly intended) is Sir Les Patterson, as crude as the most outrageous alternative comedians 50 years his junior and equally far from good taste and political correctness.
The overweight diplomat pleases even the poor devils who purchased tickets in the first three rows only to be spat upon and ridiculed.
Many will find this brand of comedy the funniest of a delicious evening. Sir Les riffs on the excesses of life, expelling gases noisily from every bodily orifice, while barbecuing poisonous rissoles with the assistance of a couple of bewildered innocents from the audience.
Sir Les is succeeded by a brief, unseemly appearance from priestly gay brother Gerard, just to ensure that the coarse tone is not permitted to let up.
A rather strange tale of an old lady in a care home related by her cremated husband brings down the interval curtain in mildly gloomy fashion.
After the break, inevitably the rest of the evening belongs to Dame Edna Everage, who arrives on an elephant. One of the wittiest parts of the show is a TV-style exposé recounting the rather sordid life of the star and heralding her appearance for a long dose of that inimitable campery.
Occupants of those front three rows get rather unkindly lampooned, especially a couple who are obliged to undergo a somewhat cruel form of mis-matchmaking, topped off by a call home to the wife of one, a calm lady who showed excellent telephonic good humour even while clad in Kentish pyjamas.
The evening ends with a final cheery song and a few thousand pounds worth of gladioli. By that stage, even if the odd joke hasn't quite come off, Barry Humphries's comic genius has been demonstrated to the great delight of all present.
This supposed farewell tour could well have the touts out long before it ends, such is the popularity of the Australian icon who has made sacrilege, political incorrectness but most of all laughter his/her calling card.
Reviewer: Philip Fisher