Edward Gant's Amazing Feats of Loneliness
Anthony Neilson
Headlong Theatre and The Nuffield Theatre, Southampton
Soho Theatre
(2009)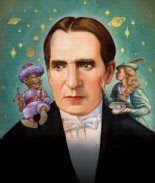 For the first 80 of Edward Gant's 90 minutes, viewers might well feel entitled to wonder whether there are two playwrights called Anthony Neilson.
Many will be familiar with the in-yer-face classics such as Penetrator and Stitching (written at pretty much the same time as this play) and more recent converts might have expected the realism of Realism.
However, what they get is a dark cross between Ripping Yarns and the recent satirical hit versions of The Thirty-Nine Steps by Patrick Barlow and The Hound of the Baskervilles from Peepolykus. Indeed, the tone of the sad stories related by Gant's trio of down at heel actors brings back the ironic heyday of Barlow's National Theatre of Brent, when the company's progenitor enjoyed a partnership with Jim Broadbent, a man who has gone on to film star status.
Designer Tom Scutt has turned the Soho stage into the fascia and stage for one of those Victorian Freak Shows featuring the likes of the Elephant Man or any number of midget bearded ladies.
There, we hear stories starting with that of Emma Handy's horribly pimpled lady destined to lose her love while making a fortune, and an explorer played by Sam Cox who suffers a similar fate. They are governed by the titular hero played not so much as an MC as a circus ringmaster by a suitably straight-faced Simon Kunz.
When Paul Barnhill's Ludd tries out his poetry, all semblance of order disappears with the arrival of two wounded teddy bears.
Under Steve Marmion's direction this is intermittently extremely funny and generally quite diverting, though after an hour or so the comedy begins to wear a little thin.
Gradually, it begins to dawn on one that there is a hidden message or two waiting to be revealed. First, the players begin to argue and revolt, allowing Neilson to focus on the form of exposure that his psychological freakshow and its peers promote.
Should actors put themselves through humiliation and torture to entertain is the first question. In a marvellously shocking coup de théâtre, the writer then turns the tables on his characters and the audience in a thought-provoking finale that returns to his interest in the nature of the way that we perceive and endure human existence.
It has taken a long time for this unusual piece to reach the West End, courtesy of a co-production between Headlong and the Nuffield in Southampton. It first saw the light of day under the playwright's direction in Plymouth as far back as 2002.
Edward Gant demonstrates Anthony Neilson's determination to avoid typecasting and will have a dual appeal, to lovers of showmanship and also fans of well-constructed dramas, although the latter may feel that the play is a little unbalanced with rather too long a wait for the pay-off.

Reviewer: Philip Fisher