Elegy
Nick Payne
Donmar Warehouse
–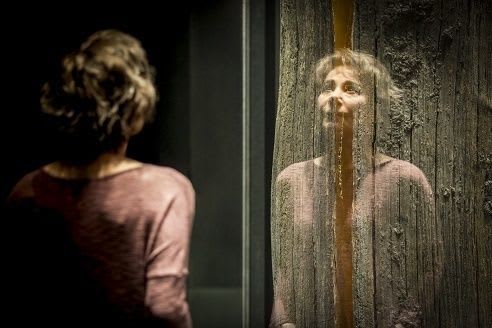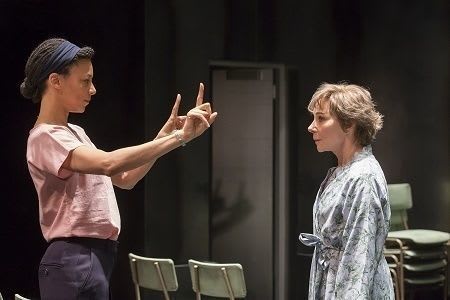 Donmar Warehouse Writer in Residence Nick Payne established his reputation on the back of Constellations, a dazzling play about love that really almost used form to complement content and in doing so capture hearts on both sides of the Atlantic.
Although the subject matter of Elegy looks at relationships from a very different viewpoint, this tender, at times poetic drama with a running time of less than 75 minutes could be seen as a companion piece.
Tom Scutt's set is dominated by a 20-foot high, split tree trunk in a glass case, shades of Georgia O'Keeffe reimagined by Damien Hirst. The symbolism comes into stark focus as the experiences of Lorna played by Zoë Wanamaker and their devastating impact on Barbara Flynn as her loving but highly emotional wife Carrie begin to unfold.
What develops is a complex moral and ethical study of love in the form of a sci-fi plot set some time in the near future, the kind of piece that has often attracted Caryl Churchill.
Having discovered the outcome of a medical procedure which has saved Lorna's life, Payne tracks back to show the seeds of the dilemma that this causes in a beautiful and intricately imagined plot which is deeply moving but also intellectually challenging.
By delivering events out of chronological order, the most harrowing scenes are exacerbated by our knowledge of their consequences.
Highly intelligent Lorna suffered from a form of dementia that was slowly eating away at her health and happiness. The only solution that Nina Sosanya's calm Doctor Miriam Gomez can offer changes the nature of the sprightly senior citizen's marriage, both in the short term and seemingly forever.
Often the problem for rationalists when confronted with science fiction is the need to suspend reality and accept far-flung assumptions. The genius of this play is to introduce a single obstacle into the experiences of a normal couple that every viewer could instantly recognise. In doing so, it will play on the unspoken fears of many audience members, making them look at the world, not to mention their own relationships and experiences, afresh.
Under the well-judged direction of Josie Rourke, Zoë Wanamaker excels as the protagonist, both in the confusing period when Lorna knows that she is losing her mind and when dealing with the inevitable but truly terrifying outcome of the medical procedure, with one flash of silent fury particularly catching the eye. Barbara Flynn provides superb support as her often bewildered partner.
The very best theatre strives to go beyond providing a little bit of escapism entertainment. Elegy falls into that category and after seeing it some viewers might change their own lives, attitudes and beliefs as a direct result of a mere hour or so of imaginative theorising by a playwright on top form. Who could ask for anything more?
Reviewer: Philip Fisher