The Emperor Jones
Eugene O'Neill
RNT Olivier
(2007)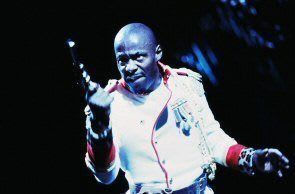 Paterson Joseph once again gives an outstanding performance in the title role of this short play by Eugene O'Neill. Apart from his presence, there is little in common between Theo Sharrock's new staging and her original version at the Gate.
In between, she has achieved fame by directing Daniel Radcliffe in Equus and with The Emperor Jones has shown what she is capable of achieving on stages both small and large.
Where the Gate production presented the cocky little man trapped in a pit in the most intimate relationship with his audience, this latest incarnation is a visual delight on a completely different scale. Indeed, there are almost as many people taking a bow at the end of the 75 minutes here as there were in the audience in Notting Hill.
While this may sound like one of those academic tests set to young directors, Miss Sharrock demonstrates that it is possible to completely reinterpret a play that you have directed yourself, especially given the kind of budget and facilities that the National Theatre has to offer.
Joseph, first seen in a magnificent white ceremonial uniform complete with leopard skin cuffs, is once again a revelation playing the kind of dictator who these days might well lead some kind of religious cult.
Through good fortune, this American ex-con has persuaded his acolytes, probably from Haiti, that he has divinely ordained immortality and therefore the right to lead (and rob) them.
Even then, he has the wisdom to know that having travelled "from stowaway to Emperor in two years" he will be found out before too long and as a precaution, carries a silver bullet that will inevitably pierce his Achilles heart, before the action has run its course.
Where Joseph is so impressive is in conveying the changes in character and attitude of a man whom we first see at the moment when his reign is about to fail.
From bumptious pride, encouraged by Henry Smithers, a white trader played by John Marquez; the glorified nobody moves through bravado to fear and ultimately madness. At no point does the actor ever slip out of his complex character during what is at times close to a solo show in a theatre space known as one of the most difficult in the business.
His director supports him with percussion played live and great visual effects from designer Robin Don, particularly as the Emperor runs out into the forest and suffers a series of haunting dreams.
Whether it is a dead man playing invisible dice, a beautifully choreographed chain gang, a slave auction or perhaps best of all a witch doctor, the effects are stunning. That does not mean that O'Neill's social criticism disappears. Indeed, the inherent message about imperialism and underlying racism still shines through.
This new interpretation of The Emperor Jones may not have the sweaty intimacy of the Gate but more than makes up for it with the spectacle and an opportunity to see the wonderful Paterson Joseph entrancing an audience of close to 1,000 with an unforgettable acting display.
Even better, this play is part of the Travelex £10 season, which means that this great evening should break nobody's budget.
Reviewer: Philip Fisher