Eventide
Barney Norris
Up in Arms
Arcola Theatre
–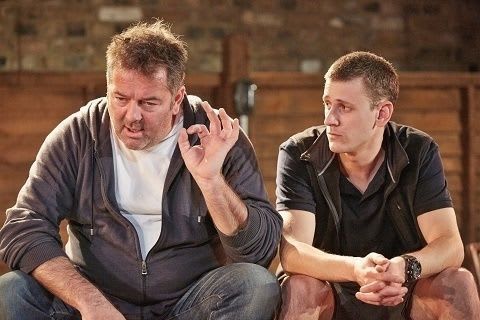 Having won a Critics' Circle Award for his first play Visitors, much was expected of Barney Norris's follow-up.
The up-and-coming playwright is fast turning into the quiet voice of Britain, writing detailed portraits of the nation on a small canvas as seen through the eyes of an exceptional folk. In some ways, this new piece covers some of the same ground as Jez Butterworth's instant contemporary classic, Jerusalem but on a gentler, more limited scale.
Eventide is set in the garden of a country pub somewhere near to the New Forest. There, three lonely individuals bare their souls on the outskirts of one funeral and a wedding, a year apart.
The warm-up to debates on some of the most serious issues affecting society and its citizens today is a long, tasteless joke. This is delivered with great timing by John, the long-serving alcoholic publican played by James Doherty, who gives a particularly moving performance under the direction of Alice Hamilton.
We quickly learn that this is the genial philosopher's last day in the job, which might be as well, given his penchant for drinking away the profits.
His guests are equally troubled. Hasan Dixon as young Mark is grieving for the girl that he loved, generally at a distance. She has just passed away in what might (or might not) have been a motoring accident, writing off the war memorial that he is condemned to repair to make ends meet.
This provokes a discussion of the rural economy and its failure to support the locals, now that farming has largely disappeared.
Completing the group is Ellie Piercy's Liz, a church organist who travels two hours each way to ply her trade, losing money on every gig.
She is determinedly cheerful, a good soul keen to support those in need, although one divines that loquacious Liz is little better off herself. Perhaps inevitably, before the interval she invokes the wrong responses to that unexpected trait, altruistic generosity.
A year on, much has changed though a great deal remains the same. The occasion is Mark's wedding.
By now, the independent pub has become part of a bland chain and Mark has a proper job, though he is still financially disadvantaged.
Both John and Liz also shed more light on Britain and especially its country communities today but also their own experiences, building towards a highly appropriate and brave closure that will seem almost unbelievable to those who expect sensational endings to entertainments these days.
Eventide may be a relatively static play but it overcomes the lack of action thanks to Barney Norris's ability to get into the hearts and souls of his characters and, by extension, the community that they represent and wider society.
There is every chance that, following its short tour around the UK, this intriguing play could follow Visitors onto a larger London stage and it richly deserves to do so.
Reviewer: Philip Fisher