Evolution: Satori / Paysage, Soudain, la nuit / Faun / Rooster
Choreography Raúl Reinoso, Pontus Lidberg, Sidi Larbi Cherkaoui, Christopher Bruce
Acosta Danza
Sadler's Wells
–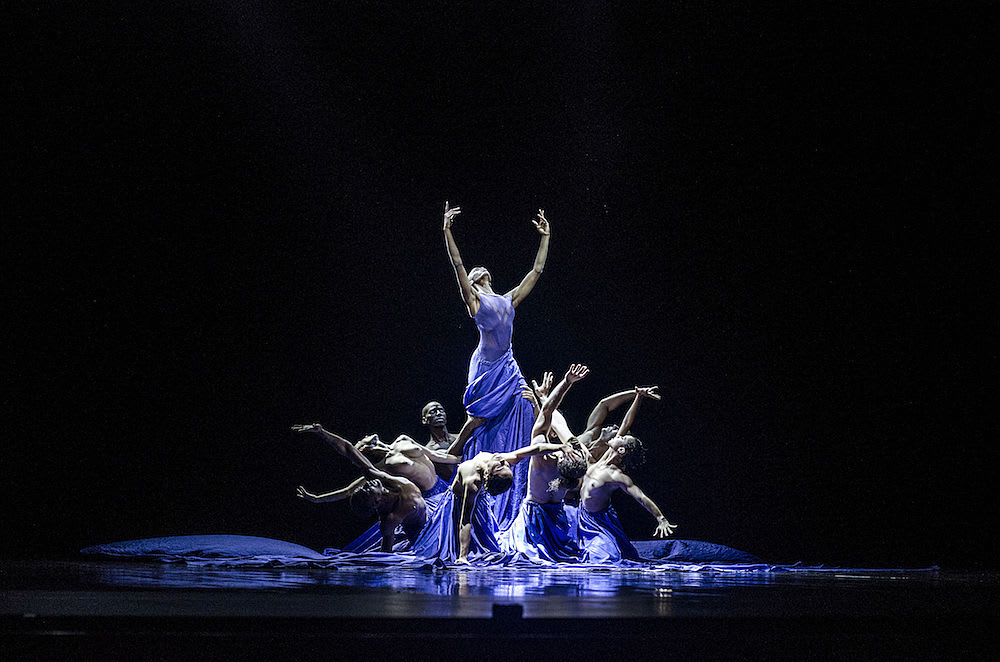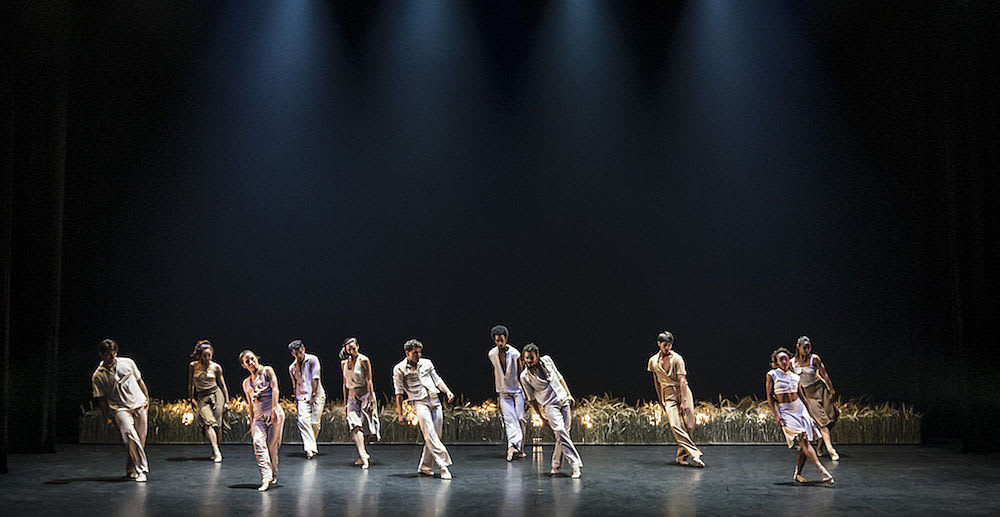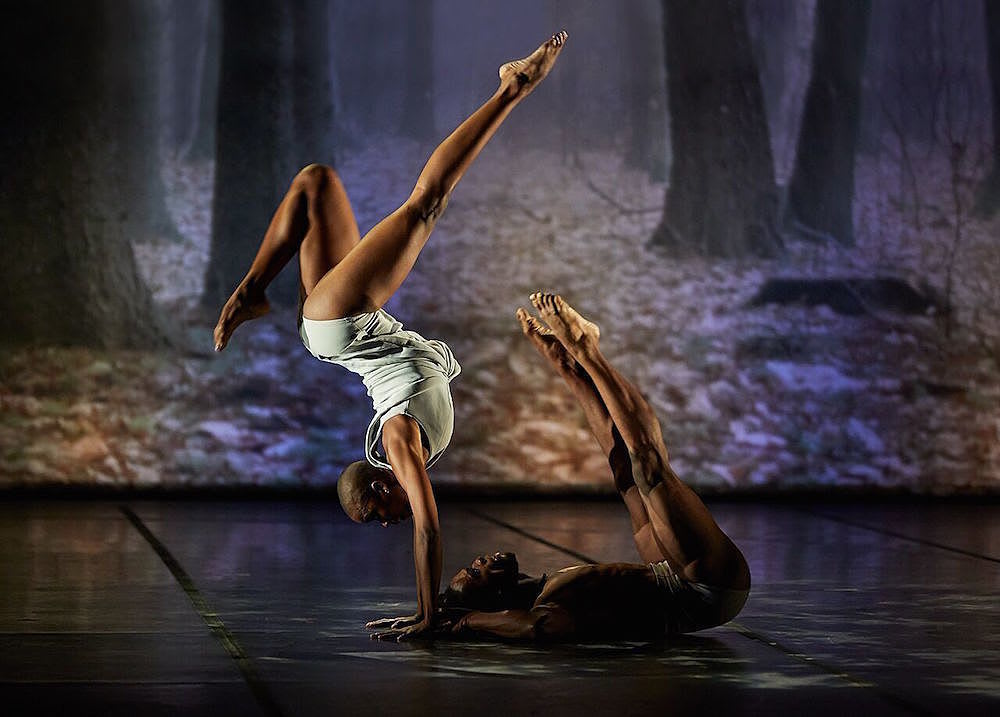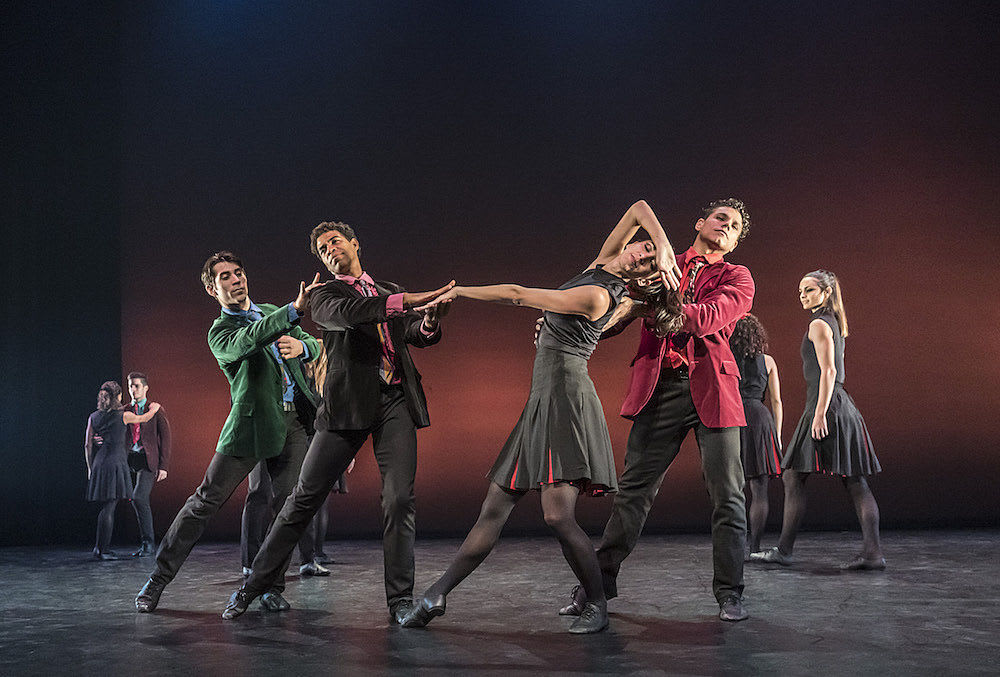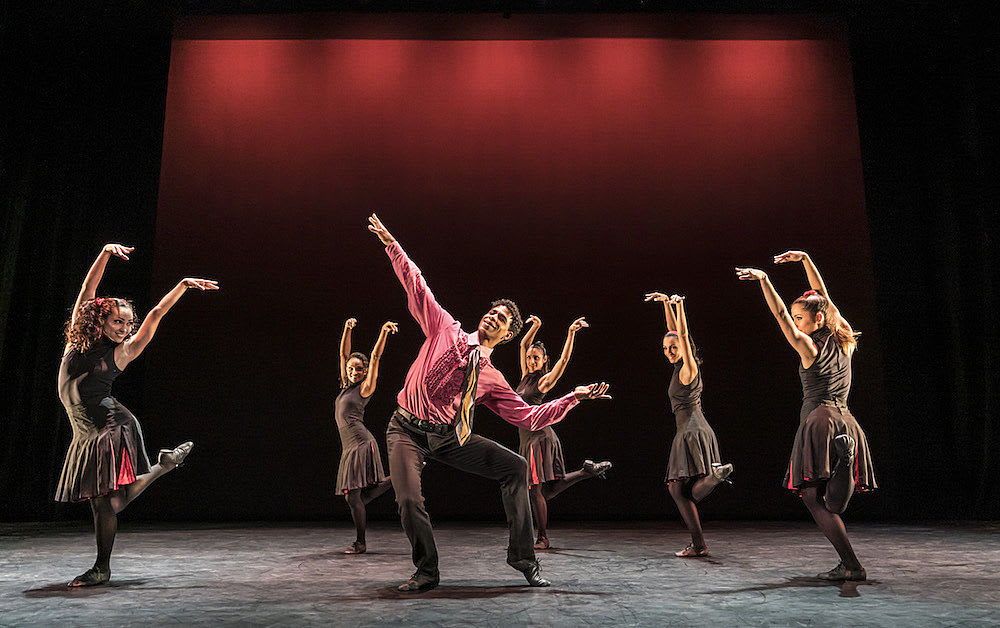 The indefatigable Carlos Acosta presented his fledgling company, Acosta Danza, at Sadler's Wells in 2017 with the aptly titled Debut. Now comes Evolution with two new works from 2018 and two already familiar to a Sadler's Wells audience, the 2009 Faun by Sidi Larbi Cherkaoui and Christopher Bruce's Rambert classic, the 1991 Rooster, to a hedonistic (sexist) roster of Rolling Stones iconic narrative songs, which take me back to my student days, "Rooster", "Lady Jane", "Not Fade Away", "Paint it Black", "Ruby Tuesday", "Play with Fire", "Sympathy for the Devil". And which Bruce's choreography fires up with ironic humour—really is that how we were...
Acosta makes a guest appearance in Rooster, and can he still deliver. The last, and longest, piece of the four, he charms the house to its feet. Commander of a young company half his age, he rules the barnyard roost, the stage his natural home. And he knows it, playing up to his 'sex god' label, though in an interview he says with a twinkle in his eye that he doesn't get it, a man with three children… Don't believe a word, he still has charisma and stage presence in buckets. The eyes follow him even in a crowd of delectable bucks and sassy girls.
But it is not his success alone, though he must be proud of what he has achieved—the first students (funded) are emerging from his dance school in Cuba—Acosta Danza is an embarrassment of riches. The man is a role model and an example: his dancers are amazing, lithe, supple, musical, up for anything. Cuba's son is paying his dues, and we are the lucky ones.
Mixing tried and tested with the new, the evening opens with Satori (in Zen Buddhism apparently it refers to spiritual enlightenment) by company dancer Raúl Reinoso, and it is a long, over-conceptualised twenty-five minutes. Naked torsos conjoined by a large blue silk groundsheet / parachute (design Angelo Alberto with Fabiana Piccioli's blinding lighting crucial in the mix) that becomes many things, overhanging firmament, shroud, cloak… And it gives birth to a goddess—the statuesque (on pointes she towers above them all) spider-woman—the shaven-headed hypermobile, flexing, if not bone breaking, Zeleidy Crespo.
One can read Satori in many ways, abstract, spiritualistic, ritualistic, tribal, emotional, the birth of time, primeval forces searching, questioning, evolving with the sounds and the forces of the earth. It may be incoherent to some, but we have been here before—intuition, instinct, impulse. I think of Picasso. Loose-limbed, honed, toned dancers semaphore and spin in exorcism to Pepe Gavilondo's (with conceptual input from the choreographer) dramatic atonal score mixed with Cuban songs.
Pontus Lidberg's seventeen-minute Paysage, Soudain, la nuit comes as light relief after that. A cornfield, happy collective farm workers on their night off, I'm guessing. It does make me think of Soviet ideology, socialist realism's optimism. And the dancers are a joy. Sunny music—Lee Brouwer's "Cuban Landscape with Rumba" and Stefan Levin's "Cuban Landscape"—the vibe positive, the dancers at one with the land (Karen Young's costumes the colour of wheat). Arms waving, bodies burgeoning, it is a celebration of youth. Solos, duets, lovers meetings, and group dances, infectious, all welcome. Elizabet Cerviño's installation "Vientos" (2017) provides the idyllic setting.
More burgeoning, and uninhibited sexual awakening, in Faun, performed by the astonishing Zeleidy Crespo (the next Sylvie Guillem?) and Carlos Luis Blanco in Cherkaoui's elastic erotic choreography, two coltish creatures discovering themselves and each other for the first time, equal and curious. The two-backed beast, literally, such wonders to behold. Acrobatic, gymnastic, entwining limbs knotting, contorting, enfolding, a breathtaking fifteen minutes (Debussy augmented and updated by Nitin Sawhney), Faun is a knockout. I see original Faun performer Daisy Phillips and Daniel Proietto (AfterLight) are the rehearsal directors. I don't think I breathe for the duration.
And finally to Rooster, that chauvinistic male fantasy to bring us down to earth—sort of. The men are Carnaby Street peacocks (costumes Marian Bruce), the women hangers on, arm candy, there's rivalry, aristos slumming it, and genuine love—go read the lyrics. And brave Carlos Acosta not able to resist giving it one more go.
A good mixed bill, plenty to chew on. And there's more to come from Acosta Danza: Dance Consortium has announced new spring 2020 UK tour dates for Evolution, which will open 3 March at Southampton's Mayflower theatre, taking in Cardiff, Inverness, Bradford, Brighton, Canterbury, Salford, Plymouth, Newcastle and concluding in Nottingham on 11 April.
How Acosta will juggle this commitment with his position as Director of Birmingham Royal Ballet from January 2020 will be interesting to follow. On tonight's evidence, he has plenty of mileage in him yet.
Mission statement—"to produce dancers that can combine both classical and contemporary genres effortlessly, imbibed with Cuba's rich musical and dance influences, to create repertoire that is exciting and stimulating and that pushes conventional boundaries"—accomplished.
Reviewer: Vera Liber