Fantastic Mr Fox
Adapted by Sam Holcroft from the Roald Dahl original
Nuffield Southampton Theatres and Curve in association with Lyric Hammersmith
Theatre Royal Plymouth
–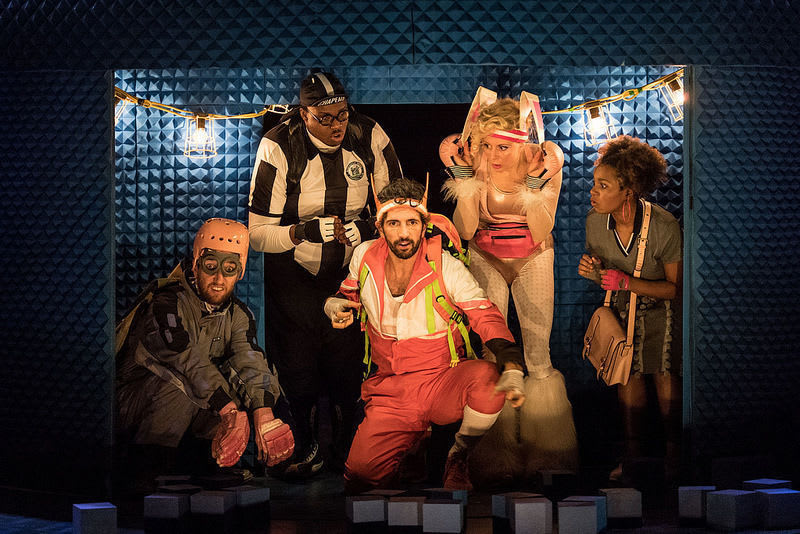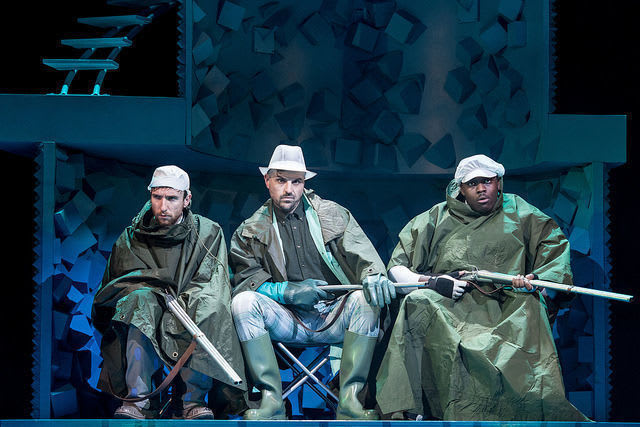 What fun.
With Roald Dahl's classics Matilda and Charlie and the Chocolate Factory's storming successes on West End and celluloid and Wes Anderson's animation, voiced by George Clooney and Meryl Streep, enchanting children everywhere, it is a brave Sam Holcroft who brings Fantastic Mr Fox to stage. And, aiming for the primary school audience, for the most part it works.
The tale of farmer v fox features the grotesque characters and dark undercurrents we know and love from Dahl with guts galore from the very start as the beautifully tweeting barbershop birds are shot down mid-warble and a graphic description of blood and entrails—set to music—places the greedy Bean, Boggis and Bunce bang in the baddie slot.
A somewhat quirky tale of hubris, Robin Hood derring-do and thinly-disguised politics is played out on Tom Scutt's industrial set with a revolving centrepiece enabling much digging to be done and movement from den to cellar, hillside to farm even if, perhaps ironically, the lush valley and towering forests the avaricious trio are desperate to save from interlopers are nowhere to be seen.
Greg Barnett is a buoyant Mr Fox (Blackadder's Flashheart springs readily to mind), somewhat testosterone-fuelled and arrogant in his orange tracksuit and trainers but knocked off-kilter by the loss of his tail. His raiding the riches of the nearby farms suffers a major setback and a trite lesson is learned—"anyone can be fantastic when you have fantastic friends" (and lose the misogyny).
His bunch of bungling burglars is a motley crew of eccentric field animals: closet geologist mole (Gruffudd Glyn); pedantic badger (Raphael Bushay); ditzy high-octane (luckily not on the menu) rabbit (Sandy Foster) and sonic mouse (all about the bass Kelly Jackson)—nicely captured with realistic tics—who, of course (yawn), each have their own journey to redemption.
Encountering Horrible Histories' Richard Atwill's wonderfully drunk self-serving rat and escaping the clutches of betrayal, poison gas and a maundering glowing-eyed dog is all part of the adventure to outdo the trigger-happy trio (quick-changing Atwill, Bushay and Glyn doubling up) staking out the bolthole with murder—and needing a wee—in mind.
Lillie Flynn (Sunny Afternoon, Wicked) is a sage Mrs Fox with nothing left to prove but whose future is looking very orange while Jade Croot is the cunning little technophile vixen Kit whose gameplay saves the day.
There's plenty of toilet humour and some rather adult asides to amuse but it is the music by Arthur Darvill (Rory Williams in Dr Who) that seals the feelgood factor. Ranging from doo-wop to rock, there are some memorable moments (particularly as the farmers release their inner fox) and tunes to hum on the way home. With the a capella birds also providing on-stage drums and guitar, Fantastic Mr Fox is a surprising musical treat and makes an entertaining evening for strong-stomached families.
Reviewer: Karen Bussell