Far Away
Caryl Churchill
Young Vic Clare Studio
–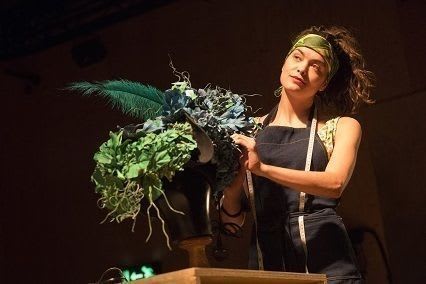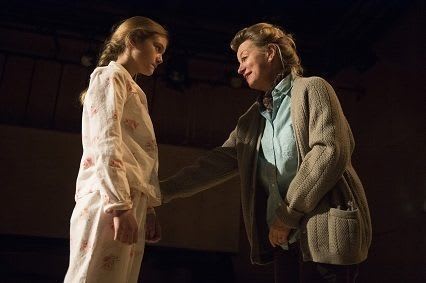 Winning the James Menzies-Kitchin Award creates an immediate quandary for the lucky recipient. You might be the best young theatre director in town but how do you prove it?
Luckily, there is a £25,000 award that has to be invested in directing the play of your choice at the Young Vic. The temptation must be to choose an iconic work but that comes with its own inherent risk that viewers will remember a past production that attained something as close to perfection as one is ever likely to see.
That is certainly the case with Caryl Churchill's Far Away. Stephen Daldry's inaugural production starring Linda Bassett still lives vividly in the memory almost exactly 14 years after it first saw the light of day Upstairs at the Royal Court.
Pleasingly, Kate Hewitt has the courage and vision required to create a fresh interpretation which may not beat the future star film director's original but certainly complements it.
She has set up a long catwalk traverse across the Clare Studio, leaving the actors terrifyingly exposed. In only 40 minutes, the director and her well-chosen cast take the audience to the darkest reaches of the human soul.
A seemingly innocent night-time encounter between the assured Emilia Jones's Joan, a girl of around 12, and Tamzin Griffin as her dissembling aunt (?) eventually implies that the girl's uncle is involved in the kind of genocide normally associated with the Nazis.
The second scene moves Joan, now played by recent star of The Crucible Samantha Colley, into adulthood and the drama to a hat factory where she has just started working alongside Ariyon Bakare's Todd. The pair have fun as they put together the kind of outlandish millinery rarely seen outside Ladies' Day at Ascot.
The pair bond and talk quietly about problems with factory management but also the parades for the adornment of which they have been working so hard.
Where Stephen Daldry had the chance to recruit innumerable extras, Kate Hewitt has made the pivotal scene equally chilling using no more than hats, chains and a soundscape. This suggests the kind of genius of a budding successor to the mantle of Daldry and his ilk.
The play moves to a surreal scene during which it appears that anarchy has moved beyond the human race and its tradesmen to the birds and the bees, literally.
That somehow manages to be simultaneously hilarious and terrifying, leading into a deliberately ambiguous denouement which should leave audience members thinking deeply about some of the most important issues in the world today.
This unforgettable production should prove a great launching pad for Kate Hewitt and, if tickets happen to be available in an auditorium that holds fewer than 70 people, a rewarding if brief evening's entertainment.
Reviewer: Philip Fisher