The Crucible
Arthur Miller
Old Vic Theatre
–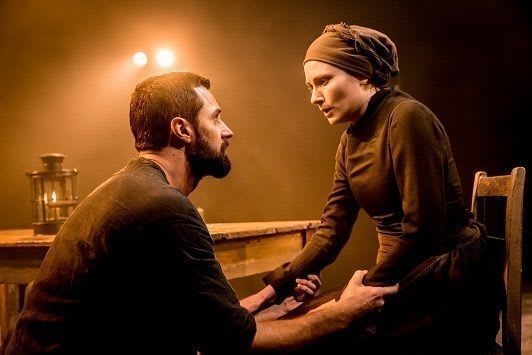 Hail Yael. Miss Farber, the South African playwright/director whose Mies Julie was outstanding, has done it again, giving London one of its most exciting evenings in the theatre this year.
Her style, combining physical theatre with sensitive interpretation of text, is well suited to the intimacy of the Old Vic's current configuration, which features a tiny playing space in-the-round.
This is minimally furnished by designer Soutra Gilmour, bare wooden furniture fitting well with the drab, puritanical clothing that was de rigueur in Massachusetts in the late 17th century.
From a chilly and unsettling opening, beautifully lit by Tim Lutkin, the production gets its claws into viewers and doesn't let go for the next 3½ hours.
Richard Armitage, star of Spooks and The Hobbit movies, plays John Proctor in Arthur Miller's classic allegory exploring the activities of the witch-hunting House Un-American Activities Committee, which he eventually faced as an alleged Communist.
Rather than setting his play in the 1950s, the writer sought to draw a parallel in Salem where real witches (or not) had been persecuted some two and a half centuries previously.
As with so many of Miller's protagonists, Proctor is a flawed but ultimately decent man. He also had the good fortune to be married to staunch Elizabeth, played with great feeling by Anna Madeley, whose morals are unimpeachable, backed by a faith that even torture could not cow.
Her husband's tragic fate was settled long before the events depicted, after this intrinsically good man fell prey to the weakness of the flesh, sleeping with his servant Abigail Williams, surely never portrayed with greater vindictiveness than here by Samantha Colley, making a professional stage debut which suggests that she will have a long and prosperous future in the acting profession.
Abigail is in good company in a village where the local pastor Parris is a materialist more interested in creature comforts than his parishioners' souls, while others will condemn neighbours to death in order to acquire their land.
Not all are bad, since William Gaunt's Giles Corey and Rebecca Nurse played by Ann Firbank are surely destined for Heaven, even if the religious zealots who imprison and kill them are more likely to find the Devil an eternal bedfellow.
They fall into two camps, those certain of their rectitude headed up by Jack Ellis as inquisitor, Deputy Governor Danforth and the doubters, Adrian Schiller's Reverend Hale in the vanguard.
The centre of this play is the battle that John Proctor, always assisted by the worthy Elizabeth, fights against his own demons made flesh on the stage by a bevy of manic young women. The best scenes in the evening feature the booming-voiced Armitage and the pained Miss Madeley giving what is in effect an acting master class as their characters bravely approach the doors of hell, heads held high.
Yael Farber has been lucky enough to cast a wondrous team of actors, every one of whom plays his or her part, in conveying the dangerous tight-rope walk between good and evil that a whole village and its environs fought in a tale drawn from real life.
The denouement offers hope for mankind and tops off an entrancing evening that should be on everybody's must-see list.
Reviewer: Philip Fisher