Feast
Yunior García Aguilera, Rotimi Babatunde, Marcos Barbosa, Tanya Barfield and Gbolahan Obisesan
Young Vic and the Royal Court
Young Vic
–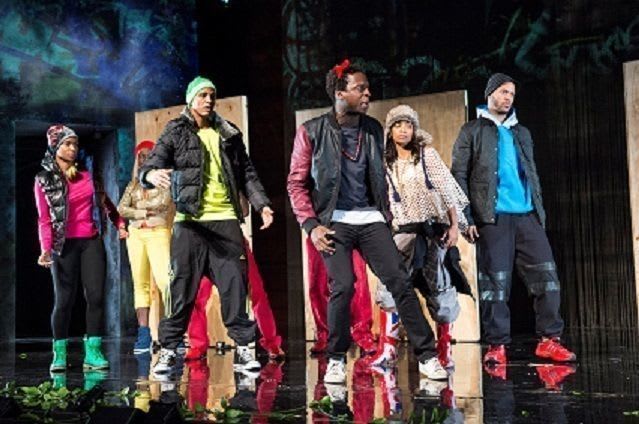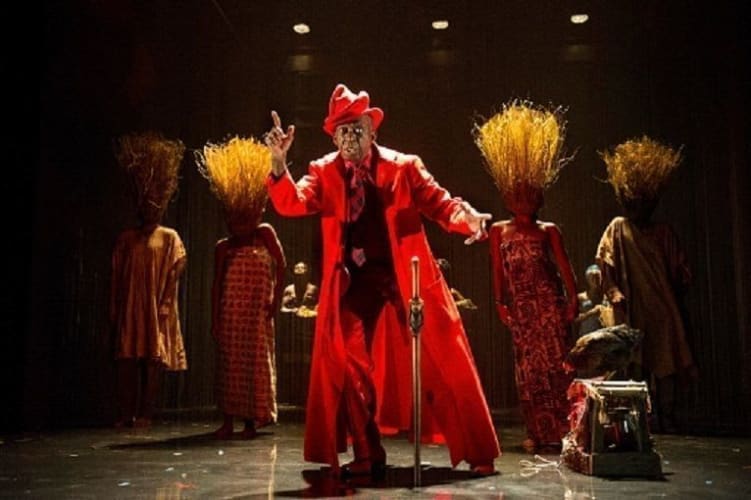 With its multicultural, multimedia, multi-writer concept, viewers are likely to approach Feast with caution. They shouldn't. While this 1¾ hour extravaganza, co-produced by the Young Vic and the Royal Court as part of the World Stages London project, may take a little time to tune into, once there you will be hooked.
The opening provides a reasonable prologue to 300 years of partial (in every sense) history of the black experience across three continents through terrible sadness and oppression to the good times.
This also eases spectators into the hypnotic song and dance choreographed by George Céspedes that characterises much of the evening.
In addition, there are some great projections, created by Lysander Ashton for 59 Productions, which add atmosphere and haunting images as memorable as some of their unusual physical siblings, such as a quartet of headless dancers / human corn sheaths or a live chicken named St Anthony.
Five writers provide the bulk of the material in pieces starting in 1713 with an African equivalent to the theatre's most recent big hit, Three Sisters, featuring a trio of argumentative girls who unwittingly and fearfully find themselves headed for slavery.
By 1888, we have moved from Africa to Brazil and have an opportunity to view the mixed blessing of emancipation, with its promise of both freedom and fear observed through the eyes of a slave-owner relinquishing the woman who had been his wet nurse and looked after him for a lifetime.
By 1960, the action has moved to the Deep South, where a black girl decides to make a solemn stand against racial prejudice and has to fight her sister long before any white supremacists appear on the scene.
2008 sees us in Cuba, where a self-proclaimed "anti-imperialist, communist whore" comes into conflict with an American seeking far more than just her body.
Coming right up to date, in lively 2012 life seems pretty good for a female athlete who is probably competing in the Olympics. However, her more compelling burden is to toe the line between a white trainer and the kind of black archetype who deliberately veers into hilarious cliché. This scene ends with the satirical but deeply meaningful quote of the night—"just do you".
The playlets are followed by four "feasts" demonstrating the varieties of contemporary black experience in New York, Cuba, Brazil and London, all laden with wit but also something a little darker bubbling not too far beneath the surface.
The acting ensemble is extremely strong, not to mention versatile. It is led by Kobna Holdbrook-Smith, Noma Dumezweni, Michelle Asante, Daniel Cerqueira and Louis Mahoney. Just as good is Naana Agyei-Ampadu who also proves to have a soul voice to die for.
Throughout, the dramas are punctuated with music and intoxicatingly sinuous dance delivered by a superb quartet as well as much animal imagery.
Rufus Norris has put together a show that easily outshines its individual elements and deserves to be very popular, as well as a draw for those who would not normally consider a night out at the theatre to be their thing.
Reviewer: Philip Fisher