Flowers of the Forest
John Van Druten
Jermyn Street Theatre
–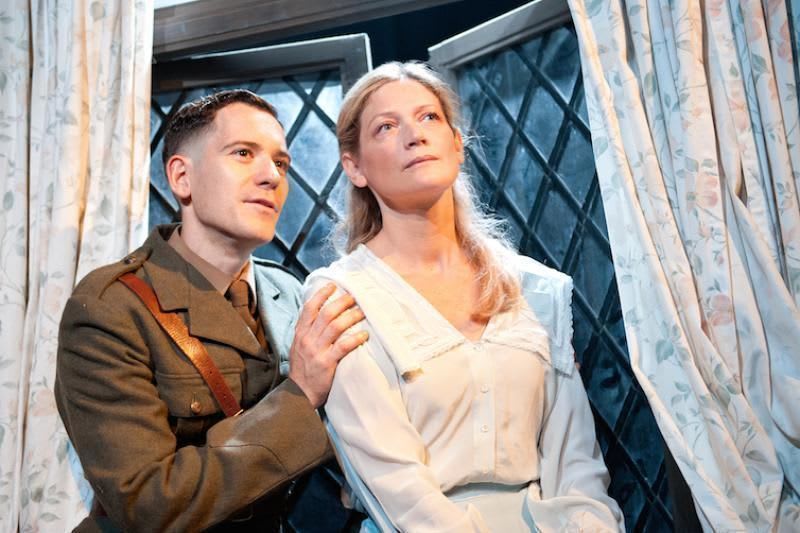 John van Druten is best known as the writer of I am a Camera, on which Cabaret was based but he has also enjoyed a posthumous hit more recently with London Wall.
Flowers of the Forest is an anti-war play set in 1934 but flashing back to World War I for the two central acts.
It starts in the home of Lewis and Naomi Jacklin, a childless, middle-aged couple of wealthy aesthetes.
The main focus soon falls on Sophie Ward playing glamorous Naomi first when her dull older sister Mercia appears bringing heirlooms from their recently deceased father, a country vicar, and then as Victoria Rigby playing Lewis's colourless secretary Beryl brings in her doomed but intellectual beau, Max Wilson's Leonard.
Through some rather clunky rearranging of personnel, a debate develops about the futility of war, Leonard obtaining surprising agreement from Mark Straker as Lewis to views that might have seemed scandalous had they been propounded two decades before.
This is the cue for a trip back in time to the family vicarage of Naomi and Mercia c. 1914. There, a series of debates develops initially between Patrick Drury in the role of the host, a very warlike priest with a pathological dislike for Germans, and the irritable older sister's fiancé, symbolically named Tommy.
That pairing is contrasted with Naomi and her young man, the war poet Richard Newton-Clare, well portrayed by Gabriel Vick.
After the interval, we remain in the vicarage a couple of years on, knowing from the first act that Richard will soon meet his maker. Between the first and second visits, he has transformed from gung-ho patriotism to cynical criticism of the war effort, causing further dissension in an already unhappy household.
The final act is intended to tie up various loose ends but has to resort to a far-fetched and, it has to be said unnecessary, deus ex machina to get to its closure.
Though headliner Sophie Ward is on form, the acting is patchy in a production that feels somewhat under-rehearsed.
Flowers of the Forest was clearly written with the overt intention of undermining the motivations that led to the Great War and, did those involved but know it, would soon lead to its successor. While John van Druten succeeds in airing a series of extreme views, he is less successful in turning his subject matter into the kind of coherent and well-made play for which he was renowned.
Reviewer: Philip Fisher