Four American Women
David Mamet
Great Barrington Public Theater at Broadway on Demand
Great Barrington Public Theater
–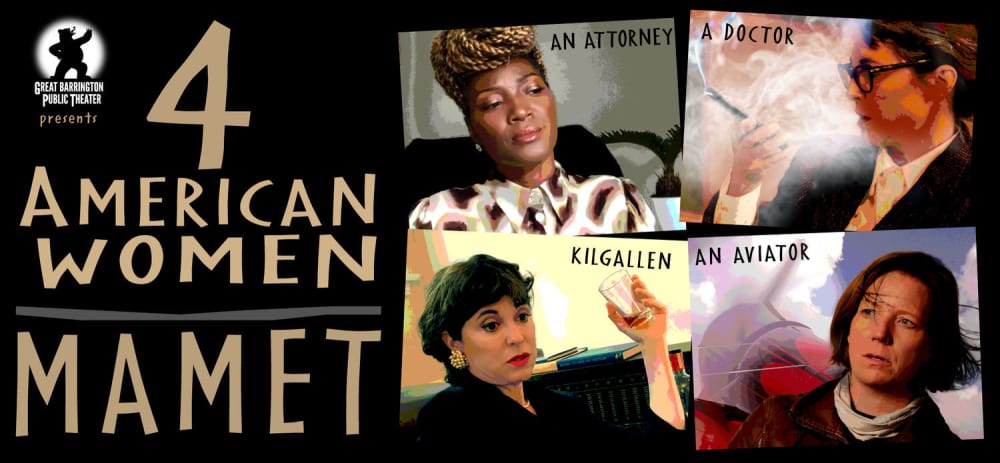 The world première of this play written specifically for video is a great coup for Great Barrington Public Theater in Massachusetts and its Artistic Director Jim Frangione. Persuading one of America's leading playwrights to create a new work for a regional theatre cannot have been easy but has certainly proved worthwhile.
Ironically, given that Mamet is renowned as a man who specialises in creating great roles for men, this time around he brings a quartet of convincing women to the stage (or screen).
The Aviator
As it happens, although she is all-woman, the long opening piece showcases the ultimate tomboy. Indeed, the story of this daredevil flying ace could easily have been drawn directly from the Boy's Own Paper or the American equivalent.
The character confidently played by Heidi Sulzman might have been born into wealth in Pasadena, but the unnamed lady escaped at the earliest opportunity to a life that contains enough thrills and spills for a squadron.
In addition to becoming a star pilot in the early days of aviation, she got mixed up in the movies, had numerous lovers and husbands, jumped out of planes, was an expert horsewoman, ran a cathouse and imitated an ostrich. She was also on close and often intimate terms with anyone and everyone from John Wayne to Charles Lindbergh, Amelia Earhart to Valentino.
Taking up not far short of half of the total running time, The Aviator is not only highly entertaining but also informative and, despite some of the comic book exaggeration, a fine characterisation of an unlikely heroine.
Dorothy Kilgallen
Charles Lindbergh moves centre-stage for the second monologue, related by Mamet's wife Rebecca Pidgeon in the guise of journalist lush Dorothy Kilgallen, a crime reporter turned theatre critic.
With all of the acidic aplomb of her namesake, Dorothy Parker, swilling rye with a twinkling eye, she offers a new take on the trial of The Crime of the Century: the kidnapping and murder of the Lindbergh baby.
Having heard her plausible theory, one must wonder how any jury could conceivably have condemned an "innocent" man to death, when the perpetrator was actually the great American hero.
An Attorney
The third monologue consists of a deeply philosophical address, explaining the loss that a woman suffers if she is "jilted" by a man, having given him the best years of her life, i.e. those when she was most attractive and able to bear children.
As one might expect from An Attorney, the character played by Yolonda Ross is calm, reasoned, but makes her case forcefully.
A Doctor
Rebecca Pidgeon returns for the final 15 minutes to take on the role of A Doctor, in fact a psychiatrist.
Viewers are required to eavesdrop as she dictates a note to a colleague regarding an ex-airman who, reading between many lines, may have been responsible for an atrocity and is still attempting to re-adjust to changed circumstances.
While the first two monologues are considerably stronger than those that follow, Four American Women represents characteristic Mamet with a feminist twist and is a welcome addition to the online theatre offerings that are one of the more beneficial consequences of constrained pandemic life.
As ever, viewers are asked to make donations to Great Barrington Public Theater, both to recognise the company's endeavours in commissioning this production and also the need to support their future efforts, which start with a programme of three plays this summer including the first East Coast production of David Mamet's latest stage play, The Christopher Boy's Communion.
Reviewer: Philip Fisher