Frankie Vah
Luke Wright
Underbelly, Cowgate
–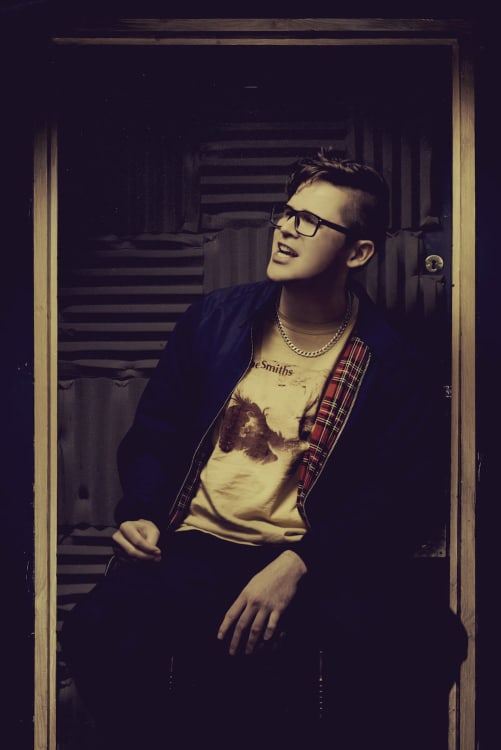 After the audience enters to music from The Wedding Present and The Fall, Luke Wright, in his follow-up to his award-winning solo verse play What I Learned From Johnny Bevan, takes us back a decade from his earlier play to the 1980s and Thatcher's Britain.
The title character is actually called Simon Mortimer, a vicar's son from Dedham Vale in Essex. Rejecting parental influence (like Bevan), he turns against religion and towards radical left-wing politics and ranting performance poetry, with some success. He is invited on a Red Wedge-style tour to drum up support for the Labour Party—but this one is not for charity—performing around the country with one of his favourite bands, The Midnight Shift.
The politics and the touring become all-consuming, as does the lifestyle of drink and drugs, which causes problems in his relationship with Eve, a painter, whom he used to support in her work but now he is almost dismissive when she starts to have some success. And then he has a particularly self-destructive evening in which he ruins everything, which at least gives him the opportunity to repair his relationship with his father.
The political landscape is painted accurately, picking out specific events for authenticity—Simon / Frankie of course supports Tony Benn against Denis Healey in the battle for deputy leadership of the Labour Party—but it is really just a backdrop to a story of an artist becoming so consumed with the importance of his own work and the accompanying lifestyle that he loses sight of those around him until it is too late, which invites comparisons with Kneehigh's The Flying Lovers of Vitebsk currently at the Traverse.
The political backdrop is combined with the radical poetry scene of the 1980s, with the likes of Attila the Stockbroker, John Cooper Clarke and Porky the Poet (Phill Jupitus). Again this is more of a backdrop than integral to the central plot; I can't comment on the accuracy of this portrayal, but I'm sure Attila, with whom we were chatting in the queue outside, will correct Wright on anything he got wrong.
While this piece lacks the political complexity and layering of themes and plot that makes Johnny Bevan such a rich character and text, it is still an interesting piece well performed and definitely worth seeing.
Reviewer: David Chadderton