From Here To Eternity
Lyrics by Tim Rice, music by Stuart Brayson and book by Bill Oakes and Donald Rice, based on the novel by James Jones
Aria Entertainment, Bill Kenwright and Heartaches Limited
Charing Cross Theatre
–

Listing details and ticket info...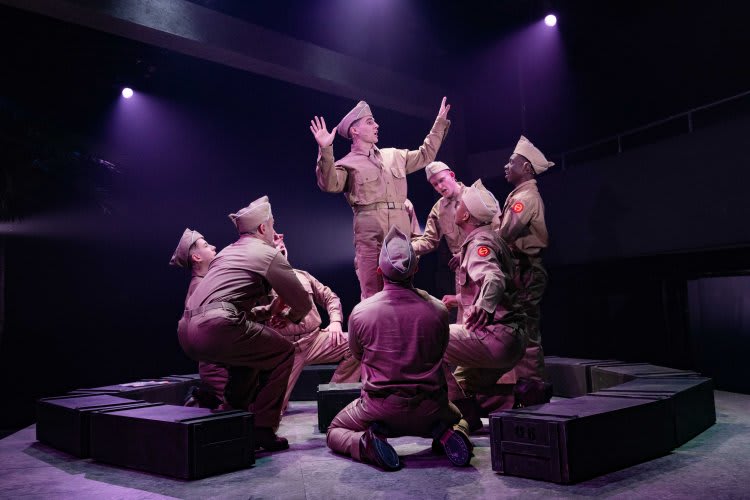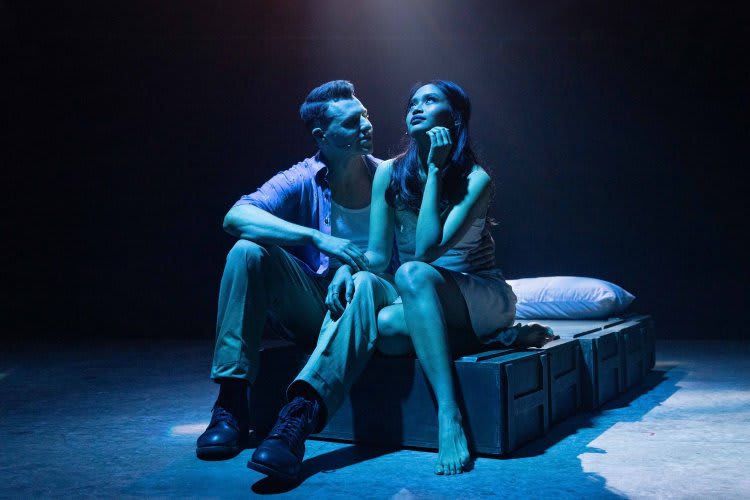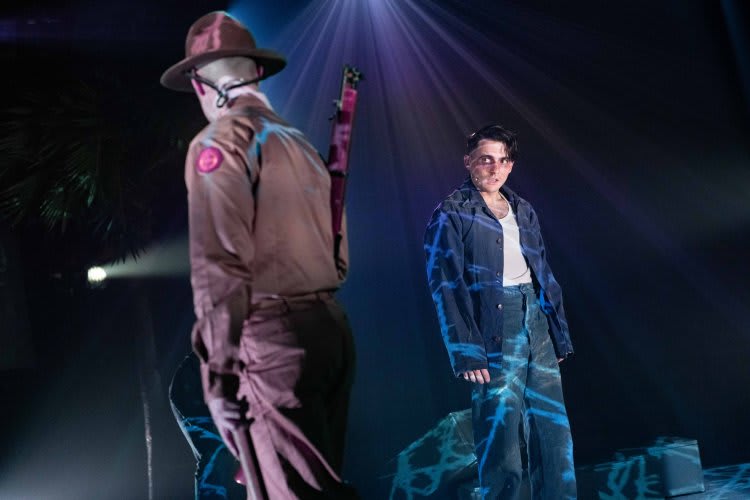 As far as From Here To Eternity is concerned, size matters and don't let anyone tell you otherwise.
The musical adaptation of this story, set in Pearl Harbour military base in the run-up to the Japanese attack in 1941 that would see America join the War, fares much better now at the modestly-proportioned Charing Cross Theatre than it ever did in its first and only UK production in 2013.
Housed in the sprawling Shaftesbury Theatre—seating capacity about 1,400 (funded by its lyricist, Tim Rice, this was a vanity project if ever there was one)—it had neither the book's grittiness nor the film's sexual energy, and as the hours dragged, we willed the bombs to come so it would end.
Following "extensive development work" under the direction of Brett Smock, a revised production now presents with soaring anthems from well-built soldiers in neatly pressed trousers and pristine white vests, their vocal and muscular flexing setting off pulses of vigour over the audience.
That belief in an orderly, robust and upstanding military is what ex-soldier James Jones's 1951 epic novel destroyed. His portrayal of homosexuality in the forces was controversial (and cut prior to first publication), and the casual brutality and racism meted out to those in the lower ranks was a shocking revelation to the reading public.
Distilling all this and more into the book for a two-act musical is a daunting challenge indeed and, although much snappier than the musical's earlier outing, Bill Oakes's original words, now cut and revised with input from Donald Rice (yes, nepotism), is clinically efficient such that it limits itself to landing only the core storylines.
Where is the danger and intensity in the affair between the Captain's sexy wife, Karen, and her husband's First Sergeant, Warden? Where is the complexity of young Private Prewitt, and where is the depth of love between Prewitt and sex worker, Lorene, that should make their final parting an aching wrench?
The third storyline of amiably cheeky Private Maggio, persecuted for being gay, and a fourth about military life have the bruises but similarly fail to provide the discomforting punch.
Jones's novel is charged with sex and violence and tension and passion, yet the musical seems written by Benedictines. It is so much better than the original, but it is not yet better enough, largely by staying too safe.
Rice senior's lyrics do no harm, but in failing to pull their weight or raise the emotional stakes, there is little material for the audience to invest in or the performers to harness, but I kept on wishing there would be more and in places my wishes were granted.
In this respect, it is Adam Rhys-Charles as Warden who shares a sultry edge with "At Ease", and Carley Stenson's Karen who dazzles briefly but brightly in her second-act solo, but throughout, Jonathan Bentley as Prewitt does some mighty heavy lifting striving to deliver what is absent from the page.
Cressida Carré's tightly drilled choreography fizzes with regimented athleticism and Nick Barstow's auditorium-filling orchestrations broaden Stuart Brayson's still-mixed score, their lushness often camouflaging the book and lyrics' emotive inefficacy.
Musically, the ending is stunning with Stenson, Desmonda Cathabel (Lorene) and Eve Polycarpou as redoubtable brothel owner Mrs Kepfer leading into the finale with "The Boys of '41" as the aerial attack destroys Pearl Harbour.
It is a more than becoming end to Smock's reworked production that has improved From Here To Eternity by leaps and bounds. The show is not yet the striking work it could be, but in case it takes another nine years to get to that point, this is a show worth seeing now for the joys it does have to offer.
Reviewer: Sandra Giorgetti