From Morning to Midnight
Georg Kaiser, In a new version by Dennis Kelly
Lyttelton Theatre (National)
From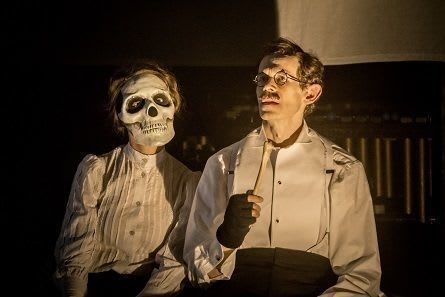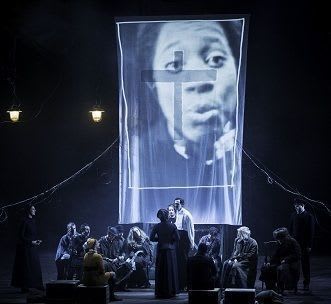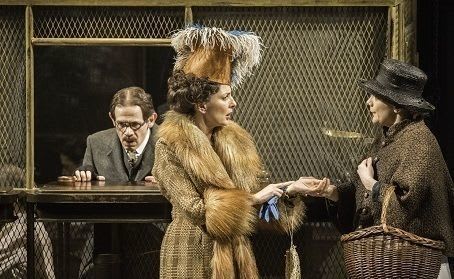 Anyone who saw and enjoyed Strindberg's A Dream Play is likely to find similar attractions in this German Expressionist drama from 1912, given a witty makeover by Dennis Kelly and Melly Still.
As in that play, a very ordinary man, in this case an anonymous German bank Clerk played by Adam Godley, swans through a bizarre dream-like experience in an unconscious attempt to find meaning in his own life and take the temperature of the society in which it is experienced.
In seven episodes, he and a surreal collection of fellow citizens undergo a series of ordeals, most of which have a darker side.
The first scene sees him as a classically timid clerk who unusually falls head over heels in love at first sight for Gina Bellman as a visiting Tuscan beauty, who finds herself embarrassed by his sententious and frankly sarcastic manager, Dan Milne when her authority fails to emerge.
The lady's inability to draw cash sets in train a series of occurrences that combine comedy and tragedy in surreal fashion.
The Clerk tries to help the Italian by stealing a mint and spends the remainder of the 2½ hours travelling through several rings of what might easily be his personalised version of hell, with overtones of a Faustian dream/nightmare.
The stylised physical theatre in this opening scene, complemented by mime and offstage sound effects is given the visual effect of a Bateman cartoon, everyone seemingly going through life in a constant state of shock.
As the play develops, he moves from downtrodden clerk and father to oligarch and discovers the worthlessness of everything from love to sex, money and religion before achieving a catharsis during a spectacular denouement of the kind that the National does so well.
This is the kind of play that is probably best enjoyed by relishing the portrait of decadence and letting the often striking images and ideas fly past without seeking too deeply for coherent meaning.
Such an approach also allows the viewer to take in Melly Still's adventurous, experimental directing style, which adapts as the evening develops and also Soutra Gilmour's simple, characteristic set.
From Morning to Midnight is not the easiest of plays but offers a fair number of comic moments and visual pleasures as it challenges viewers to consider the decadence of Weimar life 100 years ago and, by extension, our own today.
Reviewer: Philip Fisher