Getting Directions
Russ Hope
Nick Hern Books
Released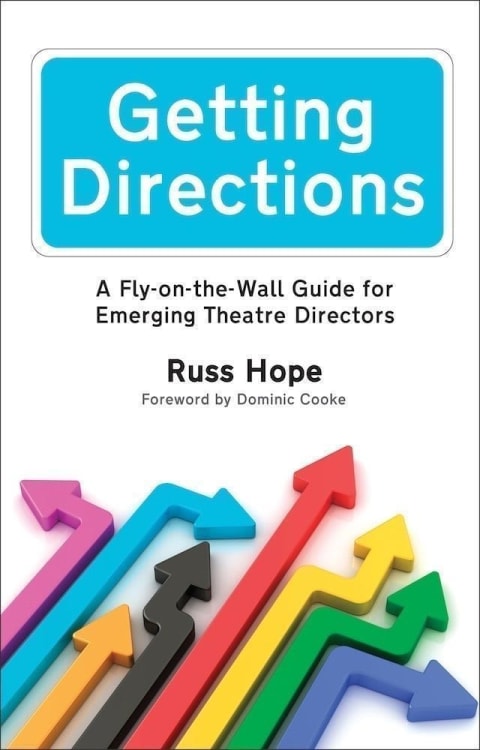 While there are many books that look at the techniques and processes of great, innovative directors, it is more difficult to find a detailed account of the work of the regular, jobbing, hard-working director, which is exactly what Russ Hope tries to give us in Getting Directions.
And let's face it, if you are training to be a director, there is, undoubtedly, a huge amount you can learn from an insight into the rehearsal rooms of Brook or Brecht or Stanislavski, but you are in for a rude awakening if you are expecting anyone to give you six months or more of rehearsal time for your first great masterpiece in professional theatre.
Hope has sat in on the rehearsals for one production for each of the directors he features, and the range of types of production and styles of directing make this a very useful overview for anyone learning about theatre directing. Matthew Dunster directs Troilus and Cressida for Shakespeare's Globe and finds a lot of the production during rehearsals, whereas commercial theatre director Nikolai Foster has very clear images of the look of his touring production of Great Expectations before rehearsals begin.
Carrie Cracknell's technique for Electra at the Gate is to put in a great deal of preparation work and then to analyse the text during rehearsals with a method influenced very strongly by Stanislavski. Natalie Abrahami's Midsummer Night's Dream for Headlong begins with a very strong concept—Theseus and Hippolyta are Richard Burton and Elizabeth Taylor during the troubled filming of Cleopatra—and the play is manipulated to fit the concept during rehearsals.
Joe Hill-Gibbins takes a workshop approach to directing and designing The Glass Menagerie for the Young Vic, but Steve Marmion rehearses the traditional panto of Dick Whittington and his Cat for the Lyric Hammersmith with a firm adherence to panto "rules" and traditions.
The final two case studies are rather different, with a look at the small-scale operas of OperaUpClose at the King's Head Theatre in London, specifically Robin Norton-Hale's production of Mozart's Don Giovanni, and live art duo Action Hero's devising and production process for Frontman.
The final chapter, or "Epilogue", attempts to filter some general information out of the preceding case studies as advice to directors, but it is rather reductive and simplistic and therefore not very useful.
it is very interesting to see the different ways directors tackle the same issues, how insecure they become with what appears to be a very confident and bold production concept and how they are all keen to prepare actors for what you would think would be something they are used to—such as lengthy, frustrating technical rehearsals.
A couple of interesting snippets: although it might be expected for directors to be dismissive or even hostile towards critics, Steve Marmion always reads reviews and even says, "Rightly or wrongly, reviews are the measure of how a show will be judged or remembered by those who were not there. And more often than not, reviewers are right".
Even more shocking, perhaps, is when Hope tells us that Nikolai Foster, a successful commercial director with West End and large-scale touring shows on his CV, only earned the previous year the equivalent of working nine to five at minimum wage. This brings home that, even when a production doesn't work, it is a job that requires passion, commitment and personal sacrifice.
Getting Directions is a very interesting look at the day-to-day job of working as a professional director that, because it gives many different techniques and views on the job, is probably more useful than most books where a single author teaches his or her single technique. It is certainly a useful weapon in the armoury of any aspiring director and of great interest to anyone who would like to know more about what goes on in the rehearsal rooms in the modern theatre.
Reviewer: David Chadderton