Ghosts
Henrik Ibsen, adapted by Richard Eyre
Almeida Theatre, London (subsequently Trafalgar Studios 1)
–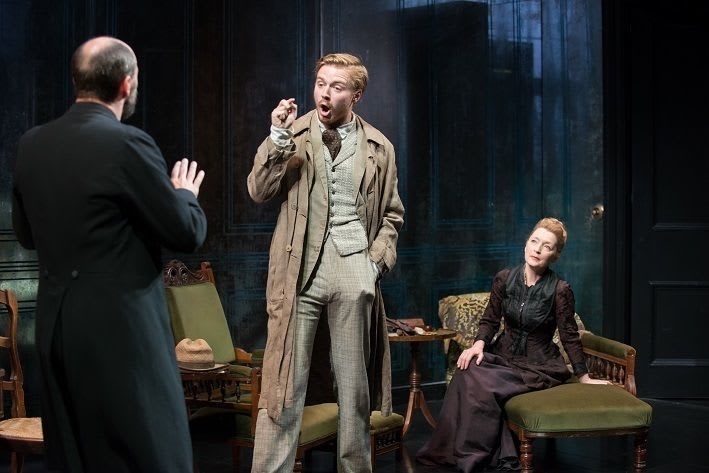 In the last few years, Ghosts has probably become the most performed play by Henrik Ibsen. Indeed, this is the second opening in the last week or so, following Stephen Unwin's production at the Rose in Kingston.
Anyone lucky enough to witness the exceptional acting in this new adaptation by Sir Richard Eyre may begin to understand why.
The text has been updated into occasionally slangy, colloquial modern English, while the costumes and setting from Tim Hatley are determinedly of the period.
That makes sense, since the subject matter works best in its own time, even if performances of a play about an illness that none could acknowledge were rare in the Victorian era and beyond, unless the censor was willing to turn a blind eye.
This is after all a piece in which the promiscuous, syphilitic ghosts of the past haunt the happiness of a younger generation, while their elders watch in mute horror, unable to prevent history from repeating itself without destroying reputations and the rigid norms laid down by the society of their time.
In the early scenes, it is Will Keen as the shy, censorious Pastor Manders who catches the eye. This is a deeply-religious, principled man who could nevertheless give morality a bad name, such is his unbending faith in it.
He has, though, known temptation and still dissolves into a stream of nervous tics at its recollection.
As we meet the Pastor, he is called upon to open a monument to the memory of a local dignitary, 10 years dead. That man's widow, Mrs Alving is a shrewd businesswoman played with impeccable realism by Lesley Manville.
She slowly reveals to the disbelieving clergyman the sad truth about her late husband who was incontrovertibly dissolute and has left a terrible legacy to his son Oswald.
Jack Lowden plays a bohemian young man who, on first appearance, has been got up to look like another artist, Vincent van Gogh, complete with hat and ginger beard.
His modern ideas shock the Pastor but worse is to come in the form of love for a pretty servant girl. Charlene McKenna is Regina Engstrand, bright and headstrong, which is a dangerous combination when added to ambition.
Rather than accept the support of Brian McCardie as her sly, drunken father Jacob, the girl seeks something better and will do whatever is necessary to get it.
This all builds to great drama towards the end of the 90 minutes, with fire destroying hope and then finding itself replicated on a smaller, much more personal scale. The latter affliction brings out the best in Lowden but also Lesley Manville, whose character's pain can seem almost too much to accept but is ended by a Munch silent scream, which cannot fail to make viewers understand and empathise with the power of parental love.
This is as powerful a production of a devastating and intense play as can be imagined and, while it is short on comedy, Sir Richard Eyre has encouraged his actors to universally fine performances.
Reviewer: Philip Fisher