Girl from the North Country: Original London Cast Recording
Bob Dylan
Sony Music Cmg
Released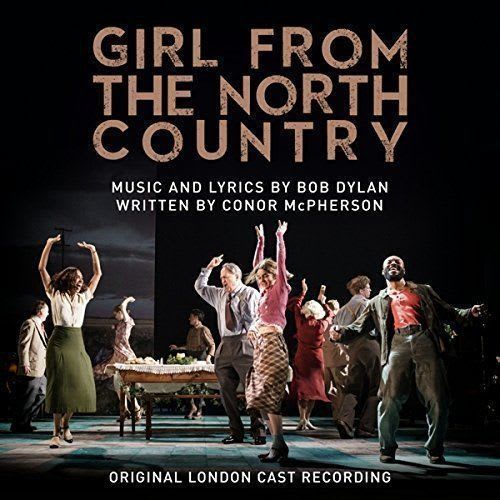 Anyone who has been lucky enough to get to the Old Vic in recent months is almost certain to have been entranced by Conor MacPherson's Girl from the North Country, a play influenced by and including a wide selection of the music of Bob Dylan.
The piece works perfectly from a dramatic viewpoint, taking its audience back to America during the Depression and giving them a stunning sense of the harsh lives endured by those who had no means of escape from financial hardship in a tough society.
However, for many the evening was made by a series of delightful renditions of Dylan songs spread across his whole career from "I Want You" back in 1966 right up to "Duquesne Whistle" in 2012 and some incidental music that appears to have been written specifically for the play.
Much credit must go to Simon Hale who orchestrated and arranged everything from popular favourites such as "Like a Rolling Stone" and "Lay Lady Lay" to tracks that would only be known to Dylan aficionados. Supporting the music are outstanding performances from Scarecrow Hat, the band put together specially for this production, and a versatile cast with Shirley Henderson demonstrating outstanding singing voice to add to poignant acting, while many of the other sing beautifully to led by Sheila Atim, Arinzé Kene, Debbie Kurup and Sam Reid.
This will be very much a matter of taste but some might conclude that a number of these arrangements are at least as good as or arguably even better than the originals.
Cleverly, Conor MacPherson manages to weave Bob Dylan's lyrics into the stories of his down-at-heel characters in the dirt bowl of Duluth, Minnesota in 1934.
While anyone reading this review is urged to try and catch the stage production live or, failing that, on a big screen closer to home, if neither of those options is possible then this CD released by Sony Music and Runaway Entertainment will give a really good impression of the atmosphere, while providing excellent entertainment in its own right.
For anybody that has been lucky enough to see the show live, the CD which is available for under a tenner is an excellent aide memoir that is likely to get brought out again and again both for personal pleasure and to share with friends.
Reviewer: Philip Fisher