Girl from the North Country
Conor McPherson, Music and Lyrics by Bob Dylan
The Old Vic
Gielgud Theatre
–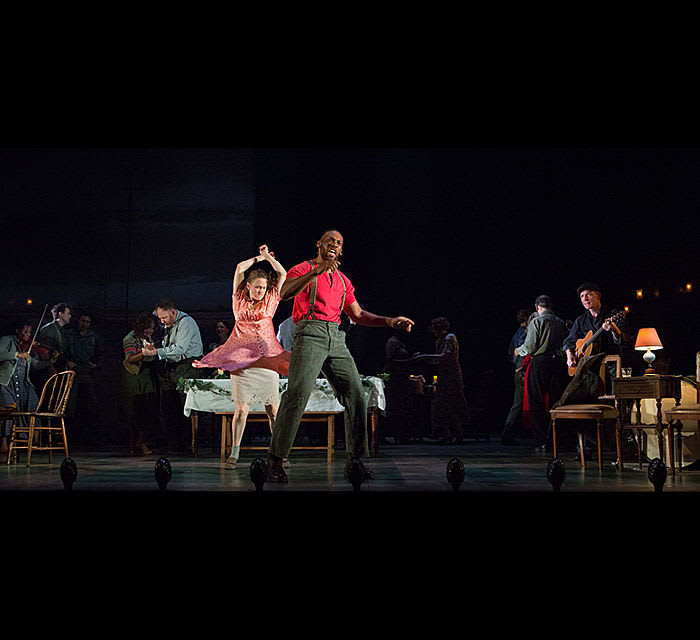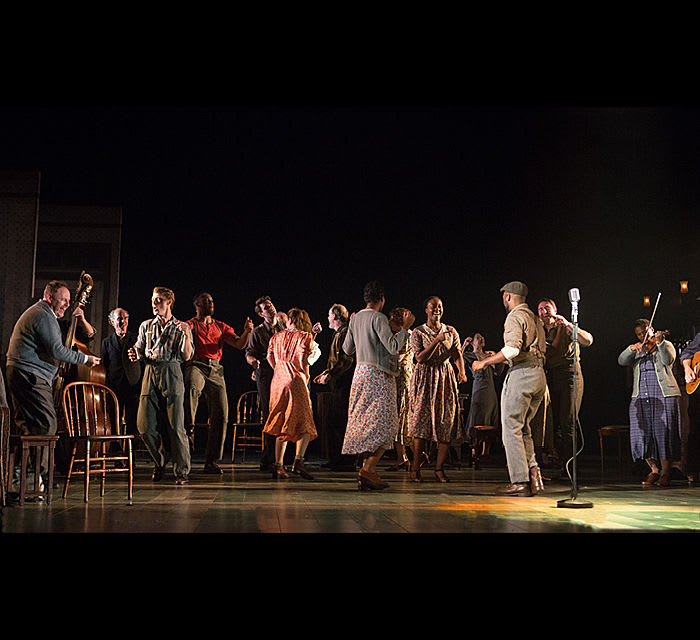 When it opened at the Old Vic, Girl from the North Country was instantly recognised as one of the best theatrical presentations of recent years and enjoyed an immediate West End transfer. Conor McPherson had cleverly taken some of the greatest teams from the Bob Dylan back catalogue and seamlessly woven them into a Great Depression tale worthy of John Steinbeck.
2½ years on, the playwright, who also directs this revival, has not only put together an entirely new cast but also looked at the piece afresh. Rather than merely recreating the original on a slightly smaller scale, the creative team has had another look at the look and feel, as well as utilising the particular skills of a different set of performers.
The new cast has a lot to live up to, since both Shirley Henderson and Sheila Atim delivered unforgettable performances that were recognised with Olivier awards. The Gielgud stage is considerably smaller than the original, which means that the large cast works in very close proximity, especially as the musicians are on stage throughout.
Designer Rae Smith keeps things simple, with effective period costumes and a series of quietly evocative backdrops. The look is then enhanced with some snappy choreography thanks to movement director Lucy Hind and memorable images, helped by subtle lighting from Mark Henderson that creates shadows and silhouettes, especially when spare cast members form themselves into choruses.
The main business of an evening set in Duluth Minnesota in 1934 lies in the telling of a series of sad tales of desperate times, accompanied by beautiful new arrangements (by McPherson and Simon Hale) of those Dylan songs. The stories are desperately sad. The main one features Marianne, now played by the deep-voiced Gloria Obianyo, a pregnant, black teenager living with her white adoptive parents, Nick and Elizabeth Laine, respectively played by Donald Sage Mackay and Katie Brayben.
They run a rooming house that is fast going broke, not helped by a pregnant daughter, drunken son, marital infidelities and Elizabeth's incipient madness, although in the way of these things, the generally incoherent lady shows regular flashes of perceptive wisdom. Amongst the guests are a mysterious duo, Finbar Lynch and Shaq Taylor portraying a Bible-selling preacher and a boxer, a woman waiting for an inheritance and another family which mirrors the hosts.
Like the Laines, David Ganly and Anna-Jane Casey playing the Burkes have a troublesome child. Steffan Harri's Elias is uncommunicative and potentially violent. He also happens have a beautiful singing voice that can break the heart when he gets his big moment with a rendition of "Duquesne Whistle". He isn't alone, as every cast member sings superbly, with Gloria Obianyo demonstrating fearsome power but also great feeling while delivering "Has Anybody Seen My Love?".
Katie Brayben makes a strong impression with her acting and dancing but her highpoint comes as she grittily pounds out "Like a Rolling Stone", strutting around the stage like Mick Jagger, though whether this was a comparison created by auto-suggestion, coincidence or directorial genius must remain a mystery.
Anybody who saw Girl from the North Country first time around is likely to want a second chance to enjoy the experience, while those who missed out should race to the Gielgud and enjoy what is undoubtedly one of the best shows currently playing in London.
Reviewer: Philip Fisher