Giselle
Choreography by Marius Petipa after Jean Coralli and Jules Perrot / Production and additional choreography by Peter Wright
Royal Ballet
Royal Opera House
–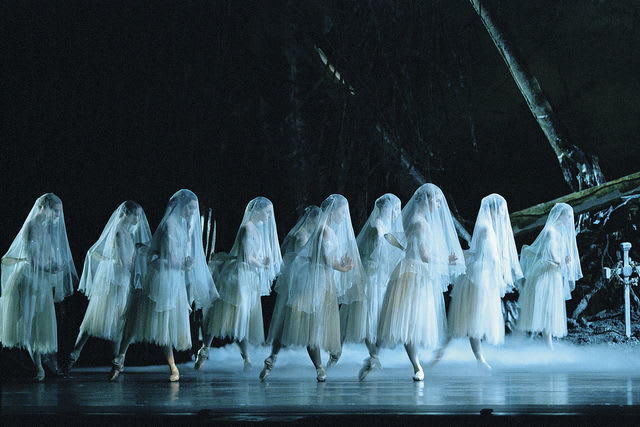 Many first night reviews of the Royal Ballet's Giselle will be of the eagerly-awaited evening cast—Natalia Osipova (formerly of the Bolshoi and Mikhailovsky ballet companies) and Carlos Acosta, both experienced interpreters of Giselle and Albrecht—but some critics were invited to review the opening matinée cast, Steven McRae making his debut as Albrecht. And what might seem like the short straw by comparison is nothing of the sort.
McRae has a huge following, and rightly so. A frequent partner of the lovely Roberta Marquez, who brings out the innocent sweetness and generous heart of Giselle, McRae is on comfortable territory. There is a wonderful rapport between them.
A boyish Count Albrecht caught in the spell of a fresh country girl, maybe he is out to sow his wild oats in the first instance, but he means no harm, he has just not thought it through. What fun to masquerade as the peasant Loys and join in the dance.
Both of them high on life and the ecstasy of first love, their dancing amongst the villagers celebrating the harvest (the pas de six is outstanding and the whole company dances with vivacity) in that happy first act is effervescent and elated.
Until the spell is broken by the appearance of Albrecht's haughty fiancée Bathilde with the royal hunting party. Not the first time for him, then. Why does no one notice his noble bearing? But this Loys seems such a nice boy with amazing entrechats matched by quite a few of the village boys.
Her mother (Kristen McNally in fine mime form) is suspicious, though. She warns her about the fate of jilted girls, but why should Giselle take notice of that. Here before her is a young man with burnished hair to match the autumn leaves and enough charm to tease the birds out of the trees.
McRae is so convincing in his declaration of love, so attentive, winning, that one immediately understands Giselle's impetuous heart, and feels all the more for her in her shocking betrayal.
Marquez may not have a pale consumptive look, but what she does have are acting skills to move the hardest of hearts. When hers is breaking she moves to the front of the stage, and appeals to the world out there to see her desperate plight, drawing us in, prickling the eye.
If only Hilarion (Johannes Stepanek), the forester who loves her jealously, had not interfered, her end might have been different. He must shoulder some of the blame, and he gets his just deserts when the pitiless Wilis dance him to death at Giselle's moonlit grave in overgrown unhallowed ground.
Premonitions of what is to come are heard in Adolphe Adam's recurring musical phrases and seen in the hilt cross of Albrecht's incriminating sword, with which Giselle makes her quietus. Amongst the festivities ill omens abound.
How could a peasant girl possibly aspire to touch the hem of the aristocracy, as she in her homemade dress touches Bathilde's silken one? What was Albrecht thinking?
The social injustice of Giselle's plight is brought out with throat-catching poignancy by Marquez. A Gretchen deceived, her anguished death is less that of a mind unhinged than of one cut to the quick by a world not worthy of her purity.
Starting as joyously as La Fille mal gardée the drama builds to a tragic climax and a supernatural Sylphides white ballet of dank graveyard and ghostly avenging spirits.
Claudia Dean as Myrtha leads her troupe of Wilis like a demanding ballet mistress, and they behave impeccably (especially Elizabeth Harrod and Akane Takada). Except for Giselle. She protects her love until the break of day. In mourning black he dances with her immortal spirit, at one and the same time incorporeal and material. 
For once in a classical ballet, a dancer is allowed to show his exhaustion, though McRae must surely be feinting, so in control of his role is he. Safe at last, Giselle and the Wilis melt away. A white daisy, a token of their love in happier times, remains.
Peter Wright's production for The Royal Ballet, which uses Marius Petipa's version (first staged in St Petersburg in 1884) after Jules Perrot and Jean Coralli's original 1841 choreography based on Théophile Gautier's Romantic scenario (itself inspired by Heinrich Heine's book Über Deutschland), has received more than 550 performances since its première in 1985.
Remarkably it feels as fresh as ever. Both principals rise to its technical challenges with immense skill, sincere ardour and tremendous empathy. Sitting next to a ballet lover whose first Giselle this is, his reaction to a surprising ballet of contrasting halves is no surprise. Two for the price of one...
Reviewer: Vera Liber