Glasgow Girls
Music and lyrics by Cora Bissett, Sumati Bhardwaj (Soom T), Patricia Panther and the Kielty Brothers
Theatre Royal, Stratford East and National Theatre of Scotland
Theatre Royal, Stratford East
–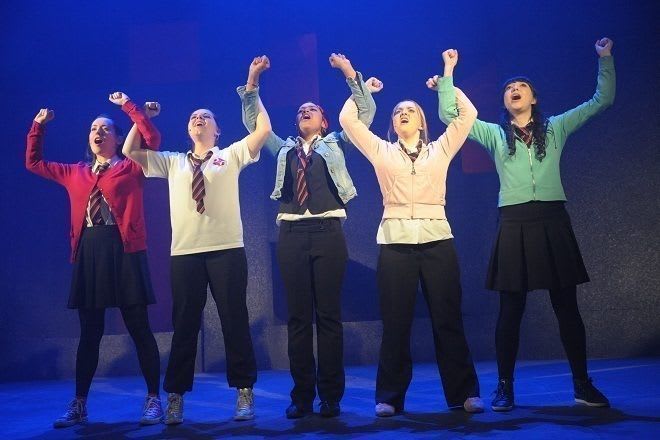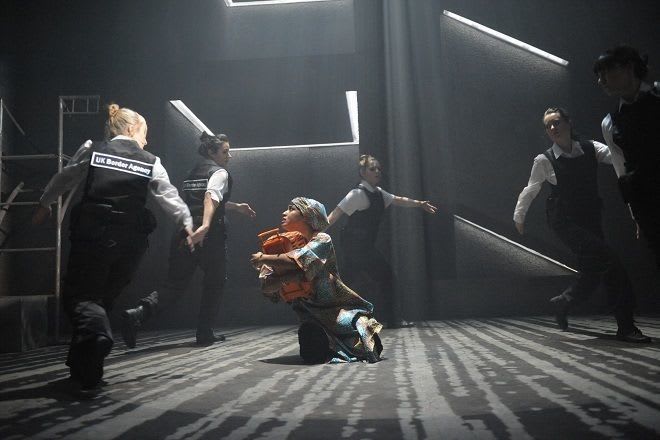 When David Greig, Cora Bissett (collaborators on the awesome Midsummer) and the National Theatre of Scotland get together, the best exemplars of their respective fields North of the Border are pretty much all on show together.
The risk is that expectations might become untenably high but not in this case. Glasgow Girls is a rock opera with heart and brains, and all too rare combination for the musical genre. Set in the school, it might most easily be compared with Spring Awakening.
Greig has based his script on the true story of a group of schoolgirls from the titular city's toughest environment who rose out of adversity to achieve fame and even a little bit of girl power, not to mention the chance to share an opening night curtain call with the actors portraying them.
The story began on the cusp of the new millennium as the government decided that immigrants (whether legal or not) should be dispersed around the UK. The inhospitable concrete tower blocks of Glasgow (cleverly realised on stage by designer Merle Hensel) beckoned to four girls from Africa and Eastern Europe.
Iraqi Roza from Kurdistan, Ewelina, a Roma gypsy from Poland, Agnesa, another Roma from Kosovo, and Amal from Somalia, respectively played by Amiera Darwish, Stephanie McGregor, Roanna Davidson and Amaka Okafor, find life in Scotland difficult.
Their schoolmates (Joanne McGuinness playing perfect prefect Emma and Dawn Sievewright enthusiastically embracing the role of tough nut Jennifer) were less than welcoming but the newcomers struck lucky in their choice of teacher. Callum Cuthbertson's Mr Girvan turns out to be an old lefty who loves a challenge.
His new little charges are certainly that, their knowledge of English limited to a chorus of "I want to claim asylum".
By 2005 when they are 15, Clydeside has become home but the girls' bond still does not extend to the locals until a shocking moment when Agnesa is imprisoned prior to certain deportation.
Her plucky friends decide to take action and, utilising some political protest techniques learned from Mr Girvan, try to save her.
Quickly, their home-bred classmates join in, leading to a moment of pure joy. However, having become politicised, nothing can stop the inexorable rise of an unexpected force that eventually become collective winners of the Scottish Politician of the Year Award for 2005 following their efforts to keep a little boy from the Democratic Republic of Congo in the country of his birth.
The story is broken up by a series of songs that expertly carry it forward, as well as setting feet tapping. The musical variety is greater than one usually expects, primarily because the score has been composed by four different contributors.
The jauntiest tune is the title song but several others are memorable for their combination of sharp, meaningful lyrics and strong music.
The actors hold nothing back, even Myra McFadyen, who is a couple of generations older than the other Girls but shows just as much spirit when playing Noreen, their adoptive granny.
David Greig and Cora Bissett are far too canny to make this story schmaltzy. It has real political bite, with moments of heartbreak as well as broad comedy.
Overall, the Glasgow Girls experience is truly uplifting, as well as making some serious comments about our callous treatment of asylum seekers, as one would expect from the innovator behind Roadkill in association with her country's finest living writer and theatre company respectively.
Reviewer: Philip Fisher