Goldilocks and the Three Bears
Michael Harrison with additional material by Alan McHugh, Paul O'Grady, Julian Clary and Paul Zerdin. Original songs by Gary Hind.
Qdos Entertainment
London Palladium
–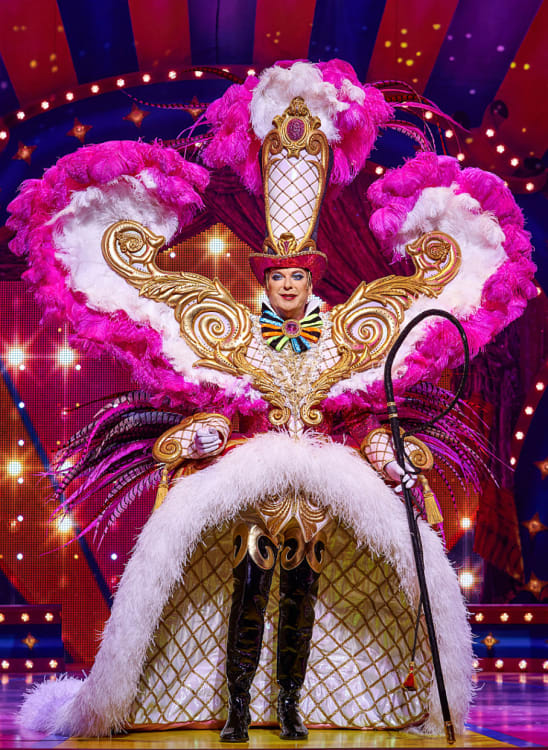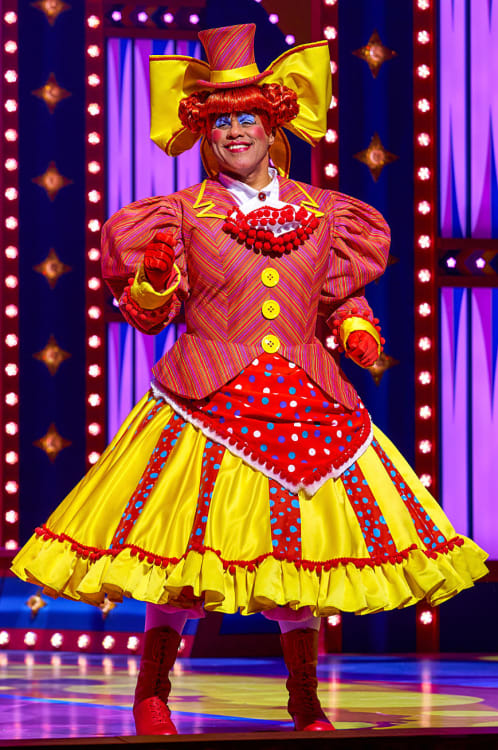 With its origins stretching back to the mid-nineteenth century, the pantomime Goldilocks and the Three Bears has fallen in and out of fashion over the past 150 years. Fast forward to 2019 and, with a little help from circus-themed The Greatest Showman, it's making history again as the title takes to the Palladium's stage for the first time.
When Betty Barnum's circus finds itself bereft of a star act, a chance meeting with a family of bears brings her great success thanks to Baby Bear's superior musical theatre talent. However, the business of show is cut-throat, and hot on their heels is Baron Von Savage, who kidnaps the Three Bears for his Circus of Nightmares to destroy his rival and finish off the competition.
Rooted in circus history itself, the Palladium is the perfect setting for such a show. Not only did Hengler's Grand Cirque occupy the site of the current theatre, but musical Barnum made its West End debut there in 1981 and of course the show's Principal Boy Joey harks back to the legend of clowning who put comedy centre stage in pantomime: Joseph Grimaldi.
But the star of this show isn't Joey the Clown in the guise of lovable, tightrope walking Matt Baker, but rather Ringo the Ringmaster in the form of Julian Clary. At the helm of the Palladium since pantomime was re-introduced in 2016, this year his material eclipses that of his Spirit of the Ring at the Birmingham Hippodrome back in 2015. A gift of a role for innuendo, Clary's Ringmaster shows he is truly in command of his domain and has the audience lapping it up as he recalls many a night under a Big Top and his penchant for polishing the juggler's balls. Whether disguised as saucy Sandra the singing seal or seated astride a gargantuan water-spouting pachyderm, Clary proves himself a master of pantomime as he lovingly exposes the framework of performance, stepping out of role to uncover the absurdities of the form.
Where else, for example, might you see two hippopotamuses wearing tutus dance across the stage? Or Clary reminding prancing lions to go to sleep during a rendition of "In the Jungle"? Not forgetting a tongue-twister tradition gaining traction where a messenger is sent to determine the best pheasant plucker for Betty Barnum's tea? But in amongst all this silliness, Goldilocks also ticks off another staple: spectacle.
A gift of a setting makes it easy to effortlessly introduce a whole host of acts à la the Royal Variety Show linked together by a fairytale narrative. Goldilocks welcomes magicians, stunt riders, rollerskaters and ventriloquism via Paul Zerdin's Silly Billy, acting as a preservation device for forms that were once seen much more frequently. The pure talent of the show's speciality acts leaves the audience in awe and adds to the sensational skill on show this year as Qdos Entertainment, much like its Palladium predecessors, assembles the best in the business to perform upon the hallowed stage.
Due to the increased number of acts, musical numbers are less frequent than in previous years but Gary Wilmot delivers yet another showstopper in a number knitting together many a musical as his lovable Dame takes the opportunity to entertain her audience, rather than constantly introducing the acts she's engaged.
In the title role, Sophie Isaacs is a charismatic Principal Girl with a powerful voice and cheery presence, but it is a shame that she doesn't join her fellow performers for a hilarious rendition of "If I Were Not Upon This Stage", which is left to the male-only club of Clary, Wilmot, Baker and Zerdin. Whilst Nigel Havers as Daddy Bear is permitted to partake in the fun, Janine Duvitski's Mummy Bear and Lauren Stroud's Baby Bear are also absent, which is odd given that the whole narrative revolves around Baby Bear saving the circus with her triple-threat talent.
Zerdin's Silly Billy and puppet friend Sam impress the Palladium audience for a fourth season, but it is getting somewhat tiresome seeing the same sections of his act year on year given that the producers want to trade on repeat audiences and cast-member familiarity as cheers cry out at Havers finally being afforded a named part.
Due to the indisposition of Paul O'Grady, resident director Christopher Howell snarls, struts and succeeds as Baron von Savage, a Bavarian old school Villain who ends up encaged like his animals after an almost non-existent fight for the Three Bears which leaves the narrative's resolution somewhat glossed over and the end of the show rather abrupt. Devoid of songsheet or finale number after the sung-through walkdown, the audience really is left wanting more in a pantomime that celebrates excess and spectacle.
Slick, sensational seasonal entertainment, Goldilocks sparkles as the jewel in Qdos Entertainment's crown. Stunning lighting from Ben Cracknell and exquisite costumes courtesy of Hugh Durrant, Teresa Nalton, James Maciver and Mike Colton convince everyone to join this circus for some festive fun they'll never forget.
Reviewer: Simon Sladen