Grace
Craig Wright
Cort Theatre, New York
–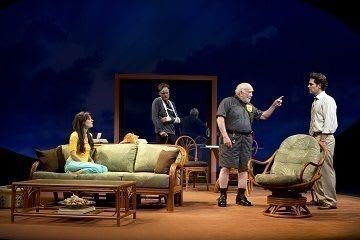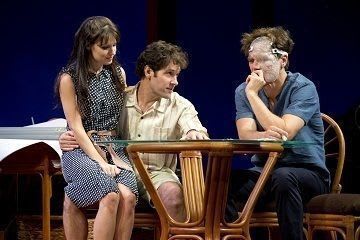 Steve and Sara are Jesus Freaks or, to use their own term, "committed Christians". We meet them at a turning point in their lives, immediately after a relocation from St Paul Minnesota to sun-soaked Florida, where Steve is about to close a deal.
While he may sound like a Mamet salesman, Steve's product is holy enough to fit within his moralising agenda, the first in a projected chain of hotels for committed Christians.
This should make the couple rich enough to afford the child that Kate Arrington's Sara craves far more than her husband. All that it takes is for Mr Himmelman (if ever a name was not coincidental, this is it) to come up with the promised funding to bolster the savings of film and TV favourite Paul Rudd as Steve.
While the pair are counting their blessings, next door neighbour Sam, played by Michael Shannon, is having a tougher time.
The NASA scientist has every reason to question faith, having lost his fiancée in a recent car crash that has left the ungainly neighbour maimed and, at least temporarily, crippled.
This brand of born again Christianity is the kind that must be shared and Steve certainly knows how to ram it down people's throats. Not only does he try to force his faith on to Sam but also 83-year-old Ed (Lou Grant) Asner who delivers a lovely cameo as the Germanic pest controller Karl.
Both have every reason to reject the entreaties and do so, even though Steve is not one to listen to reason.
This rather serious comedy does a great deal more than merely poke fun at humourless holy rollers.
Craig Wright develops his themes in far greater depth than he managed in his lightly entertaining earlier work, Mistakes Were Made, which was also directed by Dexter Bullard and featured Shannon.
Grace is an intelligent if somewhat schematic play, very well performed and directed. It manages to consider faith in the context of genocide but also personal tragedy and shows that however much one might be in thrall to Jesus, it is still possible to behave in ways that would not please the Lord, assuming that he actually exists, which forms a large part of Wright's debate.
Beowulf Boritt's design is highly effective, slowly revolving while simultaneously portraying the neighbouring condo apartments.
This allows the actors to move between those in the other setting without confusing. It also forms the location for a couple of beautifully realised slow motion, reversed scenes that belie description.
Grace might be a rather unusual play to see on Broadway, but that could be a reflection of fashion and economics as producers become wary of the budgets required for blockbuster musicals and lightweight star vehicles featuring the biggest names in the business. If this is the start of a trend for character and issue-led, thoughtful straight plays on Broadway, then it is very welcome.
It is great to talk about a Broadway straight play with debutant writer and director that is designed to make audiences think. Let us hope that it is a herald of much more of similar ilk.
Reviewer: Philip Fisher