Green Day's American Idiot
Music by Green Day, lyrics by Billie Joe Armstrong, book by Billie Joe Armstrong and Michael Mayer
Sell a Door
Arts Theatre
–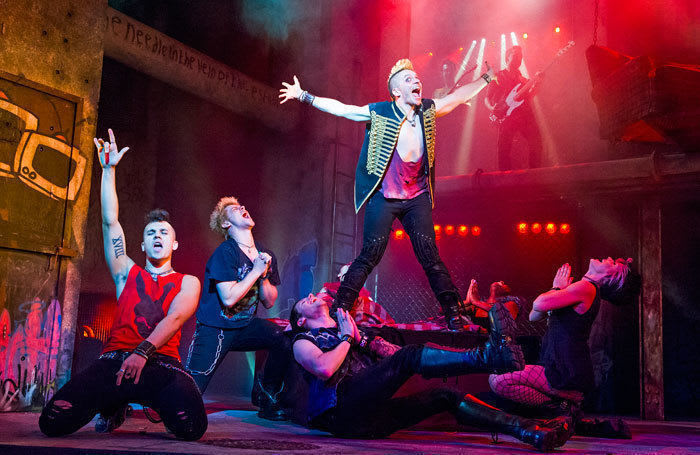 Racky Plews's grungy vision of the Broadway hit based on the music of Green Day can feel like something of a transatlantic reimagining of Trainspotting with a really hot soundtrack.
Where the British première in 2012 was a concert-style extravaganza based on the kind of budget that only works for a short but lucrative tour, this revival and West End debut has less lofty ambitions.
The suburban setting in which a bunch of disaffected youngsters rebel against the world has been designed by Sara Perks to resemble a caged prison cell with nothing but graffiti for adornment.
The plotting often takes second place to the music and spectacle which dominate in a 1¾-hour performance that blends energy and anarchy in equal measure.
With an outstanding band and crew of enthusiastic performers, well choreographed by the director, that is not necessarily a bad policy.
In a nutshell, the story starts with George Dubya pontificating in the wake of 9/11 and then follows the fortunes of a trio of youthful nonentities whose prospects offer few opportunities to inject hope into their lives.
Injecting, though, is where they are most likely to find at least temporary happiness, particularly the central character, Aaron Sidwell's Johnny.
The punk-with-the-mullet's love for strong, blonde Whatsername, played by X Factor finalist Amelia Lily, pales into insignificance when set against the attractions of Lucas Rush as pusher St Jimmy and the highs that he so generously and venomously supplies.
Johnny's two pals fare little better. Alexis Gerred as Tunny goes off to war in the desert and returns crippled, while Steve Rushton's Will gets his girlfriend pregnant but at least has the courage to face the consequences. It may help him that Natasha J Barnes playing homely Heather has the best singing voice in the show.
For what is ostensibly a homage to a rock band, American Idiot has a tendency to be dark and cheerless and is no weaker for that.
The nihilistic view of contemporary America is based on a concept album that many must regard as one of the most memorable rock operas of recent times.
Some of the choreography is memorable, while the music will inevitably appeal to all rock fans, perhaps peaking with a tender rendition of "Boulevard of Broken Dreams" featuring some unforgettable imagery.
The four-piece band really is special, helped by the guitar skills of several of the performers. Their voices tend to be a little softer than the music demands but are still more than acceptable for a stage musical.
Miss Plews's lively production for Sell a Door does not present the usual expensive slick values that theatre goers usually expect from West End musicals. However, it will undoubtedly please those who are tempted to give it a go, i.e. fans of post-punk and more particularly one of the most popular bands of the last two decades.
They will lap up live renditions of favourites including the title song, "St Jimmy", "Jesus of Suburbia" and rock in the aisles to the encore, "Good Riddance (Time of Your Life)".
Reviewer: Philip Fisher