Groundhog Day
Book by Danny Rubin, music and lyrics by Tim Minchin
Old Vic Theatre
–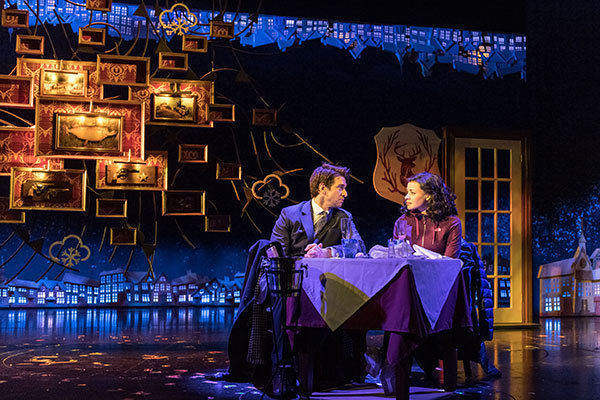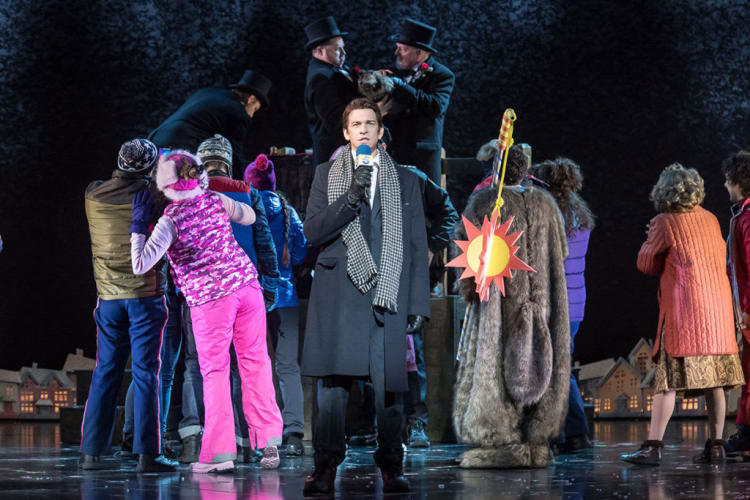 Groundhog Day sees the reunion of the team behind what is arguably the best musicals of the last decade, Matilda the Musical.
Matthew Warchus, who is now running the Old Vic, has asked Australian comedian and latterly musical composer/lyricist Tim Minchin and designer Rob Howell to add that extra something to a book created by Danny Rubin, the original screenwriter for the 1993 movie starring Bill Murray.
The result may not compare with their superlative earlier collaboration but is still great fun, even if it takes rather longer to ignite than might have been expected. That is largely because a tale about repetition is likely to be repetitive, at least in its early scenes.
These see irritable weatherman Andy Karl as Phil Connors reluctantly travelling to small-town Pennsylvania to report on a folksy annual event, Groundhog Day. Like St Swithun in this country, the little critter of the title, Punxsutawney (a real town with a real Groundhog Day) Phil apparently determines the weather, in this case for the ensuing six weeks.
Phil the human is a real arsehole, rude to all and sundry and sexist with a vengeance, allowing Georgina Hagen as Nancy to sing a sweet feminist ditty immediately after the interval.
The true love interest (unreciprocated) is Carlyss Peer in the role of Rita, the producer who yearns for love but is not so desperate that she needs to fall for sleazy, if hunky, Phil.
The gimmick as everyone must know is that Phil falls into a perpetual loop in which his life returns to Groundhog Day every day. Despite some cheery songs, early on this threatens to become a little tedious, as Phil uses his strange superpowers with malign intent.
After the interval, he finally gets the hang of things using his omniscience to do good and, as this is a good moral musical, gets his reward in a far-fetched but desirable closure.
Howell's setting is simple, rolling pieces of set fitting together speedily to create homely bed and breakfast accommodation and street life, as required. He also works wonders with small models, especially of vehicles and, it almost goes without saying, the groundhog itself.
Lovers of the film and the sentimental will delight in this 2½-hour fable, even if the script has its weaknesses. Broadway imports Andy Karl and Carlyss Peer give good performances in the leading roles, singing well both separately and together, while Minchin's rocky score pleases and makes the most of some witty and/or heartfelt lyrics.
Given the popularity of the movie, the Matilda connection and an incredibly good-natured fable brought more than competently to the stage in a lively production with some catchy tunes, there is every chance that Groundhog Day will be a big hit.
Reviewer: Philip Fisher