The Habit of Art
Alan Bennett
National Theatre (Lyttelton)
(2009)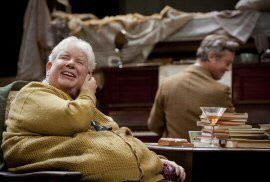 Since Alan Bennett's last play at the National was The History Boys, one of the theatre's greatest moments, the expectations for this Stoppardian exploration of artists and their sexual foibles were inevitably high.
Reminders of that earlier play were everywhere on opening night. Not only were the main people behind that success brought back together, Nicholas Hytner directing Richard Griffiths (due to Sir Michael Gambon's withdrawal) and Frances de la Tour, plus set and lighting designers, but a bevy of the original History Boys were present in the kind of starry audience that only this venue can attract.
Bennett has specialised in dissecting the minds of mildly eccentric loners for a long time and in The Habit of Art features a pair of them, drawn, like George III or his Single Spies, from history.
On one level, the play is a double biography of a poet and a composer who, decades before we meet them, had worked together, WH Auden and "Benjy" Britten.
In looking at these creative, homosexual men, who meet for the first time in twenty years towards the end of their lives in Auden's symbolically junk-filled Oxford rooms, the playwright also bravely takes on a subject that was still taboo in 1972 when the play is set.
Bennett cleverly frames his main story using the ever-effective technique of a play within a play, or at least within a rehearsal in the bowels of the National Theatre, recreated by Bob Crowley. This allows a team of actors to comment often comically or critically on what happens to the main characters.
With the director missing, it is left to Miss de la Tour's touchy-feely Kay, the hard working Stage Manager, to massage gigantic egos.
Richard Griffiths is well cast as the forgetful Fitz, who plays a prematurely senile Auden, while an equally delicious Alex Jennings creates camp Henry, an actor with a hidden secret, playing Britten, a composer ditto.
They are strongly supported by Adrian Scarborough's Donald, a wounded nightmare struggling to find his character, Humphrey Carpenter, who was the biographer of both men.
Before the interval, most of the fun comes from the (onstage) actors rather than their characters. In true Noises Off fashion, they struggle with lines and relationships, while battling Elliot Levey's precious writer, a man whose ego is as difficult to accept as his doggerel.
The comedy is rich, with wonderful one-liners piling in as regularly as ever, but there is far more to this sensitive drama than a wry backstage look at actors behaving badly.
Apart from working together and, more widely, the nature of artistic creation, the main common interest of the two great men was boys as objects of desire. For Auden, the type is typified by Steven Wight's Stuart, a rent boy with rather more heart than might be expected.
The attractions of boys are explored in greater depth and become a pivotal subject, since Britten, who prefers to set his youngsters on a pedestal rather than abuse them, is composing his operatic version of Thomas Mann's Death in Venice. Its protagonist, Aschenbach, has elements of Thomas Mann but possibly also his son-in-law Auden, while Britten identifies with a worshipper of boyish beauty too.
By the end, both men's painful loneliness despite great success becomes fully apparent. This helps to make The Habit of Art a highly thoughtful appreciation of both art and the people who expose themselves in creating it and ensures that it will resonate in viewers' minds long after they leave the South Bank.
This is one of those occasions where it would be unfair to single out one actor from such a great cast, helped by Nicholas Hytner's ability to move a potentially complex play smoothly through its phases. He skilfully takes us from comedy to human interest and artistic homage culminating in a somewhat gratuitous but welcome final tribute from the playwright to the theatre that has inspired so many of his finest days.
Tickets have been selling like hot cakes and, unless they might be offended by the gay theme or fazed by artistic types reminiscing, readers are urged to plunge in as soon as the new booking season opens as it will not stay open for long. Failing that, they may have to await the national tour next autumn to catch a play that may not be The History Boys re-run but is still one of the best new dramas of the year.
Reviewer: Philip Fisher