Hair
Book and lyrics by Gerome Ragni and James Rado, music by Galt MacDermot
Gielgud Theatre
(2010)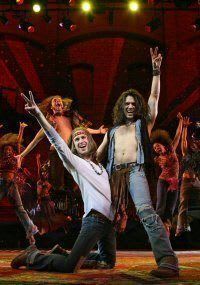 Hair is such a good-natured event that we must all hope that it proves to be a long runner on Shaftesbury Avenue. Rarely can a cast of any musical have looked as if they are enjoying themselves so much throughout a performance and this pleasure soon spreads to the audience.
In part, that is because every cast member spends a significant amount of time in the auditorium and not merely in the stalls. This means that vast swathes of the paying public get quality time with the stars and, if they wish, a unique chance to join them on stage as the sun shines in on the finale.
The spirit that is generated by Diane Paulus' beautifully conceived production has already made it an award winner in New York and unless something very special comes along later in 2010, the London production should follow suit.
Unusually, the whole of the original New York cast has been replaced, so that they could trip across the Atlantic Sea to reopen a show which started at the Public Theater (the musical's original home in 1967) before moving to the Al Hirschfeld on Broadway. They bring boundless energy and enthusiasm to an evening that already has the highest production qualities.
Scenic designer Scott Pask sets the hippie scene with his imaginative set, still effective if rather narrowed down from the wider spaces of Broadway. This is lit with a flourish by Kevin Adams, who uses every trick in the book to take us back in time to the days when hallucinogens were new.
In the space that they create, and all over the theatre, the cast sing and dance their hearts out, helped by excellent, frequently exotic choreography from Karole Armitage.
To give the writing team of the late Gerome Ragni and James Rado credit, while the music and razzmatazz will bring in the fans, their Book is witty and contains deep pathos.
The strengths and weaknesses of Hair today lie in its depiction of an era that is now only remembered by people who are grandparents. Only a handful of years before it was written, almost everybody conformed and youth had not really been invented. Rebellion was restricted to a handful of individuals which meant that the impact of the original production must have been devastating both in the US and here.
As we discover in the early scenes, during the summer of love, the hippies had arrived in New York with a vengeance, spreading drugs, sex, racial and sexual equality and a general aura of permissiveness.
However, in the background was a war in Vietnam and that took millions of young Americans into the army by force, leaving many of them dead. The power of Hair's storyline lies in the internal struggle that Gavin Creel's Claude faces with his straitlaced parents symbolising a generation pulling in one direction, while his free-living friends try and take him the other way. On one level, it is Vietnam or Canada, on another there is a whole ethos of existence at stake.
Even amongst the tribe, there are different attitudes, best represented by the clash between the inherently conservative earth mother Sheila played by Caissie Levy, a lady with a lovely powerful voice and Berger. Will Swenson gives a marvellously over the top, burlesque performance in the latter part, playing a man who has lost all of his inhibitions but with them the ability to care about others.
One of the joys of the evening is the way in which Miss Paulus has ensured that every member of a tribe that must be 30 strong gets several solo opportunities to shine. Without exception, this talented crew take them.
Each must be hoping that they can use Hair as a springboard to fame and fortune, following in the footsteps of, inter alia, Diane Keaton, Meat Loaf, Donna Summer and Elaine Paige.
While the leading trio, supported by the soulful voice of Sasha Allen in particular, get more solos, throughout you feel that this is a company living the spirit of their show by performing as an ensemble and that more than anything, might be the reason why it succeeds.
Then again, with a stream of familiar and incredibly catchy rock songs including Aquarius, Ain't Got No, Manchester, England, Hair, Good Morning Star Shine and Let the Sun Shine In, the producers must be confident that despite a lack of star names and the cost of shipping a massive cast to England, audiences of all ages will flood in.
When they do, they are guaranteed to have a good time at this feelgood extravaganza with underlying heart and soul.
Philip reviewed this production at the Al Hirschfeld Theatre on Broadway
Visit our sponsor 1st 4 London Theatre to book tickets for Hair
Reviewer: Philip Fisher