Half a Sixpence
Book by Julian Fellowes, new music and lyrics by George Stiles and Anthony Drewe, original songs by David Heneker, co-created by Cameron Mackintosh
Cameron Mackintosh / Chichester Festival Theatre
Noël Coward Theatre
–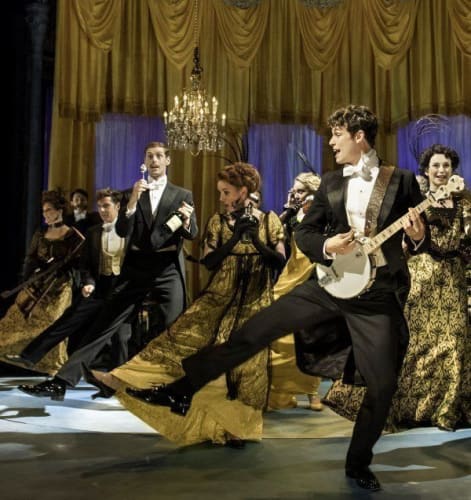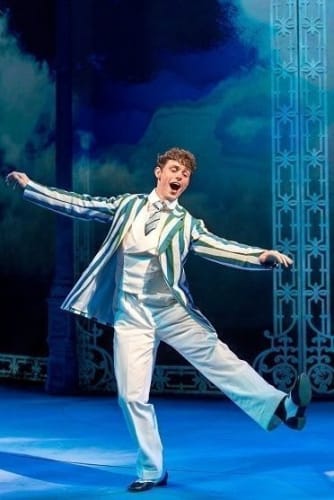 Half a Sixpence may turn the clock back half a century to the heyday of Tommy Steele and a whole one to that of H G Wells, but after 2¾ charming hours of song and dance nobody seems to care.
While this is a good, old fashioned musical comedy of the type that relies on simple plotting and moral values, enhanced by catchy tunes and unforgettable choreography, this transfer from Chichester Festival Theatre is an obvious winner, no doubt helped by a book from the ubiquitous Julian (Downton Abbey) Fellowes, enjoying a second West End opening of the week following School of Rock.
That owes much to its genuine good nature, some timeless songs and a makeover that makes the most of a talented cast, led by a couple of young performers who seem to be on the brink of stardom.
The underlying tale, which follows a haberdasher who inherits a fortune, was the basis for Kipps, a popular late Victorian novel from the pen of Wells, perhaps now best known for The War of the Worlds.
Playing for Kipps, Charlie Stemp has flashing teeth and lashings of Kentish charm, ensuring that his character has three women simultaneously sighing at the prospect of a smile, let alone a kiss or the kind of more intimate affection expected in movies today.
The youngster's life seems destined for more downs than ups when he splits a tanner (look it up if you are not familiar with pre-decimal coinage) with his sweetheart, Devon-Elise Johnson as Ann.
Indeed, the grim draper's is barely better than a workhouse, though it does allow Arthur to build some solid friendships and meet the posh lady of his dreams, Emma Williams's ever-charming Helen Walsingham.
The miracle comes in the form of a staggering inheritance heralded by aspiring playwright Chitterlow, played in suitably Dickensian fashion by Ian Bartholomew.
Suddenly, Kipps is a desirable commodity, particularly attractive to the upmarket but impecunious Walsinghams, especially Helen's dreadful mother and brother.
Marriage to Helen and an introduction to high society are the rewards for unbounded wealth. Unfortunately, for a down-to-earth lad with a heart, despite the jauntiness of the song, "Money to Burn" does not equal happiness, especially when it cements his breach with Ann.
If this were real life today, the later stages of the drama would be very different but, in those long-distant times, a happy ending was almost inevitable, ironically fuelled by fraud and destitution, allowing a series of coincidences to change Artie's topsy-turvy fortunes.
Half a Sixpence is great fun. Rachel Kavanaugh and her team have worked hard to create an aural and visual delight. Andrew Wright's choreography is fresh and lively, peaking with his work on the bouncy "Pick out a Simple Tune", which brought the house down on opening night.
The songs, which combine the original efforts of David Heneker with contemporary assistance from George Stiles and Anthony Drew, inevitably makes the most of the two big hits from the original, the title song and the glorious "Flash, Bang, Wallop", which heightens an already happy ending.
All in all, while the main audience for Half a Sixpence may come from silver surfers, anyone who loves traditional musicals or fancies a heart-warming night out could do a lot worse than pick yet another successful transfer from the Chichester Festival Theatre hit factory.
Reviewer: Philip Fisher