Hamilton
Book, music and lyrics by Lin-Manuel Miranda, inspired by Alexander Hamilton by Ron Chernow
Public Theater
Richard Rodgers Theatre, New York / Disney+
From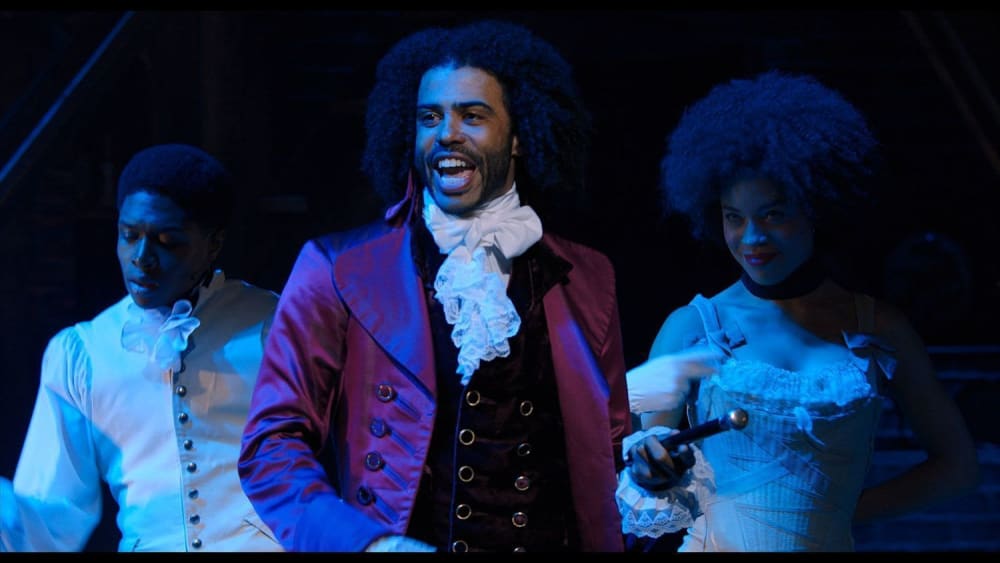 It is possible to put forward a strong case that Hamilton has been the biggest theatrical success of the current millennium.
Therefore, a film version of Lin-Manuel Miranda's global hit was only a matter of time. Sadly, for the creative team, its proposed cinematic release has been sidelined by coronavirus.
However, in an exciting development that could pave a new path for many other movies in future, Hamilton is being released on Disney+.
Rather than a fresh script, this immaculately filmed video presents the stage production in a live performance before an enthusiastic Broadway audience in June 2016.
There are attractions even for those who have seen the show in a theatre with close-up opportunities, excellent camera work and an opportunity to see the original cast led by the mercurial Lin-Manuel Miranda himself in the title role.
The timing of the film release has been fortuitous, since this ultimate example of colour-blind casting, which has symbolic resonance as it sheds new light on the creation of the United States, just happens to open as the Black Lives Matter movement has become one of the hottest news stories around the world.
This is made clear in a couple of brief interviews with Miranda and stage director Thomas Kail, which offer a brief prologue before the main event.
As this critic observed after watching the London production, everything about Hamilton is close to perfect.
Perhaps the most impressive feature is the manner in which it conveys the history of the American Revolution, rivalries between lawyer, constitutionalist and founding father Alexander Hamilton and Leslie Odom, Jr. in the role of Aaron Burr and the success of Christopher Jackson as George Washington when confronted with Jonathan Groff's English King George III (who gets one of the stand-out songs "You'll Be Back") alongside human stories involving the central figure and his family. All of this is delivered in beautifully coined, modern vernacular language.
The music, which tends towards hip hop and rap with influences from rock, R&B and even jazz, is catchy and impeccably orchestrated for a big but not overpowering sound.
The score is so good that there are a number of songs which have become almost instant standards such as the title song, "My Shot" and "The Room Where It Happens".
The sharp, agile choreography created by Andy Blankenbuehler helps too, along with impressive singing and acting performances all around.
The storyline, which opens in 1776, is itself gripping, which is saying something for a plot based entirely on dry historical fact. It plots the rise and fall of a colourful character with tragic flaws.
We hear how a young outcast from the Caribbean first manages to befriend a series of soon-to-be influential characters, before proving his mettle as right-hand man to George Washington, much to the anger of jealous Burr.
At the same time as pursuing his political ambitions, Hamilton also charms not one but two of "The [wealthy] Schuyler Sisters", Renée Elise Goldsberry playing the eldest Angelica selflessly sacrificing her own passions for the benefit of her younger sister Eliza, portrayed by sweet-voiced Philippa Soo in a relationship that crackles with sexual electricity.
Hamilton's life hits its peak at an early stage, when his political power is beyond doubt, his country is inexorably taking major steps towards independence and he wins the hand of a renowned society beauty.
Alongside fellow immigrant Daveed Diggs (returning after the interval as the colourful but influential Thomas Jefferson) portraying French incomer Lafayette, he also proves doughty on the battlefield.
While it may not immediately be obvious, pride, ambition and human weakness, along with jealous rivalry begin to "rise up" as a film that runs close to 2¾ hours amply demonstrates.
As a stage show, Hamilton really is unbeatable and the film does it full justice. Almost all of the songs are fantastic, making important statements at the same time as ringing happily around the brain, while the plot is gripping, the characterisations of the central figures satisfyingly rounded.
Whether or not you have seen this show on stage, the full version of this exhilarating musical is unmissable. Indeed, it would probably justify a subscription to Disney+ or the acquisition of a download / disc on its own.
Reviewer: Philip Fisher