hang
debbie tucker green
Royal Court Theatre Downstairs
–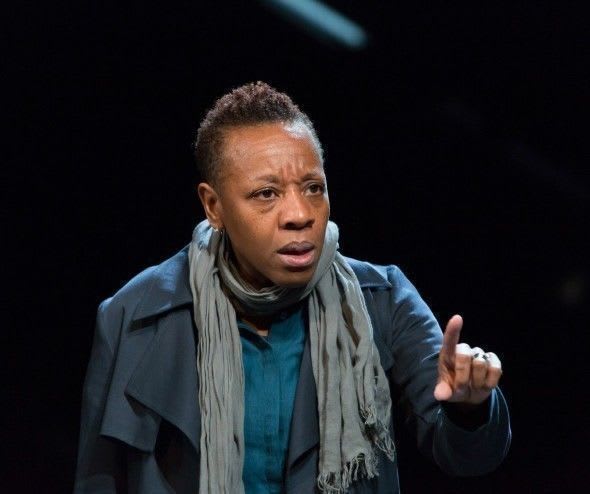 debbie tucker green has written a characteristically devastating play about the devastation that a family can suffer following a random act of violence.
Despite a running time of less than 70 minutes, the tension builds to an almost unbearable degree from first to last during a memorable evening.
The writer, who also adeptly directs, keeps her audience in the dark, very slowly dribbling out morsels of information, although even by the end some facts remain unclear.
At the beginning, on Jon Bausor's slightly surreal set with mildly wobbling walls, we see the arrival of an anonymous woman, played with incredible emotional intensity by Marianne Jean-Baptiste.
Three, as she is referred to in the script, is faced by a kind of comic double act, effortlessly offending her in their efforts to avoid doing so.
Those in thrall to TV police procedurals might guess that this is a pair of somewhat unorthodox coppers and patience reveals that to be the case.
Even then, the reason for the tired but belligerent lady's presence takes considerably longer to play out. The officious pairing of Claire Rushbrook (One) and Shane Zaza (Two) play cat and mouse for what seems like an inordinate time before the truth finally begins to emerge and we learn that she is being asked to make a big decision.
You could hear a pin drop in the auditorium as we eventually discover that 3½ years previously, someone—whom is never made clear—has been the victim of an undisclosed crime horrific enough to be a capital offence. Unsurprisingly, the event continues to haunt Three's family, who seem unlikely to recover their former equilibrium.
Throughout the tensest of evenings, the parties show each other little respect, not helped by easily revealed untruths, presumably told as a part of police procedure in such circumstances.
Although the subject matter and the visitor's epic decision could not be more serious, the tone is occasionally lightened by injections of jet black humour.
hang is a fine achievement that poses a series of moral and ethical questions about society, the legal process and how we would behave if placed on either side in such an intolerable situation.
The writing somehow manages to be simultaneously naturalistic and poetic, particularly in the early verbal jousts between the two police officers and their unwilling guest.
The finely drilled cast work perfectly together, with Marianne Jean-Baptiste excelling in a memorably powerful and moving play which, along with Violence and Son Upstairs, suggests that the Royal Court is getting its Mojo back.
Reviewer: Philip Fisher