Happy Days
Samuel Beckett
Young Vic Theatre
–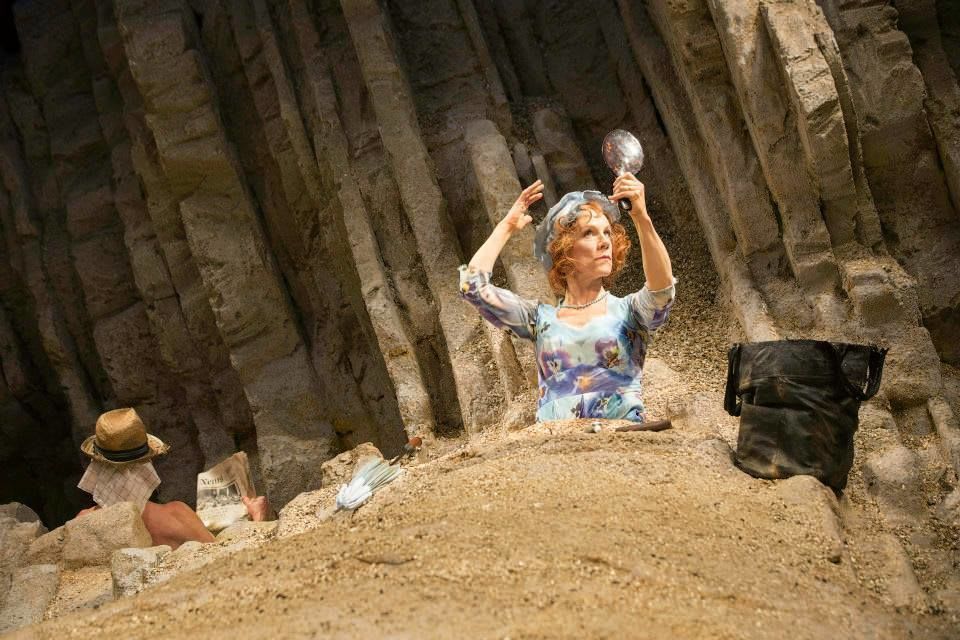 Juliet Stevenson returns with Beckett's Happy Days to the Young Vic after last year's run with great strength and charisma.
With this play, Beckett celebrates a kind of womanhood that is both strong and fragile, both old fashioned and emancipated. It is no doubt that Winnie has become one of the biggest roles for the most gifted actresses.
Happy Days is one of the darkest and most painful of Beckett's plays in its ironic portrayal of a woman who cannot lose her optimism. It is still a play that does not spare the audience, unrelentlessly indulging in one image, that of a woman in captivity, bound to the earth torso-down, continuously dying but never dead.
It is a sort of limbo that has condemned Winnie to see herself also as abandoned by her husband, Willie, who hardly speaks to her and we hardly hear. It is also a piece that, in places a bit long, stretches the audience's attention to witness this unchangeable, torturous condition.
Stevenson and Abrahami's collaboration makes the choice to lighten the mood of the play a bit further, choosing to represent an even more jovial yet nervy Winnie who takes strength from a logic of her own. No matter how absurd the logic, the audience cannot but feel close to a kind of down-to-earth. cheerful pragmatism.
It is a choice that gives its stamp in the second act. The stage direction 'dressed to kill' as attributed to Willie, who finally comes out of his hole and makes an incredible effort to reach out to Winnie, loses its menacing edge and the revolver, symbol of death and suicide, is slightly under-used.
Winnie, who is never totally dispirited even in the second act, with only her own head sticking out, projects a kind of compassionate frailty that is beautifully played by Stevenson. When she shouts to call for Willie's attention, it is a subtle, heartfelt despair. After all, it is down to the expression of the actress's face, down to Stevenson's great range.
There are many subtleties to Winnie that make this play and the production remarkable to say the least.
Reviewer: Mary Mazzilli