Harry Potter and the Cursed Child Parts One and Two - Special Rehearsal Edition Script
Jack Thorne, based on an original new story by J K Rowling, Jack Thorne and John Tiffany
Little Brown
Released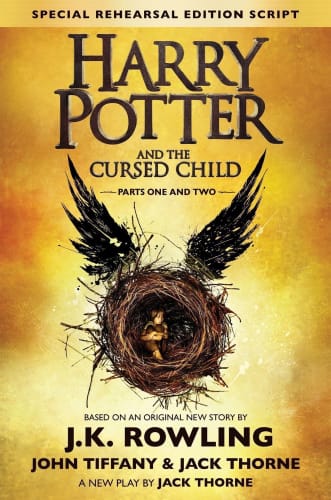 Having been the theatrical phenomenon of 2016, Harry Potter and the Cursed Child is set to break publishing records worldwide.
Global sales of this book are likely to be in the tens of millions by Christmas, which is a reflection of the popularity of what has become one of the most popular series of books / films of the millennium.
Even those familiar with every one of the seven novels and each of the movies will get a different experience if they pick up what is being billed as the "special rehearsal edition script" of Jack Thorne's play, which opened to rave reviews at the West End's Palace Theatre last week.
Readers will fall into two categories: those that have already seen the 5¼-hour play and wish to relive the experience at home and others who for perfectly good reasons have not yet and may never see the stage production.
Either way, Harry Potter addicts are likely to be enchanted by what they read and, while there is no question about the very high production values and enhanced experience of seeing John Tiffany's wondrous staging live, the script proves much stronger on the page than those who have been lucky enough to see the show might imagine.
Make no bones about it, this is a play script. As such, it might be the perfect medium for many Harry Potter readers. Rather than ploughing through hundreds of densely packed pages of description, action and sometimes, dare one say it, padding, the nature of a script cuts to the essence of the drama and can easily be enjoyed in a single sitting.
This means that it might be a good introduction for those unfamiliar with the Potter phenomenon, which contains a little wizardry of its own, in that what should be books etc. for children and younger teenagers have proved equally popular with many adults.
Clearly, the special effects are not there. Therefore the script has to live and die on its own merits.
Jack Thorne and his collaborators have worked very carefully to meld the life history of Harry Potter and his friends (plus Voldemort and his dark cohorts) seamlessly into a new story a couple of decades on from the last novel.
Now Harry is 37 and married to Ginny, while Hermione and Ron are also a somewhat less likely marital pairing. Sadly, Draco Malfoy is widowed early in the piece, hardly making an already maudlin character any more amenable.
Much of the action centres on the next generation down, particularly 14-year-old Albus Potter and his best friend, Scorpius Malfoy.
With the help of a Time-Turner (just what it sounds like) and a cute girl they become the wizard equivalents to Doctor Who, travelling through time in an attempt to rewrite the past and, by extension, improve life today.
As well as the affordability, coming in at over £500 less for a family of four than top price tickets to the theatre version, the script allows re-reading and time to reflect, which can enhance the experience particularly if you have a tendency to lose concentration or, heaven forfend, drift off to sleep at some point during the long day.
Anyone who wants to know more about the plot than this brief review will have to purchase a copy of Harry Potter and the Cursed Child. There is little doubt that they will be delighted to re-enter the world of everybody's favourite wizard, relishing a well written page-turner in which the humour is as enjoyable as the drama.
Reviewer: Philip Fisher