Henry V
William Shakespeare
Propeller
Hampstead Theatre
–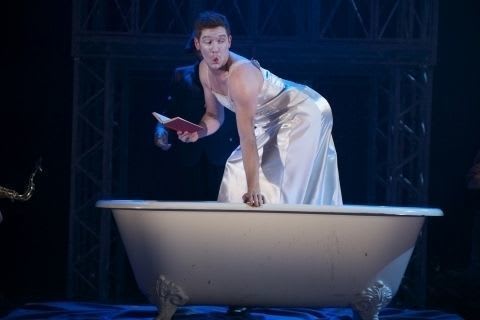 The companion piece to The Winter's Tale in the Propeller double bill is a favourite this summer. Henry V has already been seen in a production by Dominic Dromgoole at the Globe and another at Marylebone. It will also soon close BBC's The Hollow Crown series under the executive auspices of Sam Mendes.
Edward Hall's company always goes out of its way to find new angles, starting with the premise that there is no need to cast women (or children) when playing Shakespeare.

That matters less in this play than many others that they have chosen, since apart from the hilarious Karl Davies as French Katherine, Henry's diplomatic coup wife, there are no other significant parts for women. However, some praise should be pointed towards Chris Myles playing Alice, the future Queen's rather hirsute and distinctly untalented English-language teacher.

This modern dress experience will remind viewers of Nicholas Hytner's production starring Adrian Lester, with which he launched his artistic directorship at the National. Most of the characters are dirty squaddies preparing for and undertaking a spectacularly explosive foray in France. Such visual elements are attempting to bring up thoughts of the fast shrinking British Army that these days has replaced France with Afghanistan and Iraq as its usual war zones.

The central figure is not a French lady but Dugald Bruce-Lockhart's King Henry. In his army clothing, which differs little from that of his comrades, Henry does not come across as a very regal or forceful king.

He is much more an army commander who does his best to inspire men but has a tendency to overstep the mark in ways that today seem shocking. The slaughter of innocent prisoners has long been frowned upon.
On the plus side, Bruce-Lockhart's verse speaking is as clear as one has come to expect from this company. He is also good in the comic scenes, as is the versatile Tony Bell's Fluellen, a man capable of making a leek as vicious a weapon as a sword. Bell also transforms himself into a kind of pantomime dame as Mistress Quickly.
In addition to the gritty drama with its comic interludes, the company keeps viewers entertained with a number of English folk style renditions of popular songs primarily from the 1980s, warming up the audience nicely with the highly appropriate "A Pair of Brown Eyes", originally written by Shane McGowan for The Pogues.

This version of Henry V embraces its new era with enthusiasm and entertains its audience capably. However, compared to the spectacle of a full costume drama, it looks drab, while the contemporary setting does not say anything very new about the play.
Reviewer: Philip Fisher