The Winter's Tale
William Shakespeare
Hampstead Theatre
–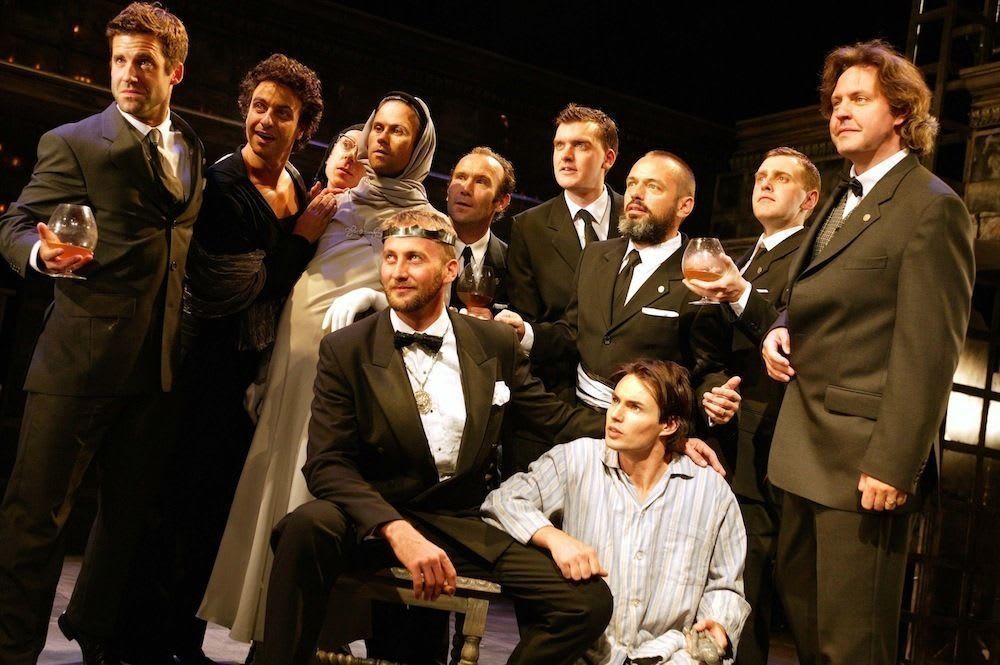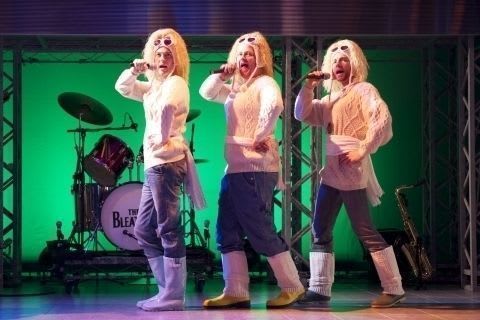 In addition to running Hampstead Theatre, Edward Hall has a very successful side-line with his own company, Propeller. This is a unique institution that produces high-quality versions of Shakespeare using all-male casts and making few concessions to the kind of gender problems that would at first glance seem to be insuperable.
The Winter's Tale (paired with Henry V) should be a real challenge, since two of its most significant characters, Queen Hermione of Sicilia and the shepherdess Perdita, are determinedly female, as is a strong supporting character Paulina. However, Propeller takes this in its stride casting Richard Dempsey, Ben Allen and Vince Leigh in the roles, although three more strapping lasses one could not hope to meet.
Designer Michael Pavelka has set the scenes at King Leontes's court in Sicilia in a silver-walled nightclub of contemporary vintage, although apparently, despite many double anachronisms, we are supposed to be in the 1960s.
Robert Hands playing Leontes looks at the epitome of a successful modern businessman in his evening dress. However, once he starts mixing whisky and brandy, the King's judgement becomes so flawed that he believes his pregnant, short-haired wife Hermione has been deceiving him with his old childhood friend King Antigonus of Bohemia.
As the alcohol continues to flow, Leontes makes the kind of accusations that can never be taken back, driving his best friend away, while condemning Hermione first to a prison cell then a high-profile court case in which her innocence is stoutly defended and eventually proved by divine intervention.
All of this works surprisingly well in an all-male modern setting. The drama is held together by Ben Allen in the role of the royal couple's young son Mamillius. Showing wisdom beyond his years he also acts as a (generally silent) narrator observing many dramas including sad deaths and the transportation of his innocent babe of a sister tirade far off land where she is abandoned as dead.
The interval in this three-hour production breaks up the action before a swift advancement of 16 years and a change of setting to bosky, rural Bohemia.
There, we enjoy the delights of a music festival rather like the recent events on the Isle of Wight, if one replaces rain and thick mud with sun-kissed fields and happy hippies.
This is the chance for Tony Bell playing Autolycus to come into his own, gulling Kyle Davies's Young Shepherd to a far greater degree than usual, leaving him literally in a costume that looks like an dress rehearsal for the emperor's new clothes.
Young love represented by Perdita and Finn O'Hanlon as Florizel can be a little tough to take when the 16-year-old wench has the looks, if not the garb, of some muscular manual labourer.
This production is great fun and one soon forgets the gender issue. In fact, it presents many novelties such as an opportunity for actors to double Mamillius and Perdita as well as Hermione and the lusty shepherdess Dorcas.
These suspensions of disbelief are easily made no thanks to excellent acting from an ensemble that has been together for many years. The light-hearted Bohemian scenes lead to Shakespeare's truly magical ending, guaranteeing that everyone will leave the theatre with a smile on their faces.
Reviewer: Philip Fisher