Henry V
William Shakespeare
Regent's Park Open Air Theatre
–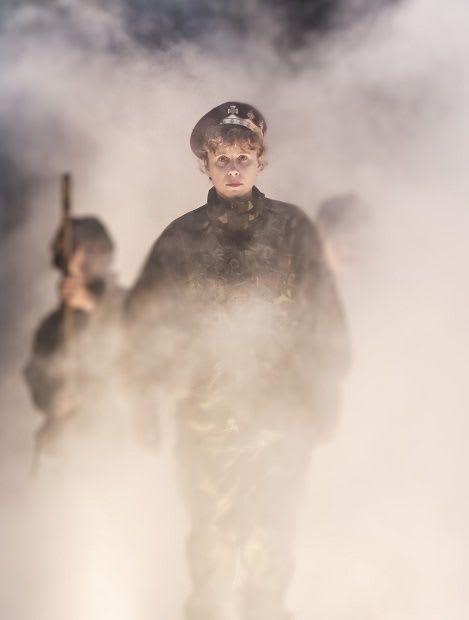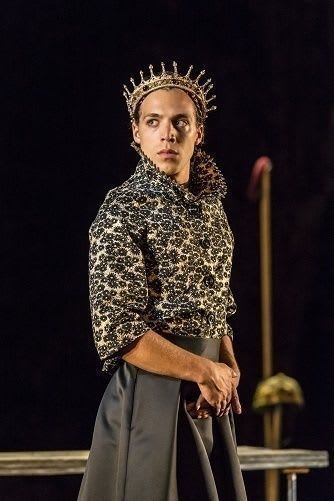 Gender-blind casting in Shakespeare has a long tradition stretching back at least as far as Sarah Bernhardt, ignoring the early days when women were not permitted to act and boys took their roles.
It has become increasingly popular in recent years, with Hamlet and Richard II most obviously lending themselves to the skills of our finest actresses. Later in the year, Glenda Jackson (surely a Dame soon) will prove whether it is possible for a woman to take on King Lear successfully.
Even in this context, one would have thought that only the very bravest director and star would consider some of the more swashbuckling roles and Henry V certainly comes into that category.
This is the kind of King who requires the panache of an Olivier or a Branagh. As visitors to the Open Air Theatre will discover this summer, those skills are also possessed by the mighty Michelle Terry, who embraces the role so fully that one soon forgets that the undersized King is being portrayed by a member of the wrong sex.
After an impressively laid-back prologue from Charlotte Cornwell and a somewhat pedestrian opening scene, this modern dress production soon shows director Robert Hastie's intentions.
Thanks to cutting and swift scene changes, he keeps events rattling along to a dramatic finale within 2½ hours of the lights coming up.
In that time, there is much to appreciate and, in particular, startling rousing battle scenes that become terrifying thanks to impressive percussion compositions from Yaron Engler and spectacular lighting courtesy of Joshua Carr, building to a magnificent son et lumière at Agincourt.
However, this production will be best remembered for the central performance by Miss Terry, whose magnetic stage presence always impresses.
While we might expect her to express the sensitivity and nervous humour of a young but ambitious King, where the actor really scores is in her admonitions to an army that is greatly outnumbered but inspired thanks to a series of set piece speeches, each as dramatic as the other.
By the end, not only will almost all of his/her soldiers follow this King to likely death but it is a fair bet that many audience members would willingly follow suit.
The unexpected English victories owe much to the bravery and courage of the King and his followers but it is worth observing that on the French side Alex Bhat's Dauphin is such an oafish toff that his country's defeat seems inevitable.
The gender-bending does not stop with the King. Ben Wiggins provides a splendid foil as the French Princess Katherine, making the most of both a hilarious English language lesson and also the scene in which his modest character is wooed by the nervous English monarch.
The common man is represented in a number of ways, most humorously by Philip Arditti as Pistol and Catrin Aaron, proud Welsh Captain Fluellen.
Robert Hastie has created an accessible, at times funny and others deeply serious production that is far better than merely a gimmicky opportunity for a top actress to shine in an unlikely role, though she does so as vibrantly as the lightning that was flashing over the theatre not too long after the metaphorical final curtain fell on opening night.
Reviewer: Philip Fisher