Her Name Was Carmen
Choreography Olga Kostel, music Georges Bizet
St Petersburg Ballet Theatre
London Coliseum
–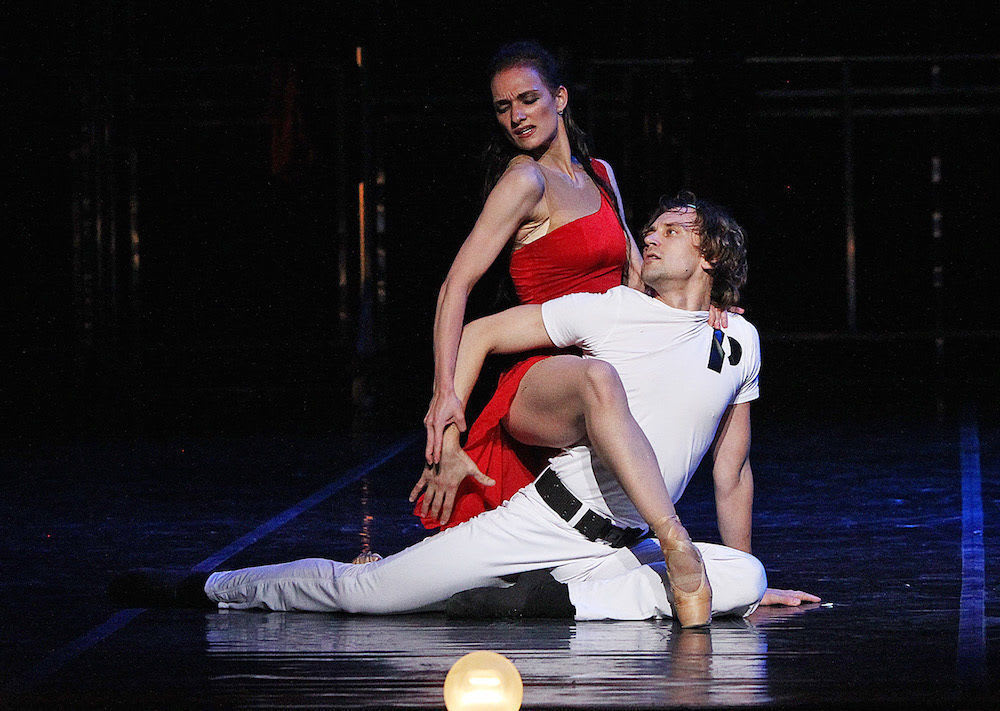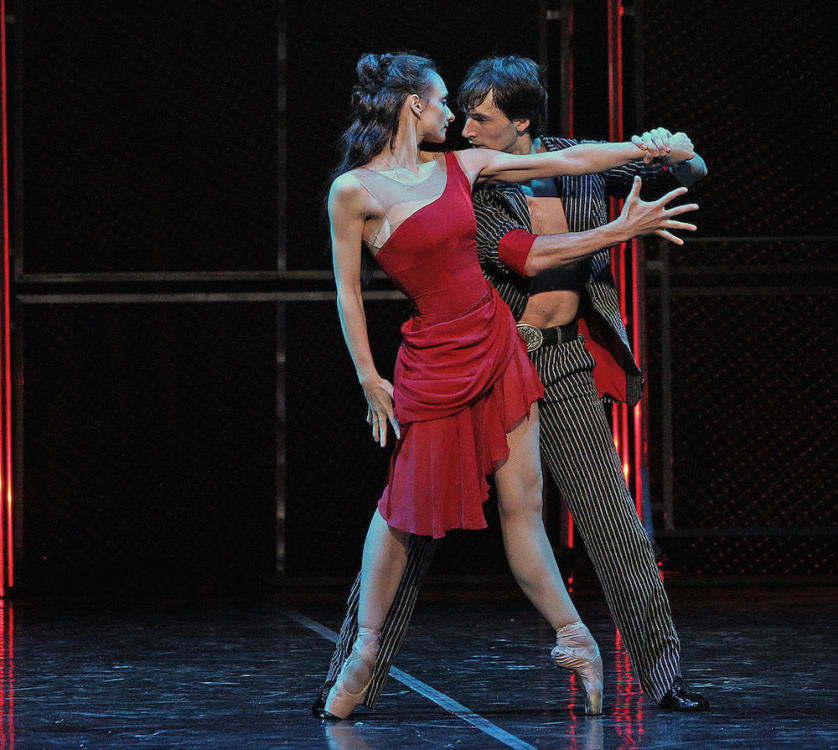 Misguided, misjudged, a messy misfire, Her Name Was Carmen is rescued for a brief moment in the second act by an uncredited 'Isadora Duncan' little girl, aged about ten, who dances with incredible confidence, poise and technique. She deserves the bouquet and the applause.
Georges Bizet's Sevillian Carmen has been hijacked to tell a contemporary story of Syrian refugees in a camp on the edge of Europe. Three protagonists are listed: Carmen (daughter of a rich man murdered by mafia people smuggler Garcia), Jose (police head of camp security) and Garcia who pursues Carmen and kills her with a knife blow meant for Jose (Dmitry Akulinin).
Roman Smirnov's tortured libretto has Carmen hiding from Garcia (Yuri Kovalev) amongst the refugees, though the backstory only becomes clear if one reads the programme notes. Dressed in a hoodie, passing as a boy, she is drawn out by a game of football. Yes, Bizet accompanies pass the ball without dropping it, which goes on for far too long.
Don't ask what happens to the Habanera. The music, played live by the orchestra of English National Opera, re-orchestrated by Murat Kabardokov, is an ill fit for Olga Kostel's unsatisfactory kitschy (with a capital K) choreography. Irina Kolesnikova's talents are wasted on this heartfelt but ultimately flat production, which does no one any favours.
A work with charity at its heart (Oxfam's Refugee Crisis Appeal benefits) and human kindness—Carmen comes to a bad end, not because she is capricious or a force of nature, but because she is trying to help the little girl reunite with her mother—demands a charitable welcome, but, sadly, it fails to engage the heart or the head.
Much of the two forty-minute acts are taken with huddling refugees longing for release, head in hands, or running in panic—refugees in costumes and chiffon scarves of such bright hues I think I've stumbled on to a Ukrainian village fair.
There are volunteers (capital V on their shirts), police (capital P), press (written on baseball caps) and Garcia's suited, posturing gang. Garcia is the horny bull taunted by Carmen's red flag of a dress. If I didn't know better, I'd suspect this was a send-up, but it is very sincere.
Kostel has given Kolesnikova's Carmen little choreography to challenge her—this is more an emoting, acting / dancing role. No fireworks, but rather a gauche attempt at theatricality: handheld searchlights sweep the stage from the aisles, with Kolesnikova entering from the auditorium, mingling, as it were, with ordinary people.
Pas de deux and de trois barely distract from the teaming cast (fifty-strong apparently, with good dancers amongst them, though some do seem under-rehearsed). The vocabulary, and indeed the syntax, is repetitive. Carmen dies, falls to the floor in a crumpled heap, rises for one more pas de deux with Jose, and expires in his arms.
Clouds (video art by Natalya Naumova) sweep across the darkening, reddening sky, in which a full moon rises. As she lies dead in Jose's arms Carmen's spirit dances in silhouette against the moon, and the refugee corps de ballet salute her.
Hints of La Bayadère, which SPBT brought to London last year and Le Corsaire, the people as slaves, fail to save this do-gooding new ballet. What it does remind me of is Jasmin Vardimon's Park, its keep-out fencing, that here is forever being shoved in the refugees' faces.
Kolesnikova is a strong, supple dancer, expressive, but this banal, inept, clichéd ballet is no vehicle for her. Strangely there is no biography for the choreographer. There are biographies for the three principals and for Kolesnikova's ballet coaches, but none for Kostel, whom I've not heard of before.
Reviewer: Vera Liber