Hero's Welcome
Alan Ayckbourn
Stephen Joseph Theatre Company
Stephen Joseph Theatre, Scarborough
–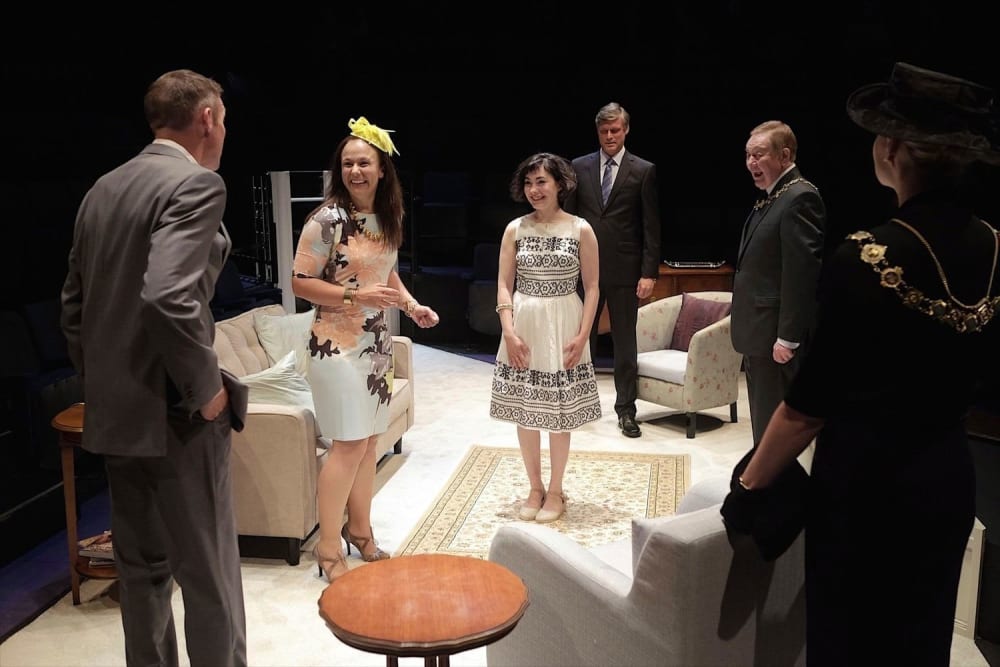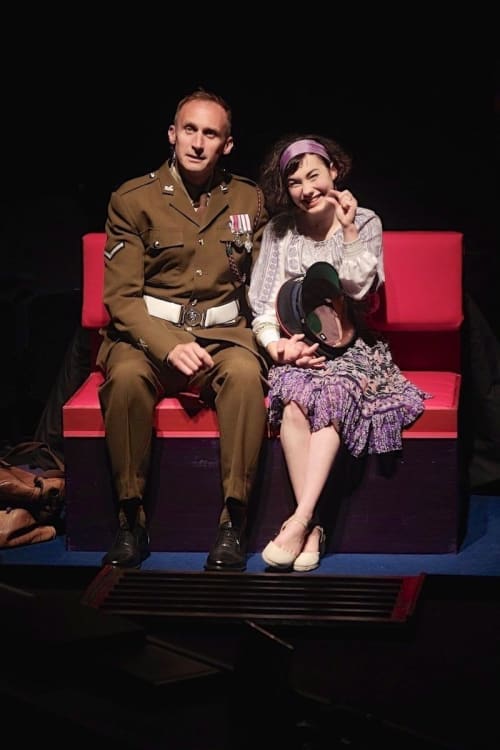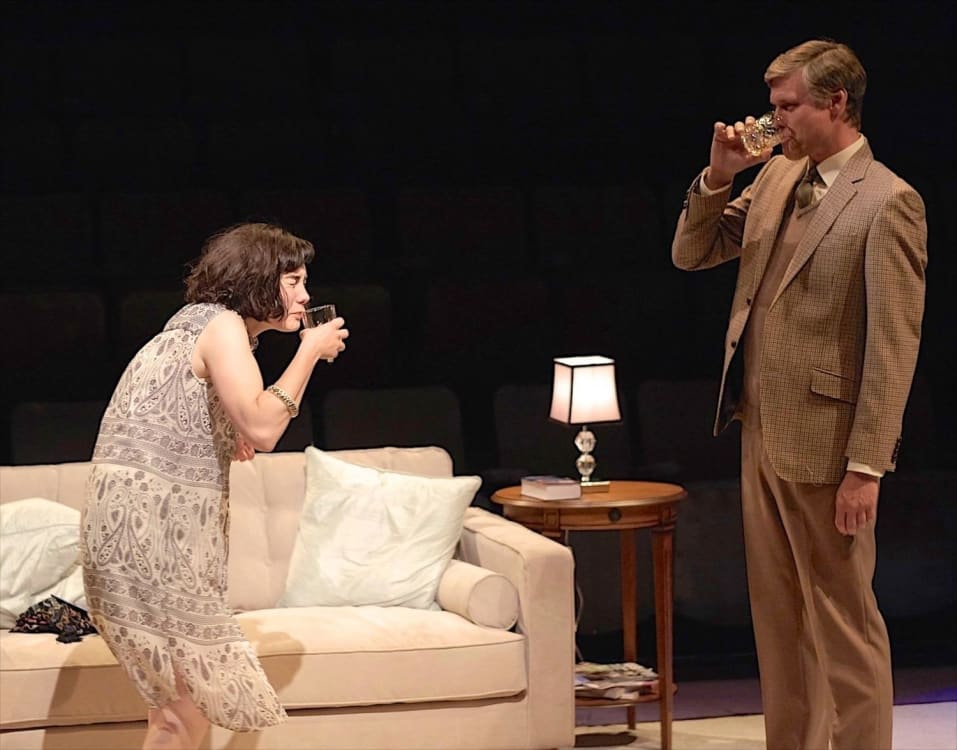 Early in this play, incredibly Ayckbourn's 79th, a double-barrelled shotgun is brought on stage and propped gently against a dresser in the otherwise tranquil domestic setting.
You don't have to know your Chekhov inside out to feel the portent of this gesture, and much of the first half (if not more) of this piece is concerned with setting up loaded guns, ominous backstories and twisted entanglements. It generates a tale of secrets and entwined histories which feels offbeat and wrongfooting at times but is always expertly staged by its talented cast and director.
The latter is perhaps little surprise, as Ayckbourn himself directs, masterfully negotiating the stage in the round and teasing the undertones and nuances from his own text. In it, a soldier (Richard Stacey) returns from service in a war-torn nation, with a medal and a young bride who speaks little English. The soldier, Murray, had gone beyond the call of duty to rescue screaming orphans from a burning hospital: he is a Good Man. But not all of the peers he had left behind in the hometown of his youth would agree.
Over the course of the narrative, layers upon layers of secrets are set up and gradually revealed. There are three couples at the heart of the story: soldier Murray and his young bride Baba (Terenia Edwards), Mayor Alice (Elizabeth Boag) and her somewhat older 'consort' Derek (Russell Dixon) and landed Tory caricature Brad (Stephen Billington) and his wife Kara (Emma Manton).
All are excellent, and Billington in particular clearly relishes playing the bullish, bullying Brad, who's a childhood pal of Murray's and whose behaviour towards his grinning-through-tears wife earns actual hisses and boos from the packed Scarborough audience. Ayckbourn's script is not his most subtle here, though as usual there are heart-rending moments of clear-sighted observation, of the implacable cruelties of everyday language and the power of a man of this ilk over a wife in a gilded cage.
Emma Manton, as this wife, is wincingly great, an unsentimental and increasingly endearing portrait. Elizabeth Boag's Alice is ice in comparison and she, like Brad, gets some sort of comeuppance. Part of the problem as well as appeal of the play's storytelling is the arbitrary way in which Ayckbourn deals out his characters' fates. Though all of their endings are foreshadowed, some are designed as deeply satisfying while others seem random. Most are cruel.
Russell Dixon's Derek (Alice's husband) seems oddly cast here in the slightly wrong age range and the script does not fully deal with this discrepancy. But he handles some of the broader comedy with aplomb, and gives another sympathetic performance.
Terenia Edwards as the—at first—nearly mute wife of the returning soldier is a revelation. Fresh from drama school, Edwards handles a potentially disastrously difficult task with charm and a deft versatility. I know nothing about the possible effects of trauma on the learning of a second language, but Baba certainly picks up the local idiom with impressive speed and accuracy. Some of the foreshadowing through linguistic gags is laid on thick, but in Edwards's hands it is always fresh.
Richard Stacey, too, is an actor with an impressive range who doesn't put a foot wrong as the local boy made good but harbouring a darker past. He's deeply likeable, but capable of depths and subtleties way beyond the surface niceness. He, as well as most of the rest of the cast, also impressed recently in Confusions and Roundelay.
The design (by Michael Holt) is surprisingly cramped, fitting as it does three distinct and relatively detailed permanent settings into the space available. But it serves its purpose and supports the direction impeccably. Ayckbourn's script indulgently requires a model train set, providing some of the play's easier laughs, which I felt added little to the texture of the whole. Like the design, Jason Taylor's lighting is unshowy but supportive.
Where I have reservations is around the unsettling feeling that the play is for much of its length 'getting going', laying down smouldering fuses for the bombs which go off surprisingly late in the action. It is a play, then, which lives in the mind and reveals depths and nuances in retrospect, but which is somewhat frustratingly imbalanced in the watching.
The script plays with tropes familiar from Ibsen (particularly) and Chekhov, but also some oddly Jacobean plot devices, such as a pivotal fateful wager and a grimy seduction scene. The end offers hope—for some—but also the depressing feeling that so much in life is relentlessly arbitrary.
Perhaps that is Ayckbourn's point—and, as he has demonstrated before, it's a point that can be smuggled smoothly in through a sometimes flimsy-feeling entertainment, like a loaded gun against a suburban dresser.
Reviewer: Mark Smith