Home Chat
Noël Coward
ElmTree Productions
Finborough Theatre, Earl's Court
–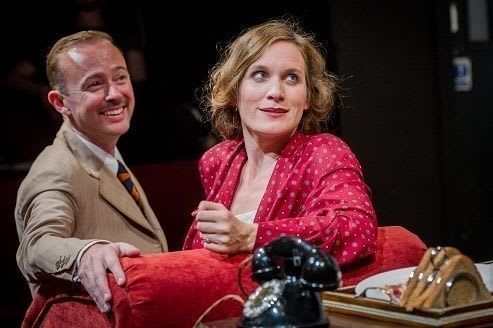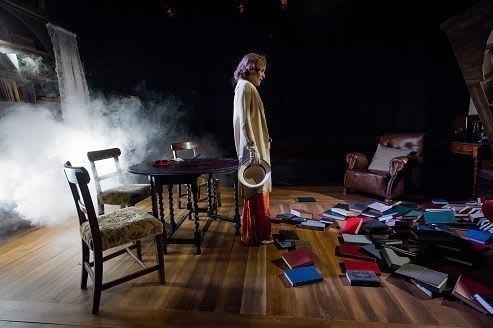 It is one of life's mysteries that rather good plays by the best of playwrights can disappear for generations.
In the case of Home Chat, the aberration lasted close to 90 years, between a West End production produced by Basil Dean and this highly enjoyable revival directed (note the change in terminology) by Martin Parr.
For those interested in literary history, the play fits into the Coward chronology roughly half way between Hay Fever and Private Lives.
It takes a little time for this satire on hypocritical British ideas of morality to get going, as the audience is introduced to a houseful of dullards at the book-lined home of Tim Chipping's "celebrated novelist", the surprisingly unworldly Paul Ebony.
A couple of ageing widows (played by Polly Adams and Joanna David) and an admiring lady of a certain age all speak disdainfully in those clipped tones that are associated with this playwright. Mind you, even Robert Hazle's eye-rolling butler sounds as if he only recently came down from Eton but can be forgiven (one of the evening's major themes) since he sings a trio of the Master's classics tunefully between acts. Oddly, the highly appropriate "Mad Dogs and Englishmen" does not form part of his repertoire.
This well-made, 2½-hour-long, three-act comedy of manners takes off with the arrival of the deliciously acidic Zoë Waites as Paul's wife Janet and Richard Dempsey playing Peter Chelsworth.
Their return has been prefigured first by some clever stage trickery in depicting a train crash, which they miraculously survive, with no more than a small model and fearsome sound effects, courtesy of sound designer Pete Malkin. Thereafter, the priggish moralising of the prurient company makes clear what isn't.
Their accusations of adultery against Janet and Peter would have fired up jazz age audiences as they never can today.
Even so, the genuine shock is clearly conveyed, although it is tempered by disbelief, since the accused pairing are so obviously both brazen and enjoying themselves at the expense of their friends.
Noël Coward knows how to capitalise on situations of this type to the maximum, creating a kind of inverted farce by the short third act, which pokes fun at the outraged with barely suppressed glee.
The efforts of both designers, Rebecca Brower, whose set looks lavish and provides drama on its own account in the final scenes, and Charlotte Espiner, with convincing period costumes, are worthy of note.
While some of the supporting acting cannot match the leads, Richard Dempsey and especially Zoë Waites give excellent performances brimming with Coward's trademark comic understatement.
All in all, Home Chat is a splendid rediscovery and it is almost unnecessary to say that the Finborough has done it again, finding yet another gem that should never have been neglected.
Reviewer: Philip Fisher