Homeland
Laurie Anderson
Barbican Theatre
(2008)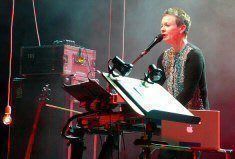 As mentioned in the review of Vanessa Redgrave's monumental performance in The Year of Magical Thinking, this one-woman show before a large, packed audience opened on the same night. It is all that one can do to avoid the metaphor of London buses.
Indeed, a hat-trick of shows featuring lonely, American-imported women will be achieved when Tovah Feldshuh finally transfers Golda's Balcony to the Shaw Theatre next month.
One wonders how long ago it was that a British solo production (Fiona Shaw just about had company in Happy Days) was seen in the West End or a large, subsidised house?
Laurie Anderson is a unique phenomenon, a multi-talented musician and performance artist with a penchant for storytelling. Her shows are events involving complicated multimedia and music-making machinery.
Strictly, this is not a solo show, as unlike 2005's The End of the Moon, Miss Anderson has three companions on stage. Their contribution is to provide musical accompaniment to the mixture of song, talk that is often synthesised, and computerised music with which the star dominates the evening.
The setting is pure Laurie A. Between two big banks of speakers, the stage is covered with an ocean of candles above which dangle light bulbs from ankle to shoulder height.
Aaron Copp's vibrantly colourful lighting, which creates great effects, owes more to rock concerts than theatre, which is appropriate given the nature of this performance.
For close to 100 minutes, we are primarily presented with a melange of music, generally rock-derived with country roots, and a good dose of the mystical.
You could be forgiven for mistaking what is delivered for a concert with speech, but not by Laurie Anderson who clearly has serious concerns that she wants to get across about her Homeland.
In a single line, her thesis is that we have awoken from The Great American Dream and must now look at the reality of life in the United States where technology and hegemony have destroyed harmony and fellow-feeling.
This can be divined from a whole series of songs starting before the earth even existed. The pick, both lyrically and musically, is the extremely funny "Only an Expert Can Deal with the Problem" in which she makes fun of experts whom she believes are far better at creating than dealing with life's issues.
Nearly as good is her homage to "The Underwear Gods" who are taking over New York City from their billboards and the final word about "The Lost Art of Conversation".
Homeland is a perfect Laurie Anderson sampler. It highlights her concerns, showcases her musical virtuosity and will be popular with fans as well as a good introduction for the uninitiated.
The show, which is touring extensively in the United States and further afield, has a ridiculously short London run of only four days. It is then reprised for a single performance at the Norwich and Norfolk Festival on 5th May.
Reviewer: Philip Fisher