how did we get here?
Choreography by Jules Cunningham
Julie Cunningham & Company
Sadler's Wells
–

Listing details and ticket info...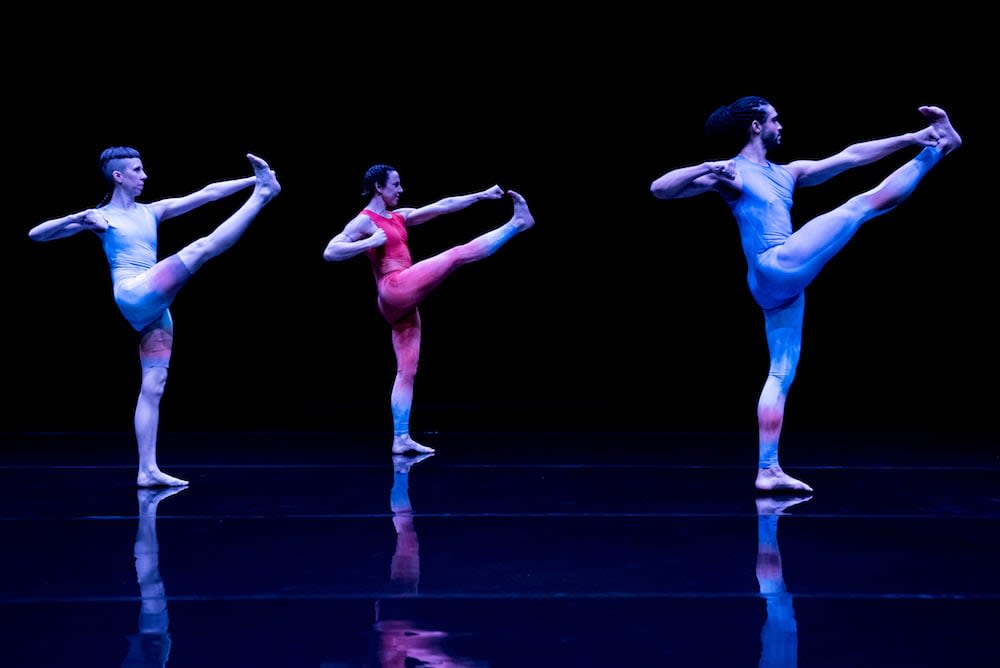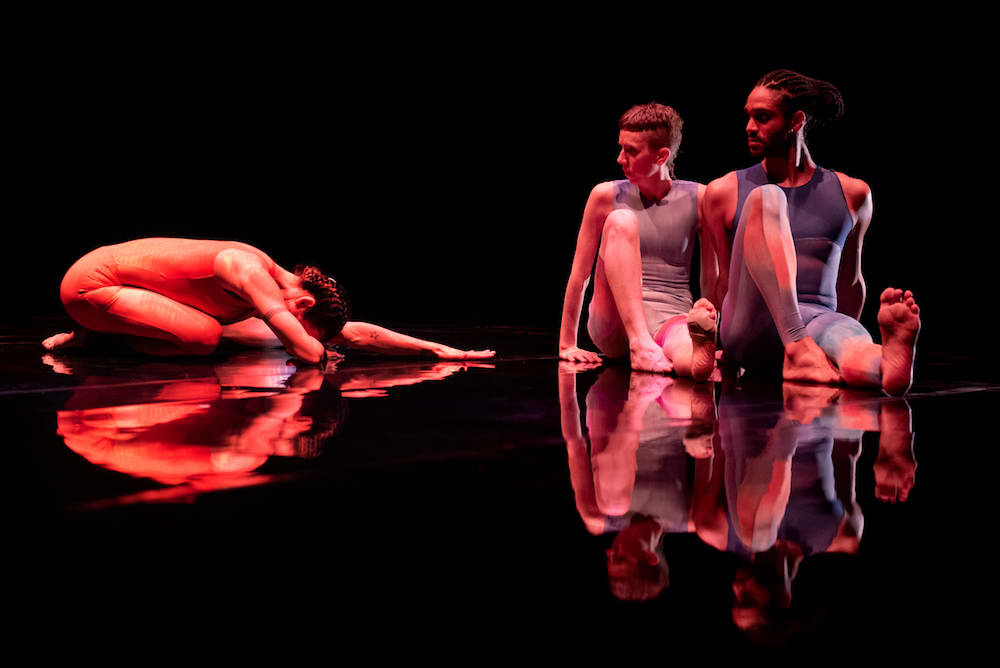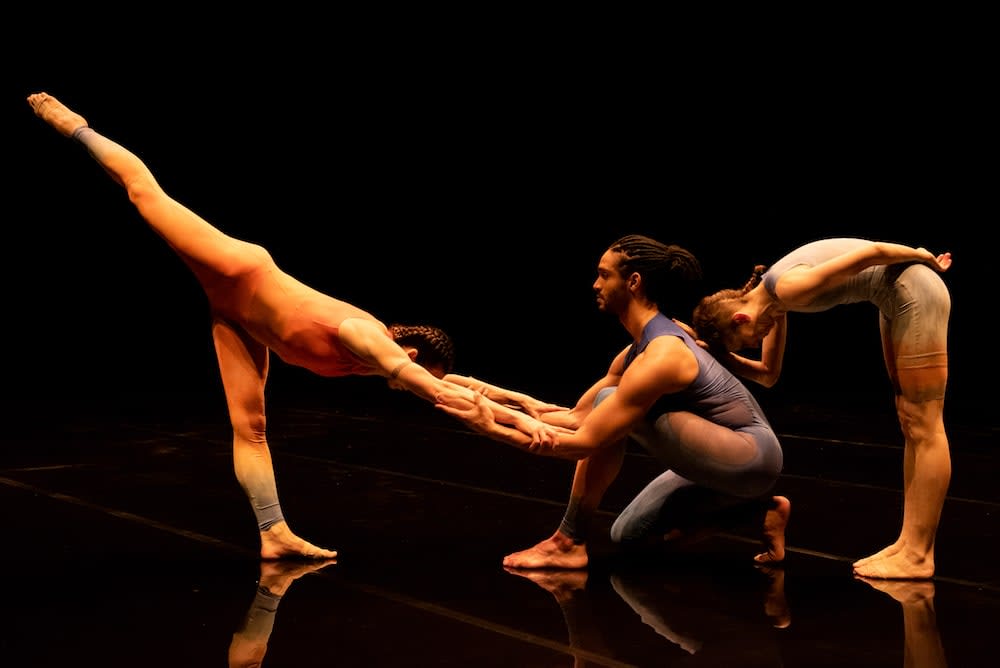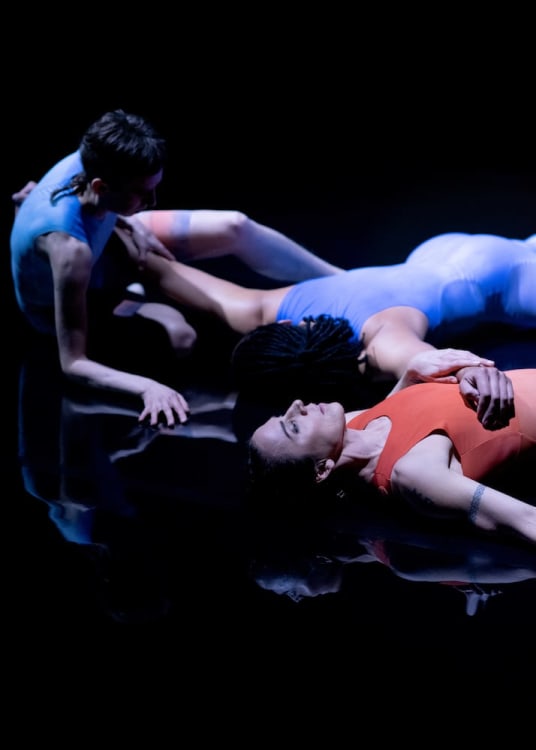 When one gets to a certain age, one often asks "how did we get here?" It's the human condition: one which Jules Cunningham explores in their one-hour pensive piece staged in-the-round—in the square—at Sadler's Wells.
Audience is seated on four sides of the black mirror square—three sides on the stage, the fourth the stalls auditorium. The three on stage are five rows deep, seating is unnumbered and the view is fine from wherever you sit. It feels inclusive; seats (reduced to about 500) are one price, good value for money.
It could just as well have been performed in the Turbine Hall—I remember seeing Merce Cunningham's company there and Michael Clark's—or in the Barbican Pit, where Jules's company has performed before. Sadler's Wells has accommodated them well.
The production values are high, the best I've seen yet for one of their pieces, though they have worked frequently with these creatives—sound designer Wibke Tiarks who mesmerises with her sonorous electronic score, lunar lighting design from Zeynep Kepekli, painted body costumes by Stevie Stewart, regular designer for Michael Clark.
The trio of performers (two are former Merseyside girls) could be from some intergalactic recce party, or AI measuring space, tracing its limits? Tender looks, hands brush against hands, fingers trace faces, hugs reassure, there's tension and release. It's a stellar (in every sense) creation: an episodic recap of lives lived, of personal emotions expended. Longueurs, too.
Moves are geometric, abstract yet there seems to be a narrative, which leaves room for the viewer to embellish with their own lived experiences. It's about connection, existential and interplanetary. A jigsaw of life's mysterious journey... piece it together as best we can. Expressive arms semaphore, bodies assemble in sculptural yogic poses—Russell Maliphant and Rodin I think.
Contemporary dance has much in common with abstract artists. Bodies as paint brushes. At times I see the scribble as Jackson Pollock, other times I see the clear intersecting lines of minimalism. Chaos and order—isn't that life? Memories, ambitions, success, failure, friendships across divides, childish squabbles—they each have a solo in which to express themselves in intense and beautiful calligraphy.
Tall Alexander looks as if he'll take off any minute on that huge wingspan of arms and powerful shoulders. Chisholm, with well-developed upper body muscle, is defensive, martial, with those clenched fists she'd take on anyone. Cunningham is androgynous, the slightest of the three, but personality will out—that head butt…. Their electric guitar interlude is a hissy fit, which gentle Alexander tames.
I love it all: its terrific cinematic sound supporting the visuals and the pertinent songs. A disco ball descends; there's a ballroom smooch dance (takes me back to when I met my late husband); there's a funeral song. Who better than Nina Simone and Janis Ian singing "Stars" for that sad swoon (check out the lyrics, fame can be lonely), and Purcell's "Dido's Lament" for one's end…
How many are here for Cunningham's cerebral choreography, very much influenced by their namesake, how many for Harry Alexander (dancer with the Michael Clark Company) and his stately poise, and how many for former Spice Girl Melanie Chisholm I can only imagine. At least they get to hear her hum.
It's brave of Chisholm to take on contemporary dance although she has training in it but from long ago. I'm not of the Spice Girls generation, so can't compare her then with her now, but she looks fit and strong. For me, it's Alexander who steals the show with his grace and deportment. Bodies can reveal so much.
Cunningham's mission statement is worth a read: "Jules Cunningham founded Julie Cunningham & Company in 2017 to create and present work that combines clarity of form and attention to detail with an interest in gender identity, the body and its emotional states, and mental health. Jules is developing a movement language that draws on their technical training, expanding and queering it collaboratively, working between sound, text, and visual art."
I'd say they're achieving that. Star lights descend from the heavens and go out. They get a standing ovation.
Reviewer: Vera Liber