How My Light Is Spent
Alan Harris
Sherman Theatre, Royal Exchange, Theatre by the Lake
Sherman Theatre
–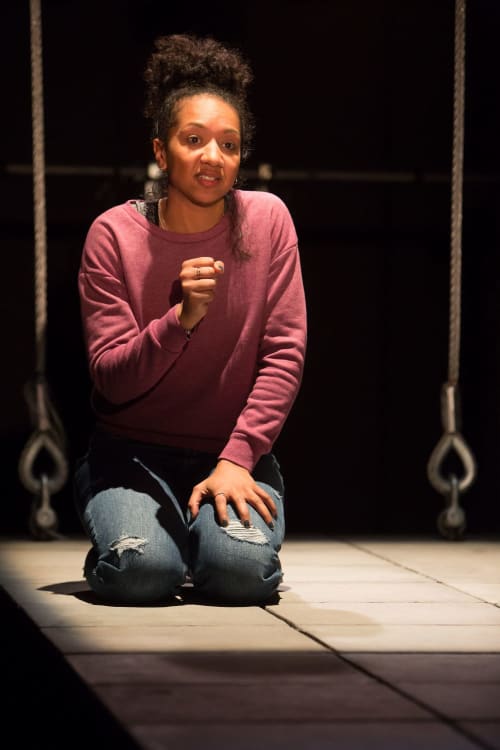 Alan Harris's latest play, one of the winners of the 2015 Bruntwood Prize, is a two-hander set in Newport, a town which, outside South Wales, is perhaps best known for its television-friendly boisterous nightlife.
Inevitably, given its setting on the outer margins of the sex industry, there is more than a modicum of crudeness in How My Light Is Spent. This is outweighed, however, by sensitivity and insight.
This is the tale of Jimmy who, having been made redundant twice in quick succession, finds himself, in his mid-thirties, back living with his mother, having lost contact with his former partner and their daughter. Taking advantage of his mother's regular church-based absences to use her 'phone to call sex-chat-lines, he strikes up a rapport with the sympathetic Kitty.
When he starts reporting, however, that, starting with his hands, he is slowly becoming invisible, she finds it hard to cope, despite her ambition to become a psychologist.
The action takes place on simple set, designed by Fly Davis, which calls to mind a suspension bridge. Rhodri Meilir (perhaps best known to non-Welsh audiences for his role in BBC sitcom My Family) is Jimmy, with Alexandria Riley (who was deservedly nominated for a Wales Theatre Award for her turn in The Mountaintop last year) as the equally lost Kitty.
The story-telling switches constantly between first- and third-person as the relationship between Jimmy and Kitty develops. Harris throws us a curveball, the pair meeting in person fairly early on in the narrative, allowing the tale to spin off in unexpected directions, with both actors taking on additional roles.
There is, for example, Mallory, Jimmy's daughter, who, despite being seventeen years old, spends much of her time alone in a playground, desperate for her 'phone to ring, waiting for the lights to go off in her mother's flat. And Stevo, Kitty's landlord, the diminutive, well-spoken misfit who turns a blind eye to her telephonic shenanigans, and still cherishes his departed wife's collection of porcelain dolls.
Thus, loneliness and the need for connection is the central theme, with the "light" of the title being a metaphor used by Jimmy's mother, Rita, to explain the fleeting nature of love.
The performances are beautifully judged—Meilir and Riley are touchingly relatable in all their personas—and Liz Stevenson's direction (assisted by Polly Bennett's choreography) is fluent and energetic, ensuring that we remain involved throughout. Giles Thomas's witty soundtrack and Joshua Pharo's sensitive lighting cleverly highlight the numerous emotional shifts.
There is awkward humour aplenty in How My Light Is Spent, as well as warmth and weirdness, and the tone is ultimately optimistic. A consistently entertaining and heartening seventy minutes.
Reviewer: Othniel Smith