This Is How It Goes
Neil Labute
Donmar Warehouse
(2005)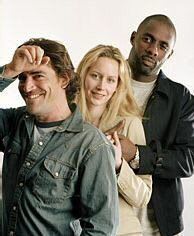 If David Greig is the British playwright of the moment, then Neil Labute must be his American counterpart. Within a week of the opening of the rather disappointing Some Girls starring David Schwimmer, another Labute play has opened just around the corner.
Where Some Girls was a light comedy with pretensions to something deeper, This Is How It Goes is the real thing. It explores serious moral and ethical issues from a variety of unexpected angles and like the very best theatre, makes audience members reassess their own attitudes.
Labute uses two literary allusions, rather fewer than average for him but both deeply impact on the underlying action of the play. The first is the obvious Othello, de rigueur when a well-muscled black hero, played by Idris Elba, has an attractive blonde wife and a mischievous lodger. The second, which takes longer to fall into place, is Thomas Hardy's The Mayor of Casterbridge with Cody, the aforementioned jealous husband, recast as Michael Henchard.
The unreliable and unnamed narrator has just returned to the town where he grew up in the American Midwest, when he meets an old flame. Ben Chaplin, whose film career includes starring roles in The Truth About Cats and Dogs and The Thin Red Line is delightful and very witty as this former lawyer who immediately announces the fact that what he tells us may not all be true.
Megan Dodds, recently seen in the title role of My Name is Rachel Corrie at the Royal Court, plays the ex-cheerleader who has married the high-school track champion for all of the wrong reasons.
Cody may have been a hero in school who became a successful businessman with a trophy wife but he is not a very nice man. Whether this is a consequence of the treatment that he has received as the only black man in town or whether it is just his nature is open to question.
Either way, being married to him and looking after his children cannot be much fun. Therefore the opportunity to get an entertaining new lodger is very cheering.
As the play develops, Chaplin provides increasing numbers of wry asides but also shows elements of his own character and that of Cody, which throw the natural assumptions of simple political correctness out of the window.
Labute makes it clear that few people are entirely good or bad. The real message that comes across is that in America today, miscegenation (and one might almost say marriage) can still be a major problem and its ugly cousin, racism is rampant.
Under the almost perfect direction of Moisés Kaufman, all three actors give strong performances in the kind of play that really could change lives. It is a delight to report that Neil Labute is back at the very top of his game. As he says, "Words only have power if you let 'em". He does so with a vengeance!
Reviewer: Philip Fisher